Coolamon Rotary News Bulletin #42
STOP PRESS WAGGA WAGGA ADVERTISER STORY
In today's Wagga Wagga Daily Advertiser there was a good report on the visit of the Kenyan Ambassador High Commissioner to Australia His Excellency Isaiya Kabira.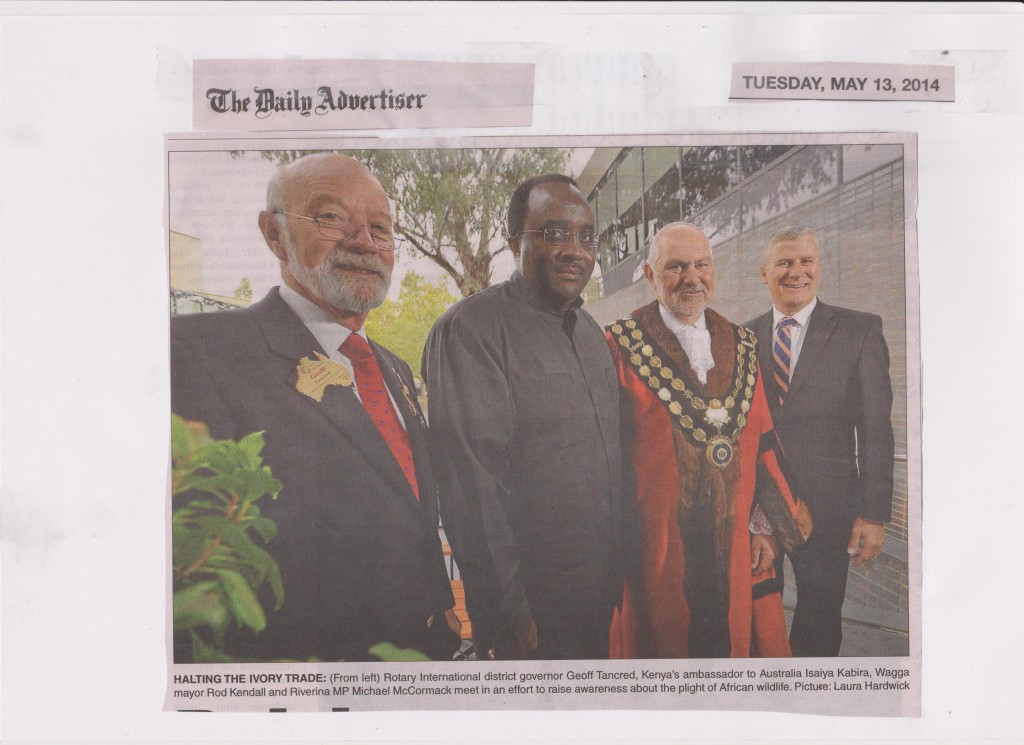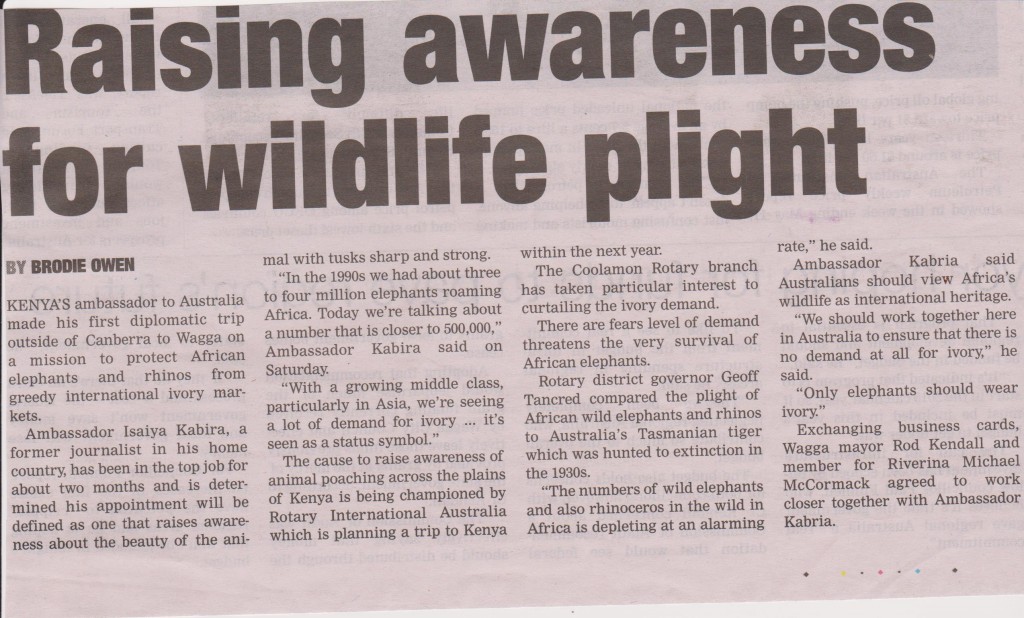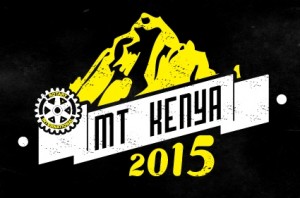 MAY IS ROTARY PROMOTE INTERNATIONAL CONVENTION MONTH.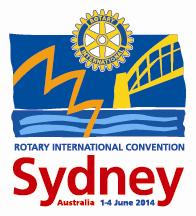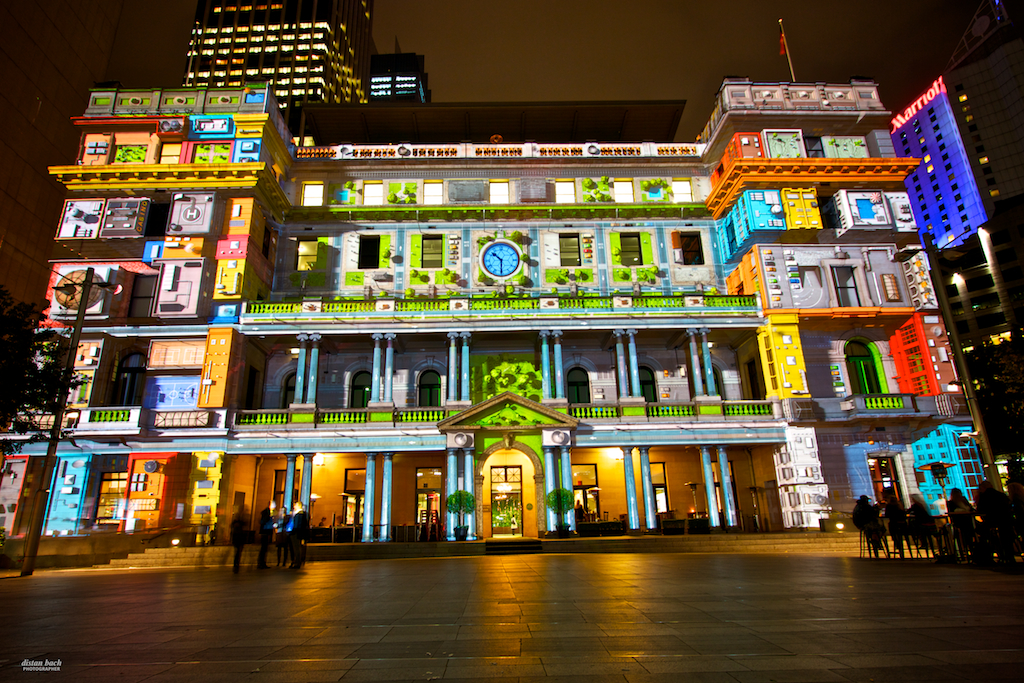 Vivid Sydney starts on May 23rd and will be a highlight during RICON 2014 in Sydney.
The Billabong House of Friendship where you will find us in booth #229
KENYAN INTERNATIONAL NIGHT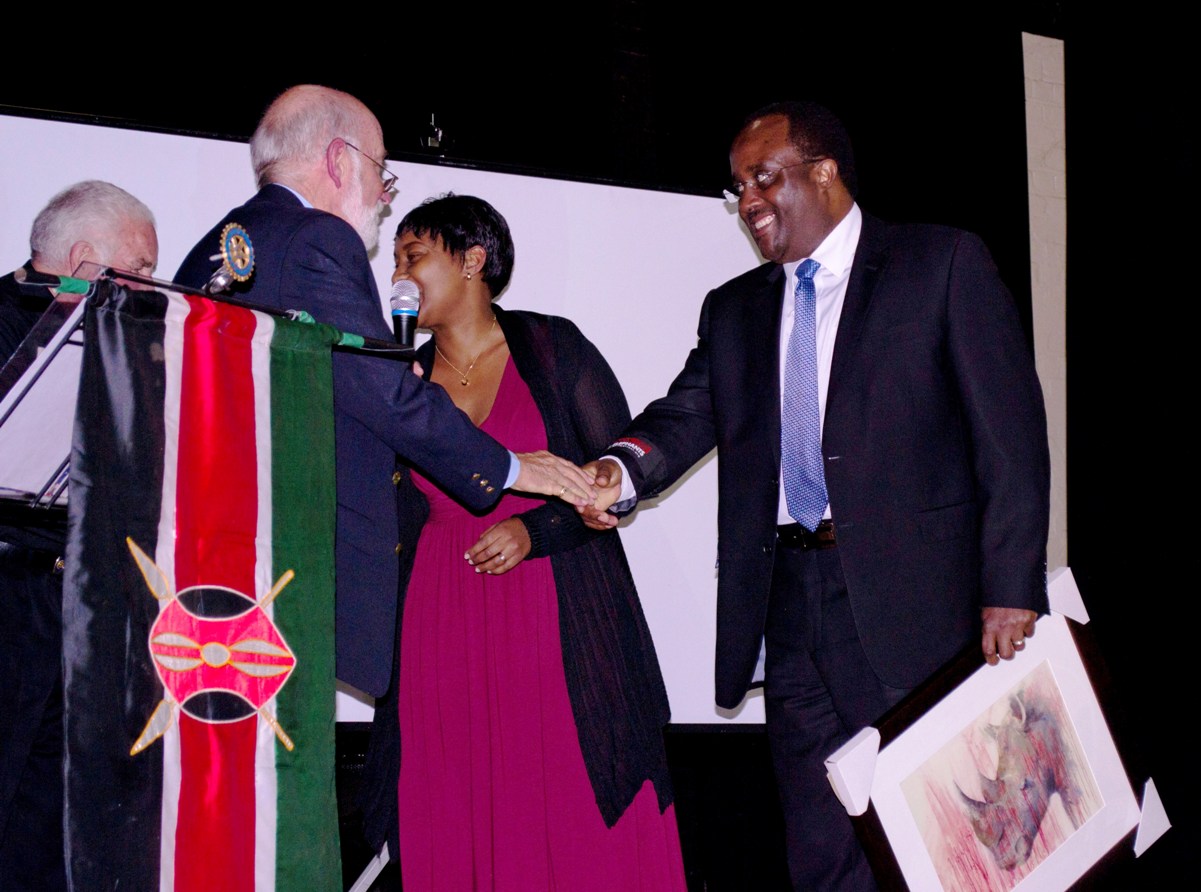 His Excellency Ambassador Isaiya Kabira receiving the gift of a print of the Crying Rhino from District Governor Geoff Tancred.  Seen here with his wife Betty Kabira and PDG Fred Loneragan.
We held a great International Night in Ganmain for Kenya and  WildLife Direct in Kenya as well as the Rotary Club of Kenton-on-Sea's Save Our Rhino project.  Our guests came from far and wide and we would like to thank His Excellency Isaiya Kabira for being our guest speaker for the night.
We would also like to thank everyone who attended and made the night a huge success with over $4,000 being raised for the two projects.  The night would not have been possible without the volunteers who put so much effort into making a success.
Here are some photos of the night and please click on the images to enlarge them:
We have dedicated this first RAGES Awareness and Fund Raising Night to Thandi and Big Tim: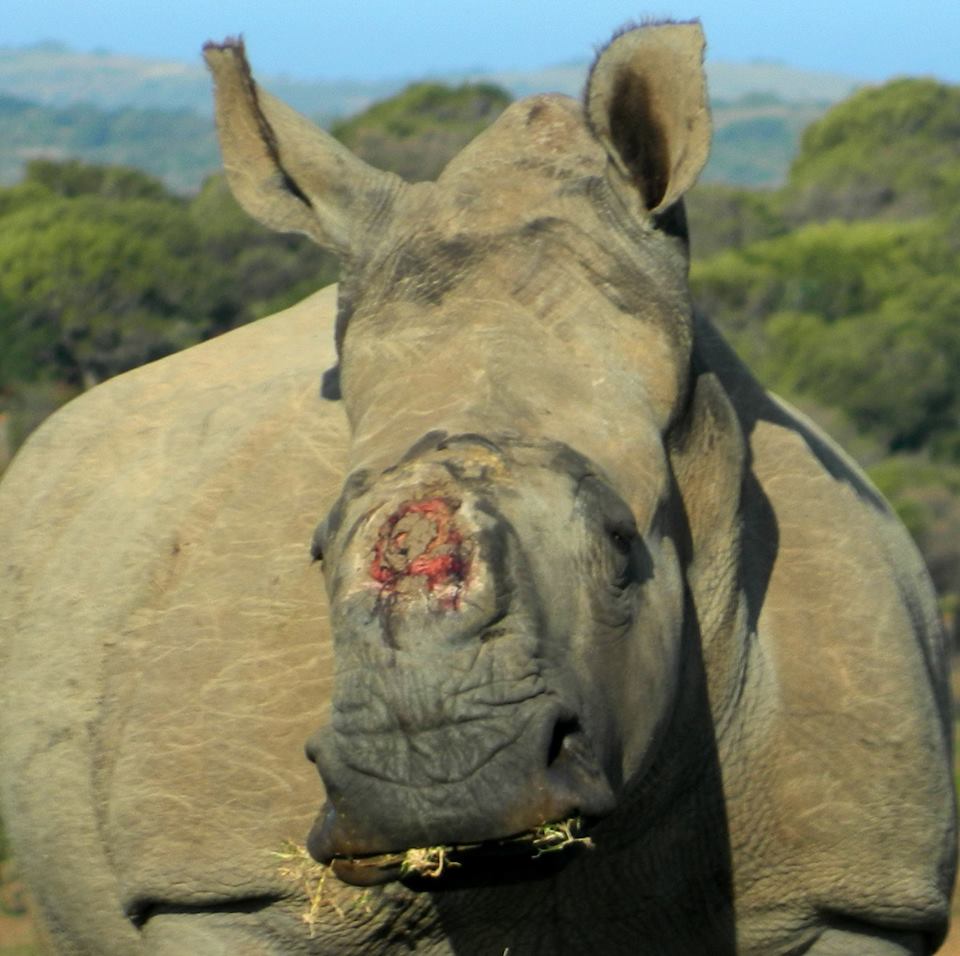 Thandi whose life was saved by Dr William Fowlds after her horn was hacked off by poachers.  We are supporting Dr. Fowlds and the Chipembere Rhino Foundation through the Rotary Club of Kenton-on-Sea.  Thandi is now with rhino!  Great news.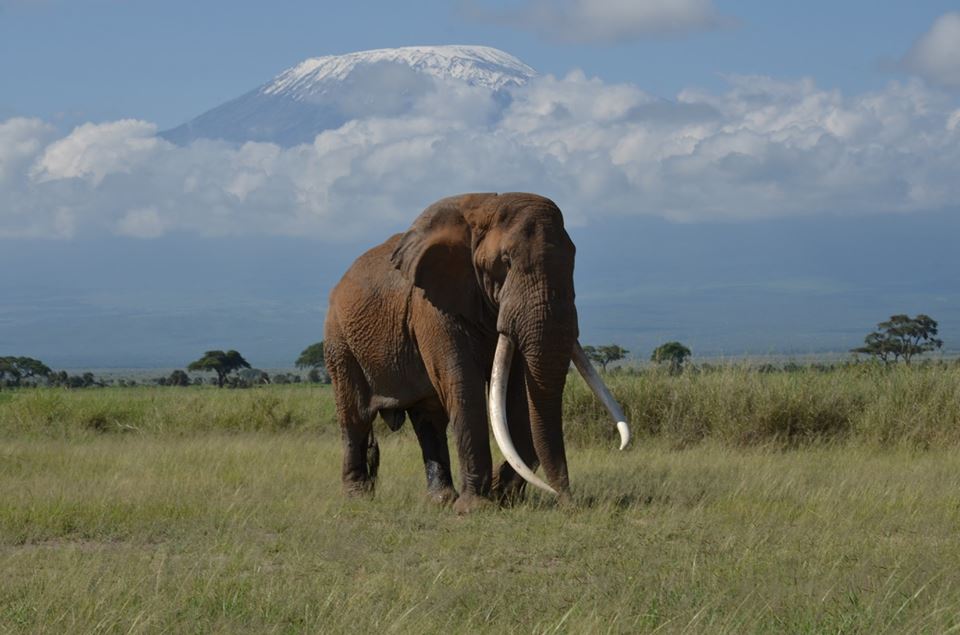 BIG TIM a National Treasure.
One of the true Tuskers left in Africa.
THANK YOU TO OUR BENEFICIARIES
We would like to thank Paula Kahumbu for her video and for sending along the arm bands in time.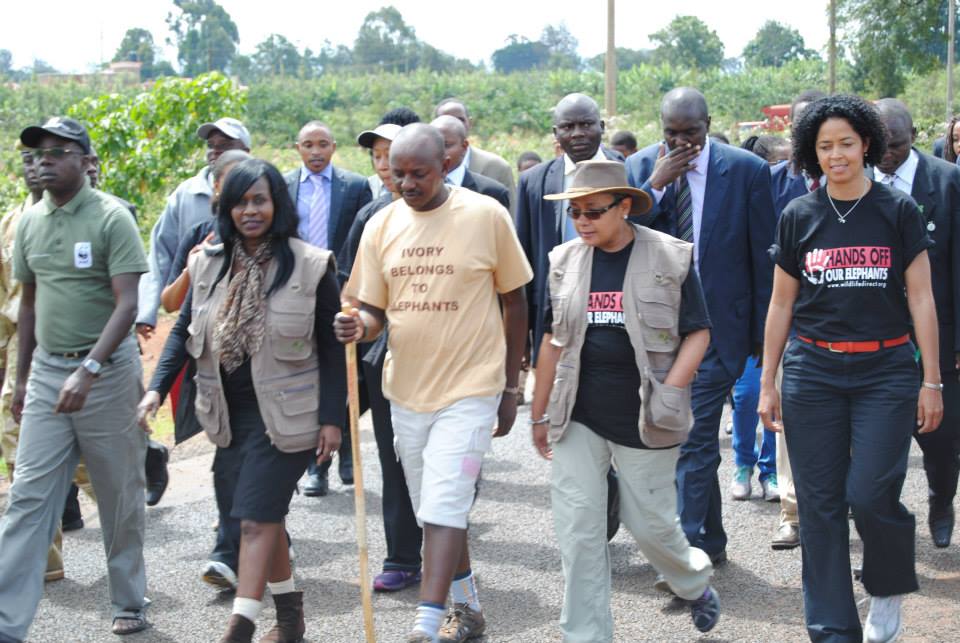 Dr. Paula Kahumbu far right walking with Kenya's First Lady Margaret Kenyatta walking with Justus Jim Naymu famous for his walk for the elephants in Kenya and the USA.
Jo Wilmot from the Rotary Club of Kenton-on-Sea for her passion for the rhino and for sending us the videos on their project with Dr William Fowlds at the Chipembere Rhino Foundation.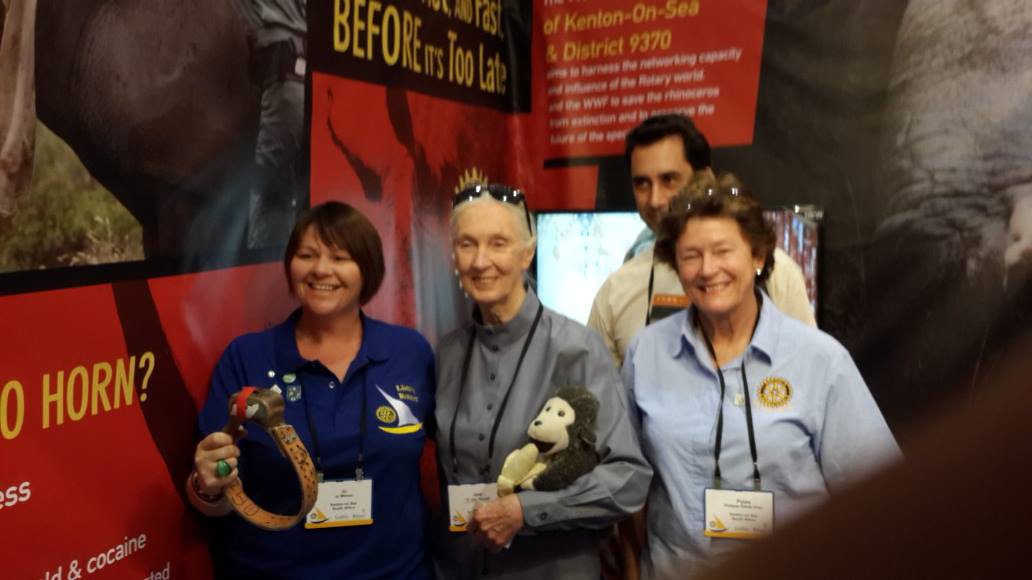 Jo Wilmot far left with Dr. Jane Goodall.
We have just begun this project called RAGES or the proposed Rotarian Action Group for Endangered Species.   We need your support so please join RAGES it is free and you can join by clicking on our logo the Crying Rhino: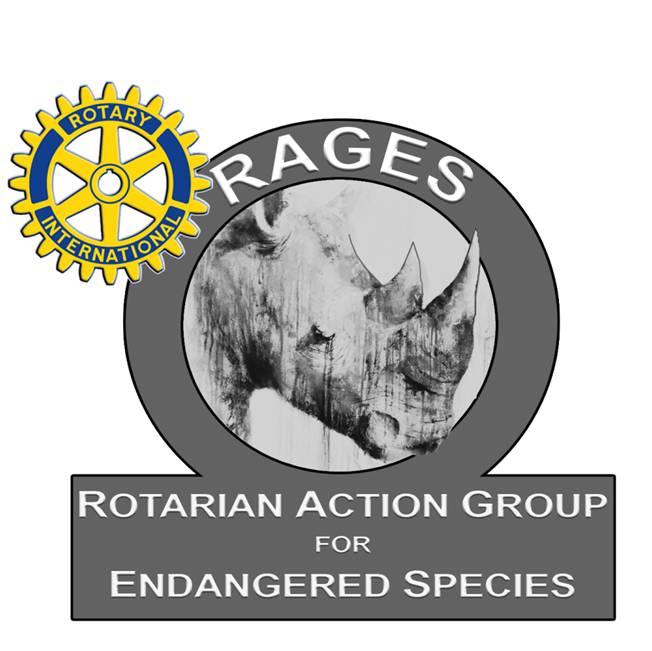 THANK YOU TO OUR SPONSORS:
Nilgiris Fine Indian Restaurant in Crows Nest Sydney for the wonderful samosas
Thank you Meera and Ajoy Joshi for your generous contribution.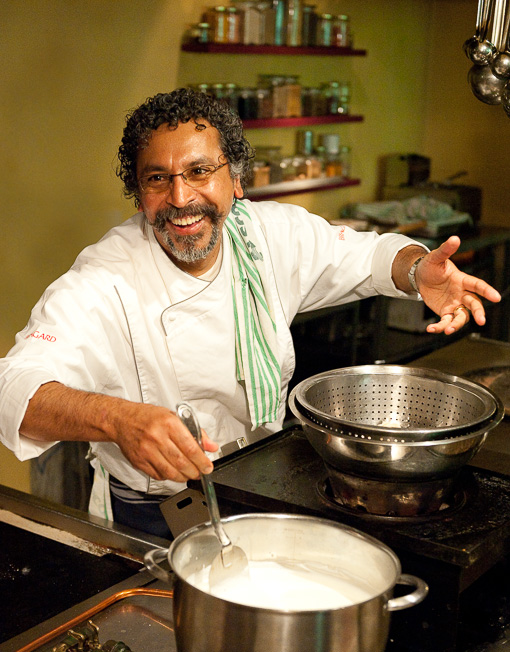 Ajoy Joshi
Paula Wiegmink for the donation of the Gentle Giant oil for the raffle: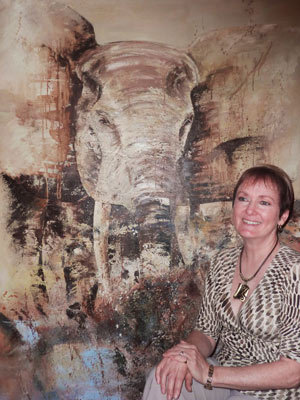 Drake Shikhule for the Tusker in the raffle.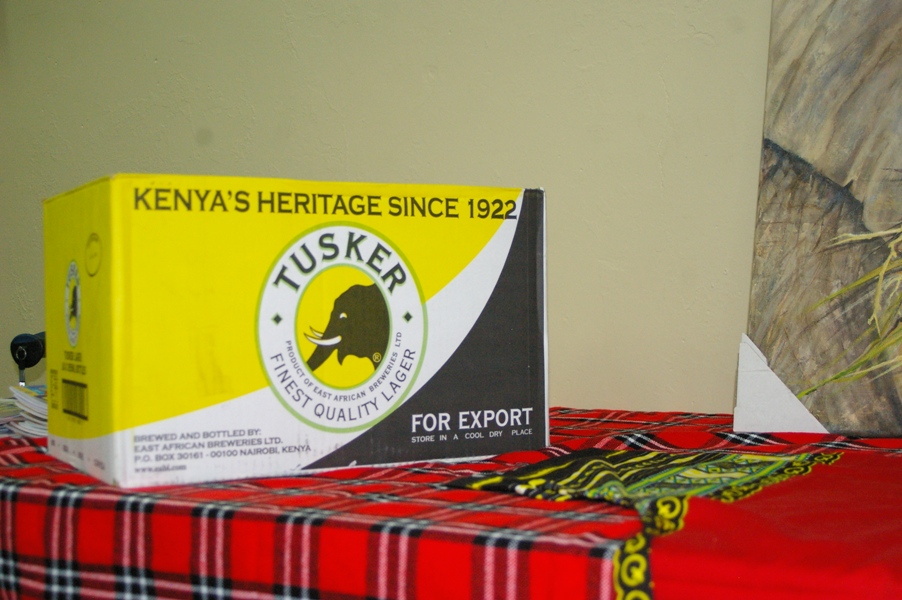 Huff 'n' Puff Constructions for the arm bands:
MONDAY MEETING MAY 12th 2014
Eleven members and one guest Christine Lorraine were present.
We had our monthly board meeting and a lot was discussed and some decisions made.
After a big night in Ganmain we all needed a night of post mortem and it was agreed that we produced a great advert for Coolamon Rotary, Wagga Wagga Sunrise and Rotary in general.   President Dick Jennings thanked all involved in making the effort to ensure that we succeeded.  The Ganmain Hall came in for special praise as a good venue for these sorts of functions.
President Dick reminded all members of Sue and Max Chapman's garden tour and music this coming Saturday Dick asked all members to support Sue and Max with their fund raising or the Wagga Wagga Sunrise club's projects.
Ian Jennings asked members to invite suitable guest speakers along.  Ian also promoted the upcoming trivia night in aid of the Coolamon Ganmain Hospital Auxiliary to be held on Friday 23rd May at the Coolamon Sports Club.
Diary Reminders
Saturday 17 and Sunday 18 May Wagga Wagga Book Fair.
Saturday 17th May Sue and Max Chapman Garden Tour and Live Music in Wagga Wagga.
Friday 23rd May Hospital Trivia Night in Coolamon.
Saturday 24th May Red Shield Appeal Street Stall.
Sunday 25th May Red Shield Appeal Door Knock Coolamon.
Monday 26th May Regular Meeting.
Saturday May 31st to Wednesday June 4th.  SYDNEY 2014 RI Convention Coolamon RC and Wagga Wagga Sunrise on Booth #229 in the Billabong House of Friendship.
Monday June 2nd Regular Meeting
Saturday June 7th and Sunday June 8th Brad's Fight for Life at the Coolamon Showground Volunteers needed.
Monday June 9th Queen's Birthday NO Meeting
Wednesday June 11th Meeting of the 2014-2015 Board at PE Garth Perkin's Home.
Thursday June 12th BINGO Rostered ON: John Glassford, Neil Munro, Christine Atkinson, Henk Hulsman

Monday June 16th Board Meeting

Wednesday June 18th RC Kooringal Change Over Dinner  6.00 pm $40 at the Wagga Wagga Country Club.
Monday June 23rd Regular Meeting
Saturday 28th June D9700 Change Over Dinner in Orange.
*Monday July 7th 2015 ANNUAL CHANGE OVER DINNER
Saturday 9th August Coolamon Street Raffle
*Partners and Guests Night.
Apologies for Monday meetings call Christine Atkinson on 0427 880 158 or 6927 3521 BY FRIDAY 12.00 pm.
ROTARY INTERNATIONAL PRESIDENT RON BURTON:
Peace Corps and Rotary Collaboration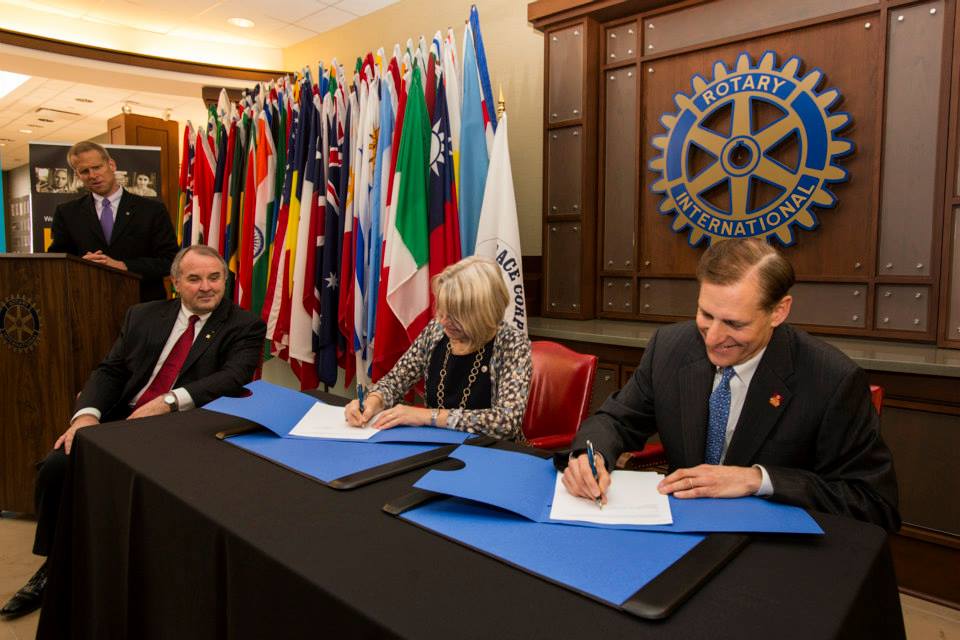 Rotary International President Ron Burton with Peace Corps Acting Director Carrie Hessler-Radelet and Rotary General Secretary John Hewko during the signing of the collaboration.
Across the Philippines, Thailand, and Togo, Rotary members and Peace Corps will be encouraged to share resources and expertise as part of this new collaboration between the two organizations. — at Rotary International
ON THE LIGHTER SIDE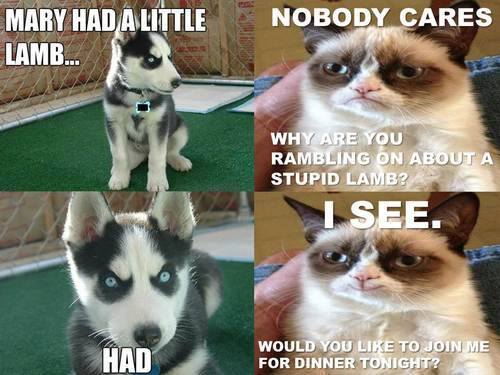 The Pig
A journalist became lost on the back roads and stopped at a farm to get directions. As he was talking to the farmer he noticed a pig with a wooden leg. "How did the pig get a wooden leg?" he asked the farmer.
"Well", said the farmer, "that's a very special pig. One night not too long ago we had a fire start in the barn, and that pig set up a great squealing that woke everyone, and by the time we got there he had herded all the other animals out of the barn. Saved 'em all."
"And that was when he hurt his leg?" asked the journalist anxious for a story.
"Nope, he pulled through that just fine." said the farmer.
"Though a while later, I was back in the woods when a bear attacked me. Well, sir, that pig was near by and he came running and set on that bear and chased him off. Saved me for sure."
"Wow! So the bear injured his leg then?" questioned the journalist.
"Nope. He came away without a scratch. Though a few days later, my tractor turned over in a ditch and I was knocked unconscious. Well, that pig dove into the ditch and pulled me out before I got cut up in the machinery."
"Ahh! So his leg got caught by the combine?" asked the newsman.
"Noooope. We both walked away from that one." says the farmer.
"So how did he get the wooden leg?" the reporter quized.
"Well", the farmer replied, "A pig that good, you can't eat all at once."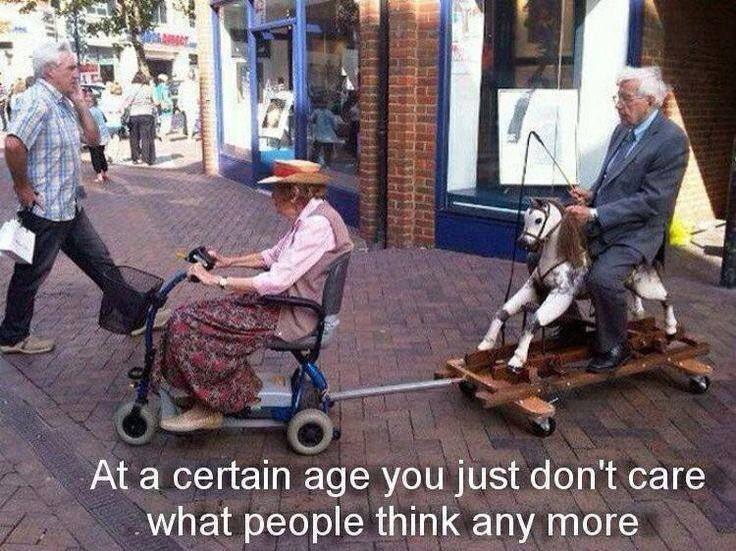 ROTARY INFORMATION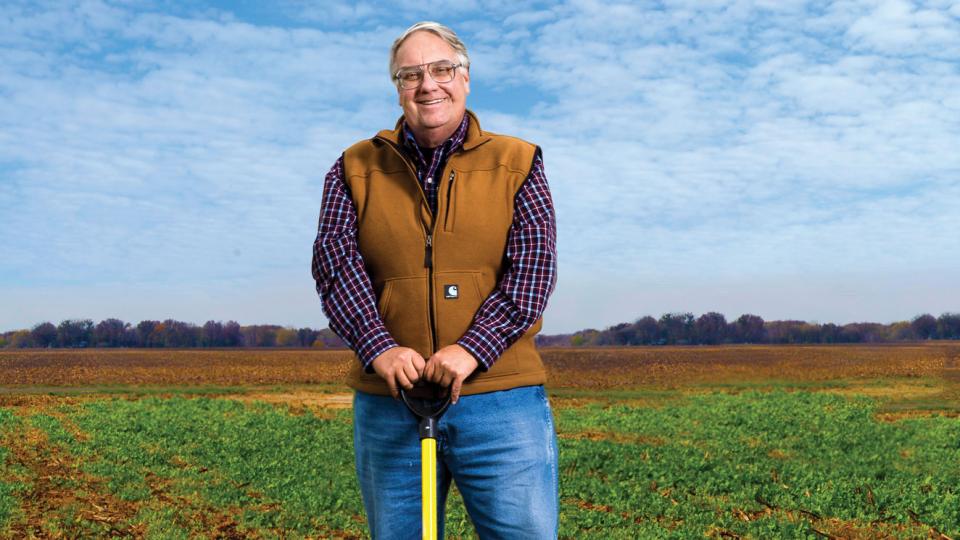 Howard Buffett is on deadline. In 2006, his father, U.S. investor and philanthropist Warren Buffett, challenged him to do something great in the world – and gave him $1 billion to do it. So he gave himself 40 years to spend every penny in a bold attempt to end global hunger. After a second stock gift in 2012 and favorable returns, he has about $3 billion now. An Illinois farmer, Buffett spends part of the year in the cab of his tractor and the rest of his time leading the Howard G. Buffett Foundation.
OUT OF AFRICA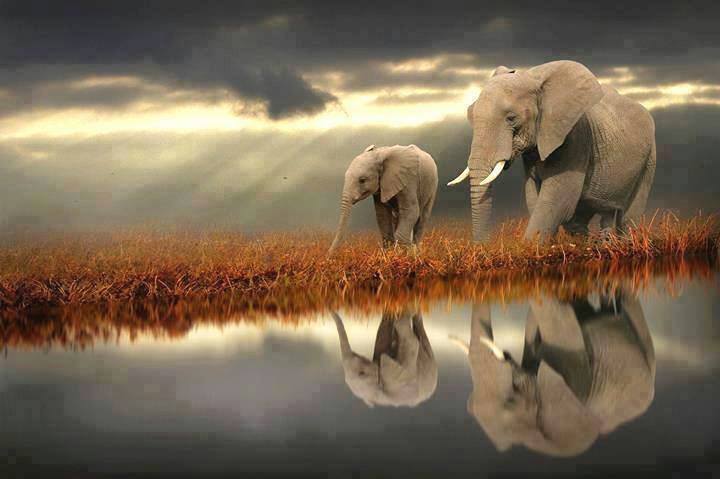 MOUNT KENYA 2015 ANZAC DAY CLIMB
This will be a permanent section for the next 12 months in our weekly bulletin and I will update stories to this article as and when we get them.   The Australian Commonwealth Department of Veterans Affairs have approved our application to be part of the Centenary for ANZAC and we are allowed to use the logo below with some rules on it's use: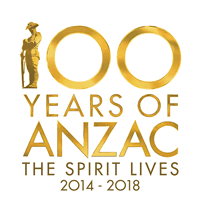 The Mount Kenya 2015 web site can be found here on clicking the banner below: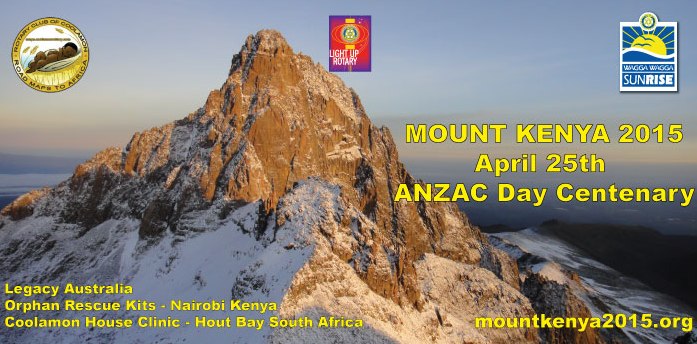 FOOT NOTE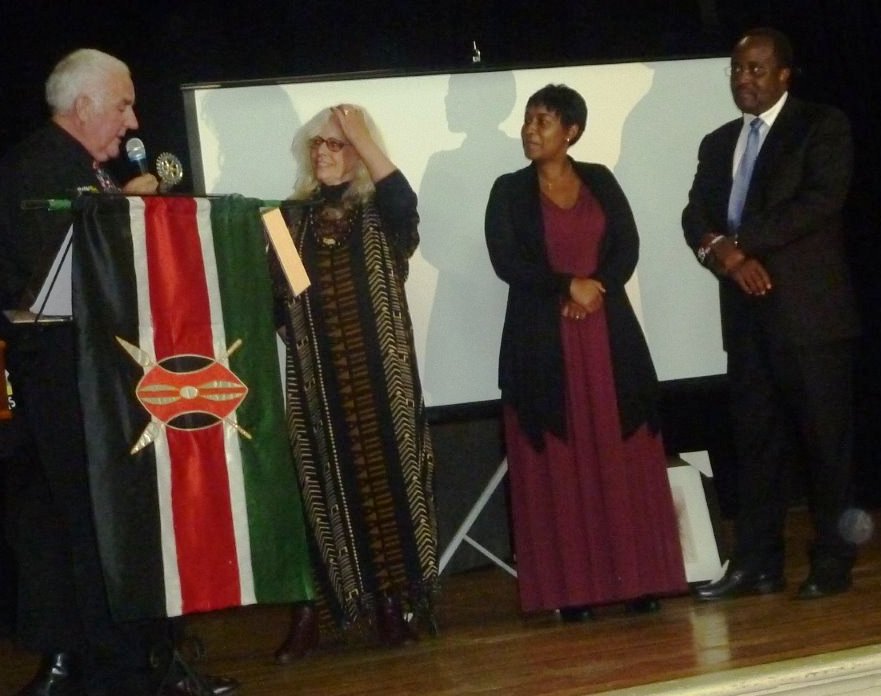 Susan Glassford receiving her Paul Harris Award from PDG Fred Loneragan, DG Geoff Tancred and His Excellency Isaiya Kabira.
After eleven years a  member of the Rotary Club of Coolamon and being a member of EREY or Every Rotarian Every Year, known in Australia as the Centurion Club where a Rotarian donates US$100 per year to the Rotary Foundation entitles the donor to award a Paul Harris Fellowship to a person of their own choosing.
I have now accumulated 1,000 Foundation Recognition points and decided to award Susan the PHF.  In my opinion well deserved for supporting me in Rotary for the past 11 years.  It was also apt that Susan was recognised this way in the presence of her son Darius and her granddaughter Sasha.
Thank you Susan.
Yours in Rotary John Glassford Chair 2013 -2014
Proposed Rotarian Action Group for Endangered Species
PLEASE CALL ME ANYTIME 02 6927 6027.
Bulletin Editor and Web Site:  John Glassford
Don't forget to regularly check our club web site for current information such as bingo rosters and various newsletters from the District Governor, the School of St. Jude's, the monthly membership on the move newsletter as well as several other club bulletins.
Rotary International President Ron Burton
Governor of District 9700 Geoff Tancred
Coolamon Club President  Dick Jennings
Coolamon Club Secretary Paul Weston
Club Treasurer  Henk Hulsman
Coolamon Rotary Club Inc. P.O. Box 23 COOLAMON N.S.W. 2701
Websites of Interest
Coolamon Rotary Club: http://coolamonrotary.com
Road MAPS to Africa a Coolamon Rotary Project: http://www.mountainsofthemoon.org/
Rotary Down Under on line: http://flipflashpages.uniflip.com/2/26587/49598/pub
Mount Kenya 2015 Web Site incorporating the ORK: http://theork.com/
Our Rotary Centennial Twin Club Hout Bay, Cape Town, South Africa: http://www.rotaryhoutbay.org
Proposed Rotarian Action Group for Endangered Species RAGES: http://www.endangeredrag.org/#