Coolamon Rotary News Bulletin #46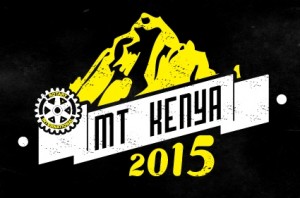 JUNE IS ROTARY FELLOWSHIP MONTH.

ROTI ROTARIANS ON THE INTERNET
ROTI is about the first Object of Rotary: the development of acquaintance as an opportunity for service.
ROTI members are in a special position to develop acquaintances. With members from around 100 countries, friendship and acquaintance has taken on a whole new meaning and concept. ROTI members are in a position to further world understanding in a way none have ever experienced before.
The mission of ROTI is to apply modern information technology to enhance Rotary service, fellowship and knowledge, and to use Internet communications to further world understanding and peace.
Rotary International recommends that every District to have a web site to improve communications between clubs, DGs, DG staff and Rotary International. ROTI members world wide have contributed to this over the past 10 years.
Email has now become the standard means of communication between Rotary International staff and the hundreds of Districts throughout the world. We now use email to establish Projects, Matching Grants, Group Study Exchange planning, and reporting to Rotary International.
At the start of the 21st century, ROTI is conscious of our responsibility to ensure that new technologies are used effectively to help our organization. At the same time, we need to remember the old adage "If if isn't broken, don't fix it".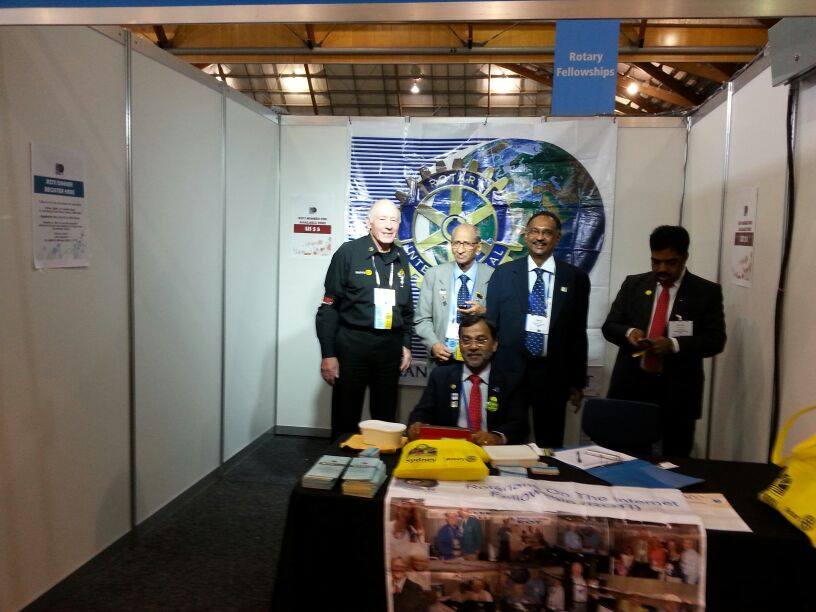 ROTI Vice-Chair JG with ROTI Chair PDG Sunil Zachariah in Sydney.
MEETING JUNE 16th 2014
This week we had our last board meeting for 2013-2014.  There was a lot if discussion on the Coolamon Men's Shed and how we may support them into the future.  A committee was formed of John Glassford, Ted Hutcheon, Henk Hulsman and Ian Durham.
The Bradley's Flight for Life for the Snowy Hydro South Care Helicopter event raised over $45,000 net profit for the weekend.  President Dick thanked all those in our club who helped out over the weekend.  Our club manned the gate over the two day event.
Junee RC Change Over is to be held on Sunday July 13th in Junee 12 midday at the Junee Ex Services Club.  Junee will be attending our change over in numbers and so we need to reciprocate the fellowship and get along to Junee.
Thank you President Dick for a great year in Rotary Service with you as our leader.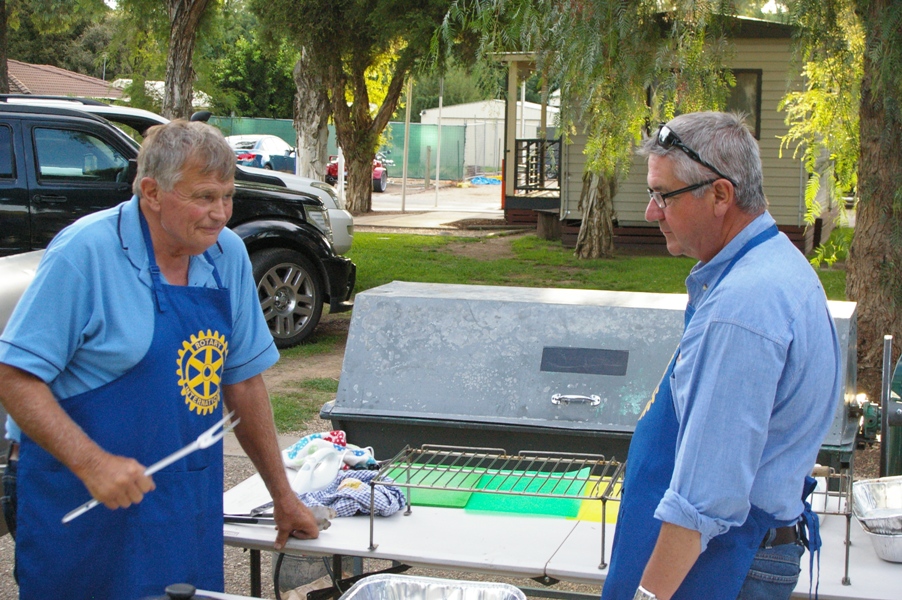 President Dick Jennings and PP Neil Munro at work.
Diary Reminders
Wednesday June 18th RC Kooringal Change Over Dinner  6.00 pm $40 at the Wagga Wagga Country Club.
Monday June 23rd Regular Meeting
Monday 23rd June South Wagga Wagga Annual Change Over @ Wagga Wagga RSL Club 6.00 for 6.30 pm $40/head.
Tuesday 24th June Wagga Wagga Sunrise Annual Change Over @ Elements at the Garden Botanic Gardens 6.30 for 7.00 pm  $50/head.
Saturday 28th June D9700 Change Over Dinner in Orange.
Monday June 30th Regular Meeting

*Monday July 7th 2015 ANNUAL CHANGE OVER DINNER
Thursady 10th July 2014  BINGO Ian  Jennings (Captain), Wayne Lewis, Rod Jarrett, Garth Perkin
Sunday July 13th Rotary Club of Junee Change Over lunch midday in Junee.
Saturday 9th August Coolamon Street Raffle

*Partners and Guests Night.
Apologies for Monday meetings call Christine Atkinson on 0427 880 158 or 6927 3521 BY FRIDAY 12.00 pm.
ROTARY INTERNATIONAL PRESIDENT RON BURTON: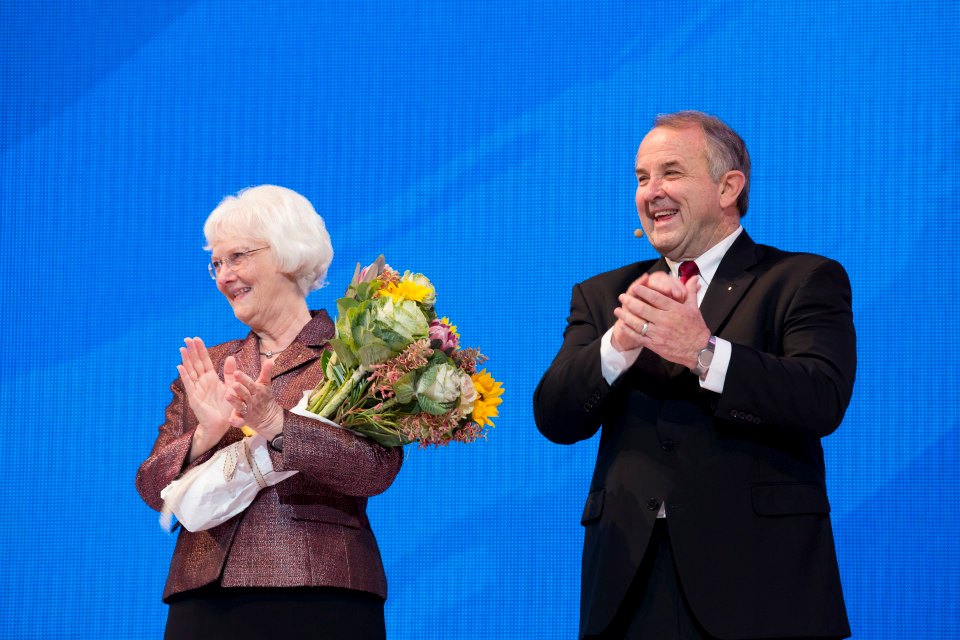 President Ron Burton and his wife Jetta Burton say good bye in Sydney.
RI President Ron Burton put the final touches on the 2014 Rotary Convention in Sydney by reminding a packed Allphones Arena why they joined Rotary.
"Being a Rotarian isn't about our own achievements, it isn't about our own careers, it really isn't about us at all. It's about the people we help," said Burton. "At the end of the day, the only thing that matters in Rotary is how much better the world becomes because Rotary is in it."
The four-day event, which drew to a close on 4 June, attracted more than 18,000 attendees from 153 countries. Burton encouraged convention goers to return to their clubs ready to do more to improve the lives of others.
"Together, we can dream big and we can achieve. We can change whole communities for the better, not for a day but for a lifetime," he said.
Rotary changes lives by improving literacy, making water cleaner, bringing better health care to mothers and children, and eradicating polio worldwide, Burton said. But he warned that complacency could set Rotary back.
"That's why it isn't enough for any of us to just go through the motions, to show up at our clubs, to do just the minimum needed and no more," he added. "And it's why each of us has to remember, every hour of every day, what a responsibility we have."
ON THE LIGHTER SIDE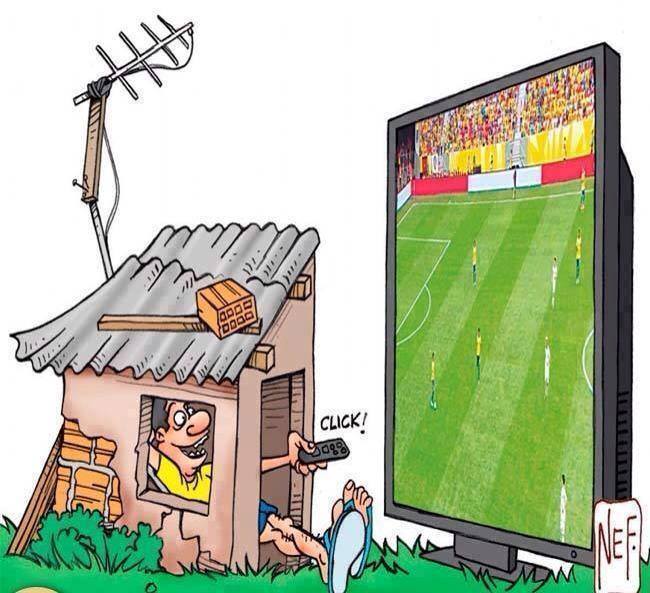 The Mistress
A husband and wife were having dinner at a very fine restaurant when an absolutely stunning young woman comes over to their table, gives the husband a big kiss, tells him she'll see him later, and walks away. His wife glares at him and says, "Who was that??!!"
"Oh" replies the husband, "that was my mistress." "That's it," says the wife, "I want a divorce."
"Ok," replies her husband, "but remember, if you get a divorce there will be no more shopping trips to Paris, no wintering in the Caribbean, no Lexus in the garage, and no more country club. But, the decision is yours."
Just then the wife notices a mutual friend entering the restaurant with a gorgeous woman.
"Who is that woman with Jim?" she asks.
"That's his mistress," replies her husband. "Ours is much better looking." says the wife.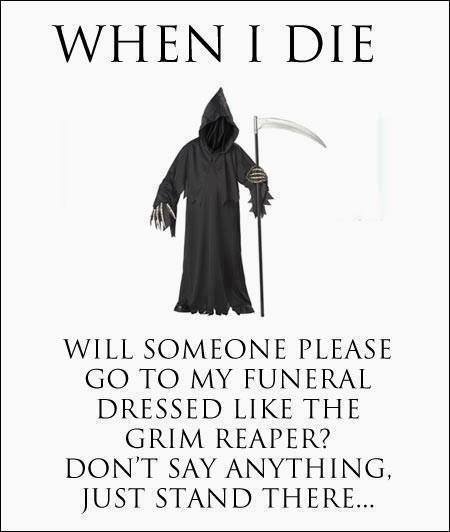 ROTARY INFORMATION
Great work in Voi.  The Rotary Club of Voi is a new club in D 9212 in Kenya and doing good work there.  Voi is about half way between Nairobi and Mombasa deep in elephant country.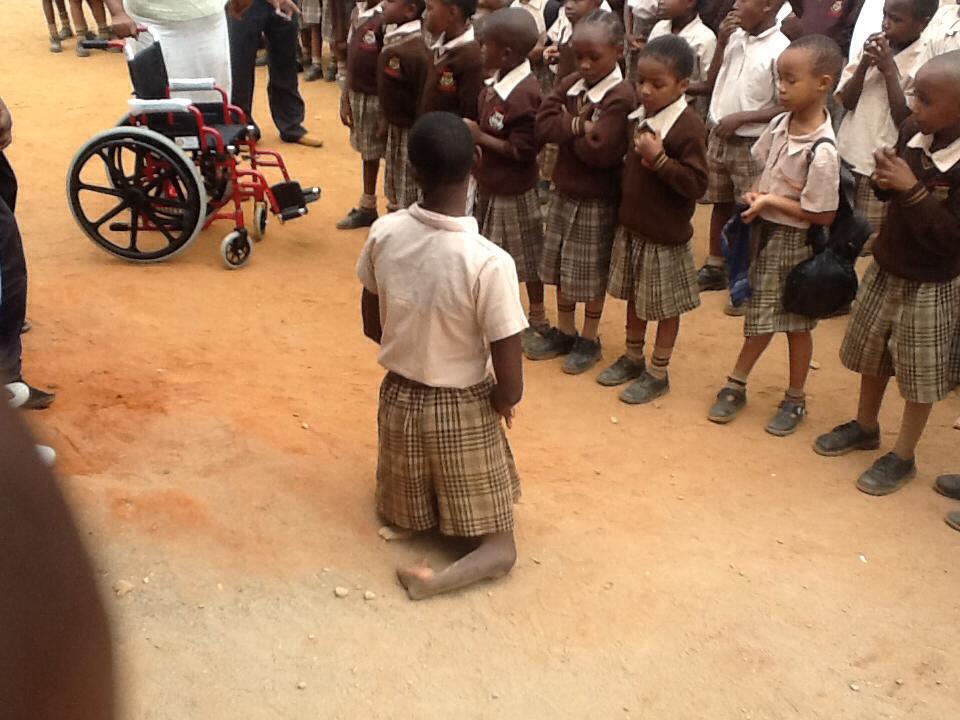 In a joint venture with the Rotaract Club of JKUAT, the Rotary Club of Voi today donated a wheelchair to Mary Charo a student at St Jude Educational Center. Those present were Ashok Anand, the country works officer, Rtn Robert Mwangala, the Rotaract president Wesley, the president elect, Muchiri among others. Special thanks to Rotaracter Florence who coordinated the event.
OUT OF AFRICA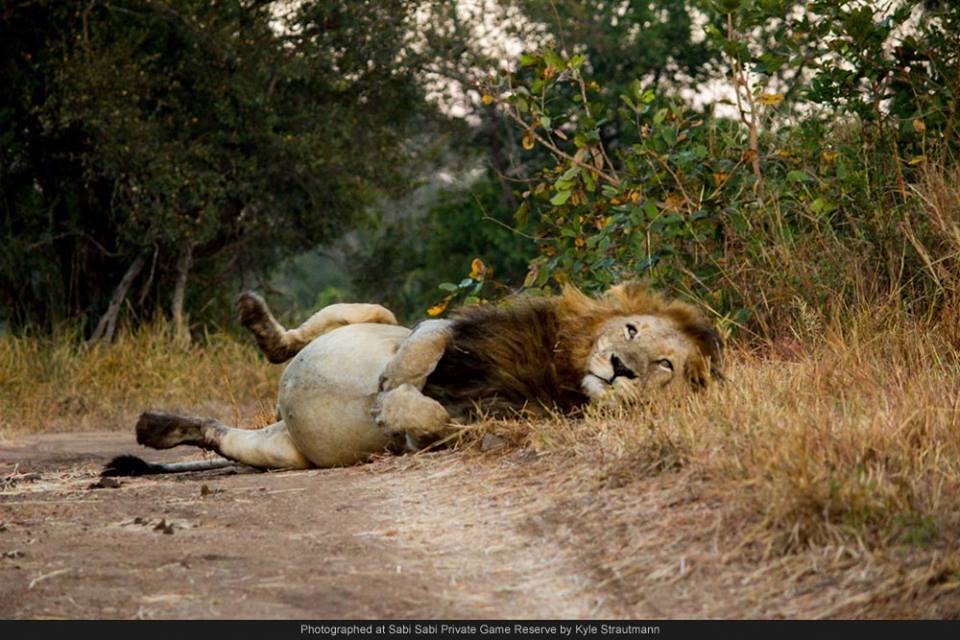 Who gets the lion's share!
MOUNT KENYA 2015 ANZAC DAY CLIMB
This will be a permanent section for the next 12 months in our weekly bulletin and I will update stories to this article as and when we get them.   The Australian Commonwealth Department of Veterans Affairs have approved our application to be part of the Centenary for ANZAC and we are allowed to use the logo below with some rules on it's use: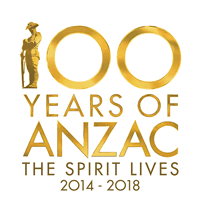 The Mount Kenya 2015 web site can be found here on clicking the banner below: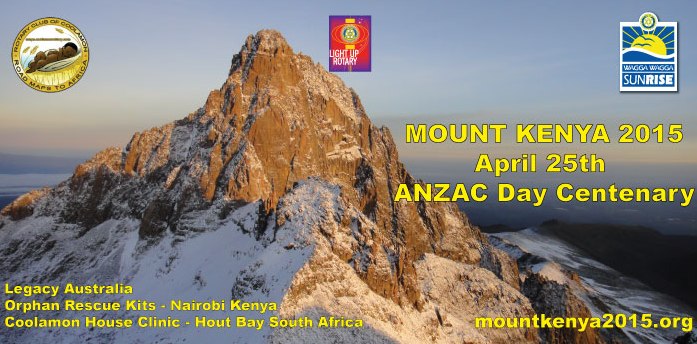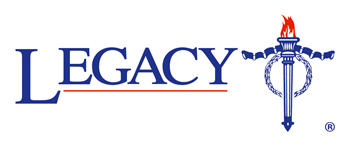 FOOT NOTE
As you may be aware a terrorist attack in Kenya last Sunday killed 48 innocent Kenyans by Al Shabab from Somalia.  The link between Al Shabab and the blood ivory trade is well known and this is how they get the latest weapons no match for the Kenyan Police on the front line.
Last week we lost another Giant Tusker this time Satoa from Tsavo East which borders on the Somalia border.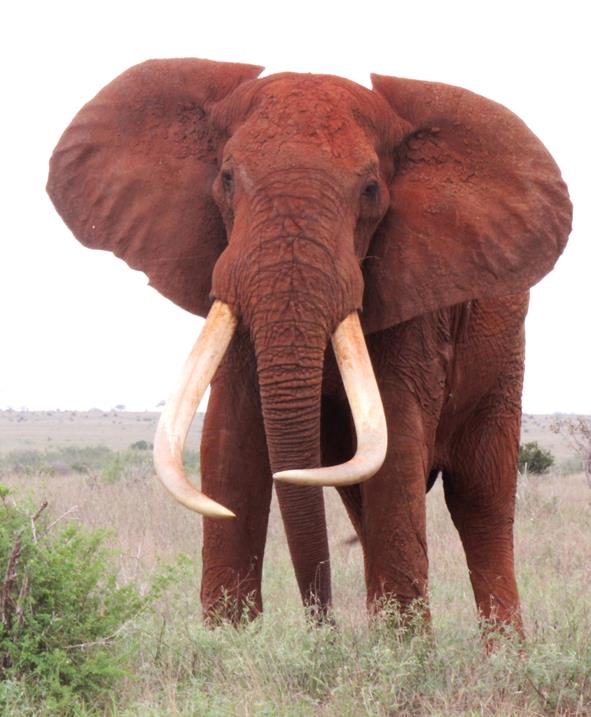 One of the largest elephants in the world.  The loss of great Satao. These photos were taken in Tsavo East NP in April 2014 during one of our research days inside the park. He was such an incredible elephant to be close to, you really can't imagine the thickness of his tusks, the sense of weight hanging off his head and the grandeur of his presence. Appalling to think some small sub-human decided to kill this magnificent elephant of all elephants for his own greed. Undeniably, one of the greatest tuskers in the whole of Africa has been lost. Everyone needs to do something to help now.
Yours in Rotary John Glassford Chair 2013 -2014
Proposed Rotarian Action Group for Endangered Species
PLEASE CALL ME ANYTIME 02 6927 6027.
Bulletin Editor and Web Site:  John Glassford
Don't forget to regularly check our club web site for current information such as bingo rosters and various newsletters from the District Governor, the School of St. Jude's, the monthly membership on the move newsletter as well as several other club bulletins.
Rotary International President Ron Burton
Governor of District 9700 Geoff Tancred
Coolamon Club President  Dick Jennings
Coolamon Club Secretary Paul Weston
Club Treasurer  Henk Hulsman
Coolamon Rotary Club Inc. P.O. Box 23 COOLAMON N.S.W. 2701
Websites of Interest
Coolamon Rotary Club: http://coolamonrotary.com
Road MAPS to Africa a Coolamon Rotary Project: http://www.mountainsofthemoon.org/
Rotary Down Under on line: http://flipflashpages.uniflip.com/2/26587/49598/pub
Mount Kenya 2015 Web Site incorporating the ORK: http://theork.com/
Our Rotary Centennial Twin Club Hout Bay, Cape Town, South Africa: http://www.rotaryhoutbay.org
Proposed Rotarian Action Group for Endangered Species RAGES: http://www.endangeredrag.org/#