Coolamon Rotary News Bulletin # 6

DINNER MEETING August 6th. 2012
We had 12 members and partners present with some 51 guests from Coolamon and Ganmain attend Monday night's meeting.  This was an exceptional night with Linda Tilman from Coolamon speaking on marketing the Coolamon Shire.  Coolamon and Ganmain business leaders, shop keepers and those interested in Linda Tilman's talk enjoyed a Chinese banquet and good fellowship.  President Paul Weston welcomed all the guests and spoke about our Rotary club and what we do for our community and for Africa.
Linda Tilman then presented the goals and activities for Coolamon Shire and the plans that are in place to encourage people to shop locally and for tourism to prosper in our Shire.  Above all Linda placed a huge emphasis on marketing your own business through the Internet and using social media such as Facebook, and Twitter.  Linda pointed out two key targets to achieve these aims which are local residents, their families and friends and day trippers to our Shire.
The presentation by Linda was well received and there was a lengthy question time with just about everyone having a say and asking meaningful questions. Bill Thomnpson one of Coolamon's leading lights thanked our Rotary club for putting this evening together.  Leslie Weston thanked Linda on behalf of our club and presented Linda with our Kangaroo money bag pouch.
All in all a very successful night and one enjoyed by all with President Paul calling for a follow up meeting in one month's time.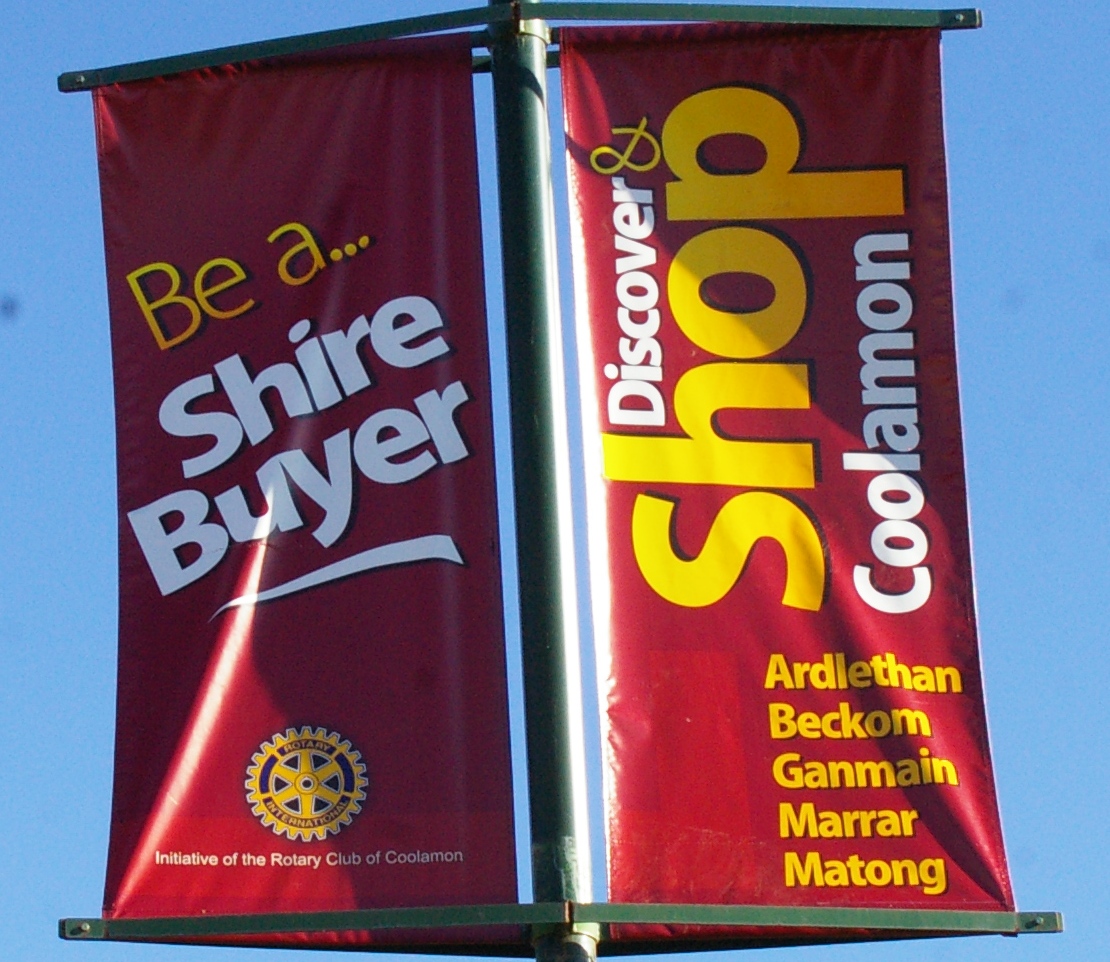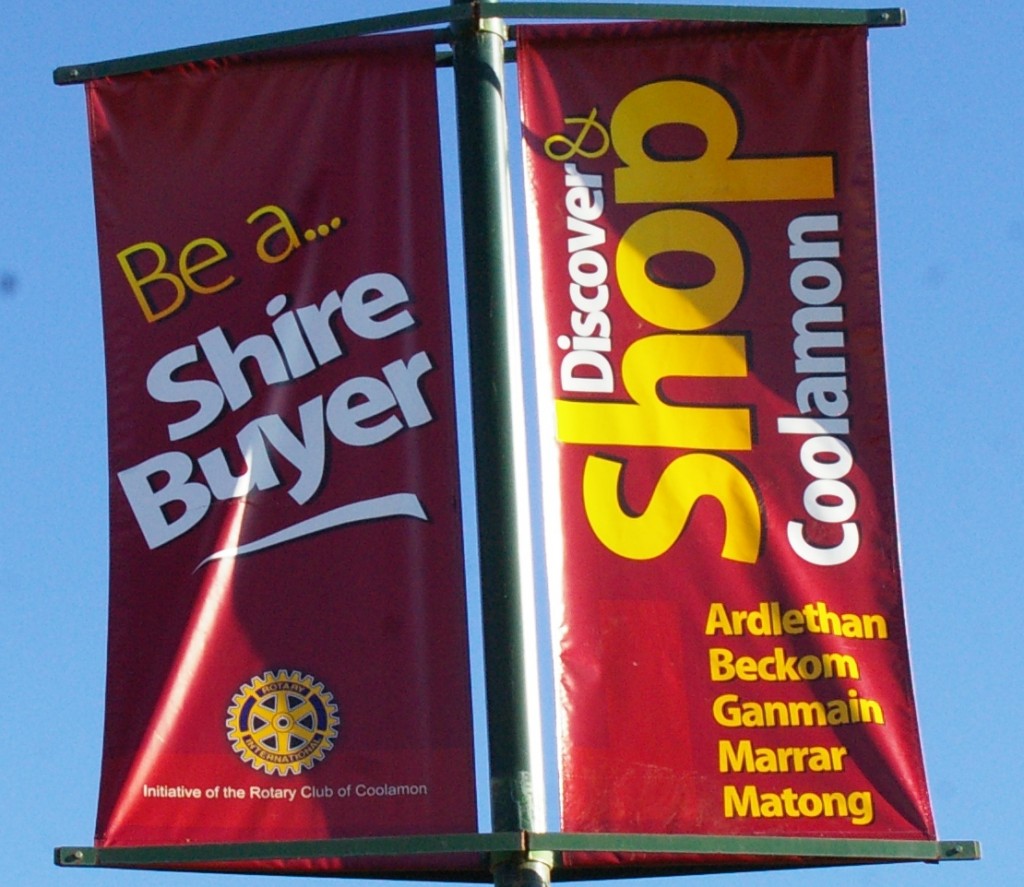 Our banners now flying in Coolamon with more to go up in Ganmain in the near future.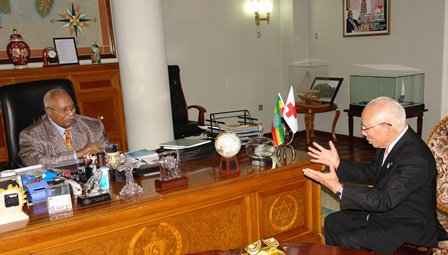 Dear fellow Rotarians,
What is Rotary? When I ask Rotarians this question, they often give vague answers. And when I asked myself this question, I had to think about it. August is Membership and Extension Month in Rotary, and I want all Rotarians to be able to send a unified message about what Rotary is and why they joined.
The key to increasing membership is for every Rotarian to be convinced that it's good to be a Rotarian, and to convey that passion to others. In Rotary, we have a tendency to be humble and keep our achievements to ourselves. But we must share them with those around us and with the world.
Every Rotarian has a specific moment that stands out and has a special meaning. Some people refer to this as their "Rotary Moment." I believe it is very important to share this moment with others. Facts and numbers can only go so far, but sharing a personal experience can open doors and build friendships.
That's why I decided to create some sample messages that I call "Rotary Moments." You can use these one-minute and three-minute messages to answer the question "What is Rotary?" in a way that is most personal to you. They will help you talk about the projects you've been involved in, how they've helped your community, and what's been most meaningful to you.
To strengthen Rotary, we need more members. But unless those members are convinced of the benefits of the organization and can share that passion with others, expanding Rotary won't be meaningful.
If every Rotarian is happy about being a Rotarian and spreads the word with a clear, unified message – if every Rotarian around the world can be his or her own PR department – the combined, collective effect will be enormous. These sample messages will help us all clearly communicate our enthusiasm to others. This will lead to an increase in new membership and in member retention.
The messages are available for free download at www.rotary.org, and Rotarians can buy other membership materials at shop.rotary.org.
I believe that the purpose of every life is to help others and contribute to society. Once Rotarians begin using these samples, the world will become more aware of how Rotary is helping people live that way. I encourage you to share your Rotary Moment with other Rotarians as well as non-Rotarians.
Sakuji Tanaka
President, Rotary International
PRESIDENT PAUL WESTON'S REPORT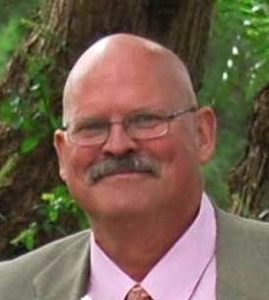 What a night!  We saw a great turnout of local business owners/operators and other guests on Monday night to hear Linda Tillman lay out her marketing plan for promoting the Coolamon Shire.  After a bountiful Chinese banquet prepared by Gilbert and staff, Linda described the two-pronged approach to boosting business and tourism in the shire, one focused on encouraging local residents to shop locally and the other catering to day-trippers and visitors.  A number of initiatives and promotions have been started to alert out-of-towners to the unique charms and quirky shops of Coolamon and other towns in the shire.  A spirited question and answer session followed, highlighting the passion of local business operators for our shire and its future.  Leslie closed the session with a warm vote of thanks for Linda and a promise of future dinner meetings to further progress the programs that Linda and Rotary have initiated.  The evening concluded with the raffle draw, with a plentiful meat tray prepared by Coolamon Butchery, a lovely bottle of shiraz donated by John Glassford, and a $50 voucher to Phoenix Cards ending up in the hands of three lucky guests on the night.  A good time was had by all.
Onward and upward!
Yours in Rotary,
Paul.
ON THE LIGHTER SIDE

Up the creek with a paddle

WHY SOME MEN HAVE A DOG AND NO WIFE

1. The later you are, the more excited your dogs are to see you.

2. Dogs don't notice if you call them by another dog's name.

3. Dogs like it if you leave a lot of things on the floor.

4. A dog's parents never visit.

5. Dogs agree that you have to raise your voice to get your point across.

6. Dogs find you amusing when you're drunk.

7. Dogs like to go hunting and fishing.

8. A dog will not wake you up at night to ask, "If I died, would you get another dog?"

9. If a dog has babies, you can put an ad in the paper and give them away.

10. A dog will let you put a studded collar on it without calling you a pervert.

11. If a dog smells another dog on you, they don't get mad. They just think it's interesting.

And last, but not least:

12. If a dog leaves, it won't take half of your stuff.

To test this theory:

Lock your wife and your dog in the garage for an hour. Then open it and see who's happy to see you.

ROTARY INFORMATION

ROTARIAN ACTION GROUPS

Rotarian Action Groups provide assistance and support to Rotary clubs and districts in planning and implementing service projects in their respective areas of expertise. They are autonomous, international groups organized by committed Rotarians, Rotarians' spouses, and Rotaractors who have expertise in and a passion for a particular type of service.  We looked briefly at the new Future Vision last week from our Foundation.   RAGs will play a pivotal part in the implementation of the Future Vision;  for example one of the new Rotarian Action Groups is the Water and Sanitation Rotarian Action Group or WASRAG.  WASRAG will work in the Water and sanitation area of focus and here is their web site:

Full list of Rotarian Action Groups RAG

Water Carriers

Click on the images above for a larger photo and note the yellow cans in the open drain where these people collect their water from.

President of Rotary International  Sakuji Tanaka
Governor of District 9700  Greg Brown
Coolamon Club President  Paul Weston
Coolamon Club Secretary  John Glassford
Coolamon Club Treasurer  Henk Hulsman
Coolamon Rotary Club Inc. P.O. Box 23 COOLAMON N.S.W. 2701
Websites of Interest
Coolamon Rotary Club: http://coolamonrotary.com
Rotary Down Under on line: http://flipflashpages.uniflip.com/2/26587/49598/pub
Rotarians For Fighting AIDS: http://www.rffa.org
Our Rotary Centennial Twin Club Hout Bay, Cape Town, South Africa: http://www.rotaryhoutbay.org
Don't forget to regularly check our club web site for current information such as bingo rosters and various newsletters from the District Governor, the School of St. Jude's, the monthly membership on the move newsletter as well as several other club bulletins.