Coolamon Rotary News Bulletin #23
JANUARY IS ROTARY AWARENESS MONTH
DOING GOOD IN AUSTRALIA – RODEO ACADEMY
Happy New Year to all our members and readers of this bulletin.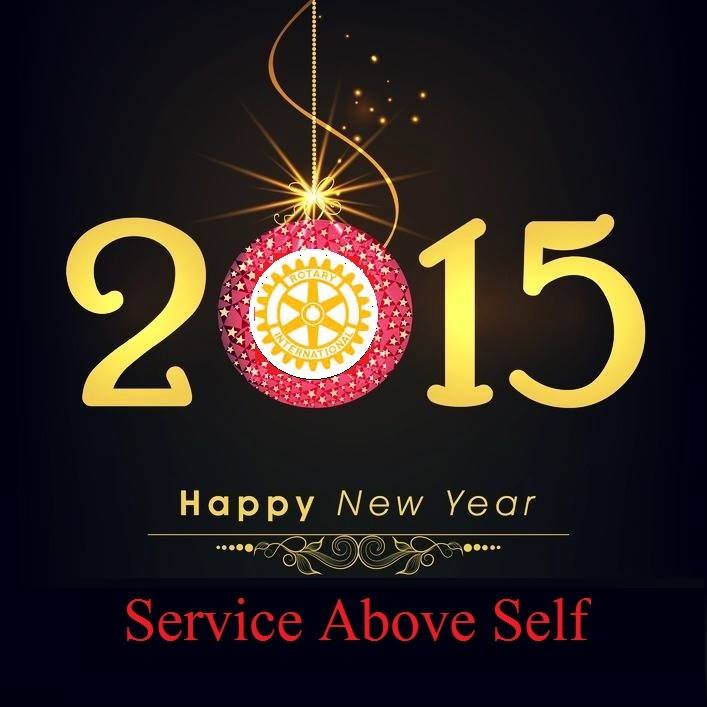 NEW YEAR'S EVE 2014 31st. DECEMBER
This NYE our club volunteered to provide our caravan and do some catering for the crowd expected in Coolamon.  The members who turned up on the night were PE Wayne Lewis, Don Dyce, Bernadette Milne, Paul Weston, Leslie Weston, Ted Hutcheon, Dick Jennings, John Glassford and  Neil Munro.  We had and excellent night and thanks to Henk Hulsman for cutting up the onions.Here are some photos of the evening put on by the Shire:
Diary Reminders
Thursday January 15th Mount Kenya 2015 Planning Meeting at the Wagga Wagga Ex Services Club 7.00pm.  All welcome to attend.
Wednesday 4th February 2015 Joint Lions Rotary Meeting in Coolamon.  Guest speakers PDG Fred Loneragan and PP John Glassford Mount Kenya 2015 ANZAC Day Climb CONFIRMED.  7.00 for 7.30 pm
Thursday 12th February BINGO:   Ian  Durham  (Captain), Paul Weston, Rod Jarrett, Leslie Weston
*Sunday March 8th The Rock Challenge Mount Kenya ANZAC Day 2015 Climb.
Monday 9th-Friday 13th March RYDA at the Wagga Wagga Showgrounds.
Saturday 21st March to Sunday 22nd March D 9700 CONFERENCE at Cowra.  Book Now for early bird discounts.
Saturday 11th April – Sunday May 10th Mount Kenya ANZAC DAy 2015 Climb in Kenya.
Saturday 6th June – Tuesday 9th June 2015 RI Convention Sao Paulo BRAZIL.
*Partners and Guests Night.
Apologies for Monday meetings call Christine Atkinson on 0427 880 158 or 6927 3521 BY FRIDAY 12.00 pm.
ROTARY INTERNATIONAL PRESIDENT GARY HUANG
January 1st 2105 RIP Gary and his wife are on the Rotary float this year depicting clean water.
DISTRICT GOVERNOR DAVID KENNEDY D 9700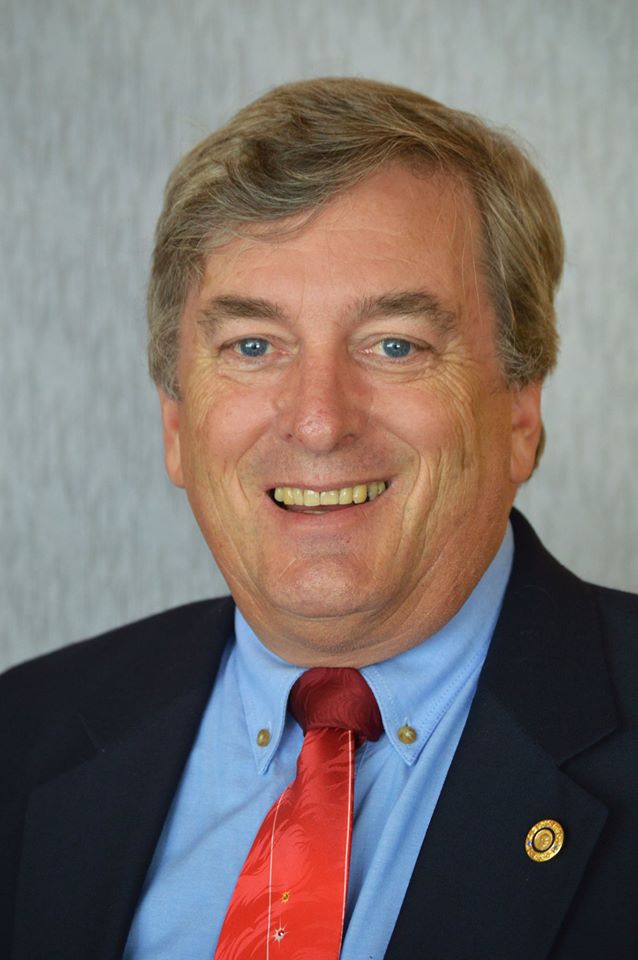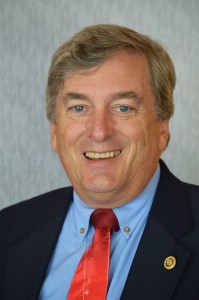 Dear Rotarians and Guests,
The Cowra Rotary Club Inc. cordially invites you to attend the  Annual Conference to be held in Cowra from Friday March 20th  to Sunday March 22nd, 2015.
Cowra is centrally located in District 9700, with a fascinating history from the days of steam trains to the largest Prisoner Of War breakout in modern military history.  Join us at the conference, experience the
Cowra Peace Bell and on Sunday explore the tranquil Japanese Garden or the WW2 POW camp.
The Conference will be held in the Cowra Civic Centre with Friday Night College of Governor's Dinner at the Quarry Restaurant, Saturday night dinner at the Cowra Services Club and Sunday Lunch at the Cowra Japanese Gardens.
Details and timings for the Conference are as follows:
Friday Night: College of Governor's Dinner at 6.30pm for 7.00pm at the Quarry Restaurant (Boorowa Road – 5 km out of town on right hand side).  Booking Required.

Saturday: Registration from 9:00am to 10:00am at the Cowra Civic Centre (Darling St).  (No Charge).

Saturday: Plenary 1 from 10.15am to 12.30pm at the Cowra Civic Centre.   (No Charge).

Saturday: Lunch 12:30pm to 1:15pm at Cowra Civic Centre (Darling Street).   This will be a 'Pay as you go' event.

Saturday: Plenary 2 from 1.15pm to 4.30pm at the Cowra Civic Centre.   (No Charge).

Saturday: Evening Dinner at 6:30pm for 7:00pm at the Cowra Services Club (Brisbane St.)   Booking Required.  'A touch of Hawaii' is the evening theme.  Cost $47.50 for EarlyBirds or $50.00 after 20 Feb.

Sunday: Plenary 3 from 9.00am to 12.30pm at the Cowra Civic Centre.   (No Charge).

Sunday: Farewell Lunch at 1:00pm at the Japanese Gardens (Binni Creek Road – 1 km from town on right hand side)   Includes access to the Gardens.   Booking Required.  $17.50 for Early Birds or $20.00 if you book after 20 Feb.
Attendees will need to book for the Conference, the Friday Night Dinner, the Saturday Evening Dinner and the Sunday Lunch.   There is an Early Bird discount to encourage early bookings.  Please note that we are trying to keep Conference costs to a minimum.   As a result, we are taking payments by DIRECT DEPOSIT or by CHEQUE and we have not established costly Credit Card payment facilities.
Click here to book online.
  We are using our own ClubRunner District Website program for bookings.  This means that the district saves money and you have the option of using your ClubRunner login to save time filling in the registration form.  Just login and the program brings up all your recorded contact data.
The 2015 District Conference will be interesting and relevant and we would like to see a good attendance of District Rotarians and Partners.
Yours in Rotary,
David Kennedy
ON THE LIGHTER SIDE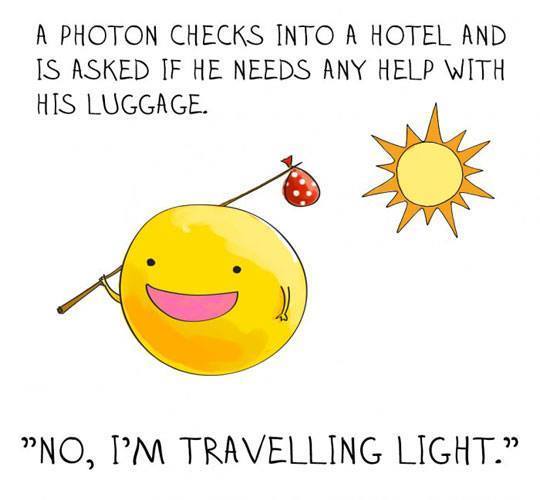 Love Seminar
A group of women were at a seminar on how to live in a loving relationship with their husband. The women were asked, "How many of you love your husband?"
All the women raised their hands.
Then they were asked, "When was the last time you told your husband you loved him?"
Some women answered today, a few yesterday, and some couldn't remember.
The women were then told to take out their cell phones and text their husband: "I love you, sweetheart." Then, the women were then told to exchange phones with another person, and to read aloud the text message they received, in response.
Here are some of the replies:
(I think some are hilarious…if you have been married for quite a while, a sign of true love… Like who else would you reply to in such a succinct and honest way. )
1. Who the heck is this?
2. Eh, mother of my children, are you sick or what?
3. Yeh, and I love you too. What's up with you?
4. What now? Did you crash the car again?
5. I don't understand what you mean?
6. What did you do now?
8. Don't beat about the bush, just tell me how much you need?
9. Am I dreaming?
10. If you don't tell me who this message is actually for, someone will get hurt.
11. I thought we agreed you wouldn't drink during the day.
12. Your mother is coming to stay with us, isn't she???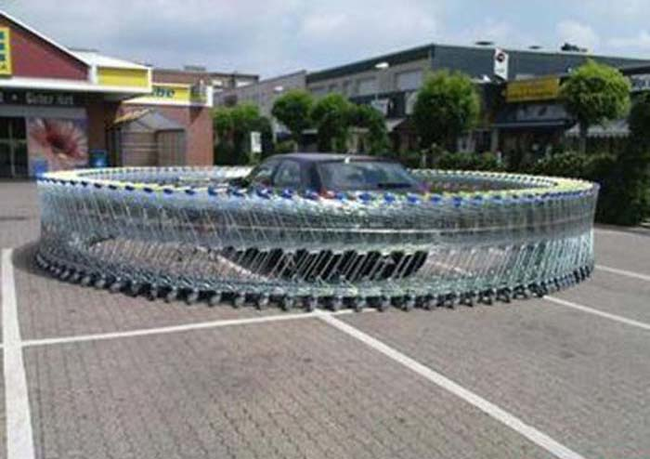 ROTARY INFORMATION
MONTHLY THEMES FROM RI
The RI Board's meeting in October has modified Rotary's calendar of special observances to designate specific months highlighting the 6 Areas of Focus.  They will come into effect on July 1st 2015.
The new special observance months are:
January:        Vocational Service
February:       Peace and Conflict Prevention/Resolution 
March:            Water and Sanitation
April:               Maternal and Child Health
May:                Youth Services
June:              Fellowship
July:                New Rotary Year
August:          Membership
September:    Basic Education and Literacy
October:         Economic and Community Development
November:     Rotary Foundation
December:     Disease Prevention and Treatment
ONLY IN AFRICA
 
OUT OF AFRICA
 MOUNT KENYA 2015 ANZAC DAY CLIMB
This will be a permanent section for the next 12 months in our weekly bulletin and I will update stories to this article as and when we get them.   The Australian Commonwealth Department of Veterans Affairs have approved our application to be part of the Centenary for ANZAC and we are allowed to use the logo below with some rules on it's use: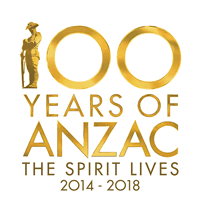 The Mount Kenya 2015 web site can be found here on clicking the banner below: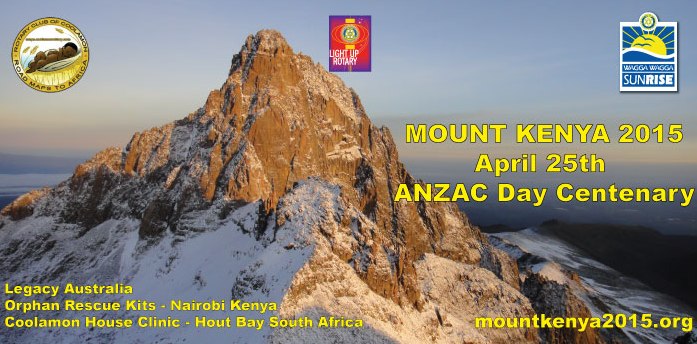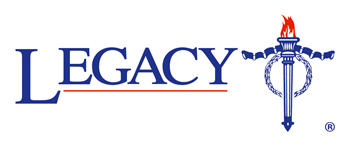 4 MONTHS TO GO!
Web Site: www.mountkenya2015.org
 Just some news to keep us all in touch and some questions for all of us.
Keep an eye on the web site for further information. We now have around 17-21 climbers and safari members, with only a few not fully confirmed as yet.  Our goal was always 20-30 with 30 being the maximum number that we will take with us.  So we are close to our target.
Now for the fund raising and I know that all of you have ideas and projects in mind to raise the funds. I feel that we will succeed in raising a significant amount for the beneficiaries.  We will need help with the proposed crowd funding project.
Next Planning Meeting in Wagga Wagga Thursday 15th January at the Wagga Wagga Ex-Services Club.
The Rock Challenge on Sunday March 8th. We will have a committee in place by the 15th January to plan this event.  Any ideas will be very welcome.
We have paid the deposit for the Mount Kenya Option and we now have 12 for this option. We have engaged Moses Kashumba, African Brothers Expeditions from Arusha to look after us on Mount Kenya.  Moses will provide cooks, all the food, tents where needed, guides, porters, mountain rescue, park fees, hiking and climbing routes.
The safari and other planned activities have been sent to you all. We need to put this part of the planning to bed by the 15th  We have heard back from many of you and we will make a list soon of who is going on the various options.
NB a reminder re Visas make sure to get these done as soon as possible. You will need visas for Kenya.  Contact the Kenyan High Commission go to their web site and download an application form and proceed from there.
Website:        http://www.kenya.asn.au
Visa Form:     http://www.kenya.asn.au/images/PDF/Visa.pdf
On arrival in South Africa the South African Immigration stamps your passport at the airport. Check though through the South African Embassy.
The citizen who is a holder of a national passport (diplomatic, official and ordinary) of the foreign countries / territories / international organisations listed below are not required to hold a visa when reporting to an immigration officer for an examination at a South African port of entry, subject to the terms and conditions set out in this list, including inter alia the intended period of stay in the Republic.
AUSTRALIA & NEW ZEALAND included.
http://www.dha.gov.za/index.php/countries-exempt-from-sa-visas
We will be conducting a FULL MOON training run up The Rock near Wagga Wagga on a date to be determined at our meeting on January 15th in Wagga Wagga. If any of any of you can make it please let me know.  This will give us an opportunity to test all of our gear.  It will also be reasonably colder.
FOOT NOTE
 
Yours in Rotary John Glassford Chair 2014 -2015
Proposed Rotarian Action Group for Endangered Species
PLEASE CALL ME ANYTIME 02 6927 6027.
Bulletin Editor and Web Site:  John Glassford
Don't forget to regularly check our club web site for current information such as bingo rosters and various newsletters from the District Governor, the School of St. Jude's, the monthly membership on the move newsletter as well as several other club bulletins.
Rotary International President Gary Huang
Governor of District 9700 David Kennedy
Coolamon Club President  Garth Perkin
Coolamon Club Secretary Paul Weston
Club Treasurer  Henk Hulsman
Coolamon Rotary Club Inc. P.O. Box 23 COOLAMON N.S.W. 2701
Websites of Interest
Coolamon Rotary Club: http://coolamonrotary.com
Road MAPS to Africa a Coolamon Rotary Project: http://www.mountainsofthemoon.org/
Rotary Down Under on line: http://flipflashpages.uniflip.com/2/26587/49598/pub
Mount Kenya 2015 Web Site incorporating the ORK: http://theork.com/
Our Rotary Centennial Twin Club Hout Bay, Cape Town, South Africa: http://www.rotaryhoutbay.org
Proposed Rotarian Action Group for Endangered Species RAGES: http://www.endangeredrag.org/#