Opening Plenary from Rotary International on Vimeo.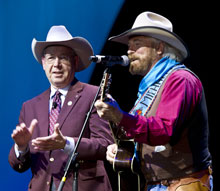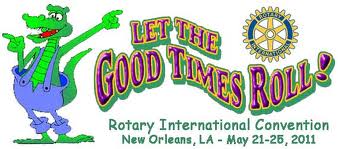 Rotarians celebrated past accomplishments and future friendships during the opening plenary session of the 2011 RI Convention in New Orleans, Louisiana, USA, on 22 May.
"Let's celebrate Rotary this week while we are here together in this special place," said RI President Ray Klinginsmith.
During the traditional flag ceremony, South Central Rotary Youth Exchange students presented flags from the more than 200 countries and geographical areas in the Rotary world. The group's participation highlighted Rotary's fifth and newest Avenue of Service, New Generations Service.
Attendees were treated to a variety of entertainment features. Internationally renowned opera singer Simon Estes, an honorary member of the Rotary Club of Des Moines, Iowa, performed the national anthem. Rotarians Steve Selvick and Jerry Mills, who wrote the song "Come Join Us," performed with the Youth Exchange students.
Country music star Lucy Dalton received an enthusiastic response for a song she wrote about Rotary's "This Close" public awareness campaign for polio eradication. And singer-songwriter Michael Martin Murphey performed "Cowboy Logic," a song about the common-sense solutions for everything. Klinginsmith has used it as the theme song for his presidency.
Klinginsmith urged Rotarians to use the convention as an opportunity to visit the House of Friendship, meet new people, and learn about service projects from other Rotarians.
"Greet everyone and talk with as many people as you can," he said. "You do not need an introduction to talk with other people here. You are free to converse with anyone and everyone. And regardless of where you are from, you will eventually meet someone who can help you with a project or who knows someone you know."
Klinginsmith also encouraged Rotarians to attend some of the convention's many  workshops to learn how to make their clubs bigger, better, and bolder.
"The best days of Rotary are still ahead," he said.
The Photos section 12 exclusive Photographs of House of friendship at NOLA Convention dispatched by Ron Nethurcutt for eFlash created by PDG Sunil K Zachariah .  Ron is in Rotary for more than 25 yrs and presently settled in Philippines. He is a TRF Major Donor and former ROTI Chair 07-09. He was a GSE Team Leader from 6840 to 1050 in 1995 and TRF Visiting University Professor to University of the Philippines 2000. He has attended Rotary meetings in 15 countries.