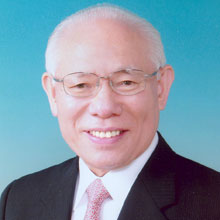 Sakuji Tanaka, a member of the Rotary Club of Yashio, Saitama, Japan, is the selection of the Nominating Committee for President of Rotary International in 2012-13. Tanaka will become the president-nominee on 1 October if there are no challenging candidates.
Tanaka said he would like to see Rotary "continue its vital work as the force to improve our communities."
For 32 years, Tanaka was president of Tanaka Company Ltd., a wholesale firm that went public in 1995 and later merged with other leading wholesalers in Japan. Currently, he serves as vice president of the Yashio City Chamber of Commerce and adviser to Arata Co. Ltd., an animal feed and pet food wholesaler. He also chaired the National Household Papers Distribution Association of Japan for eight years. Tanaka studied business at Nihon Management Daigakuin and Tokyo Management Daigakuin.