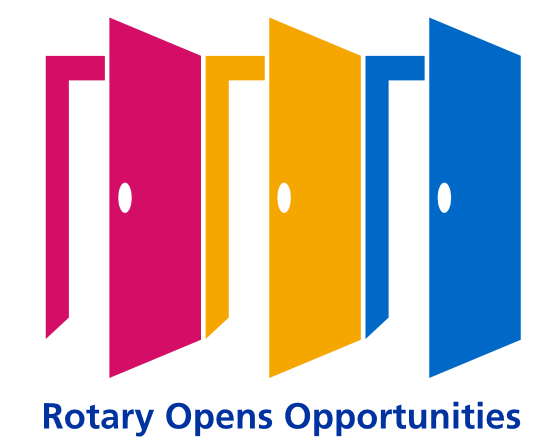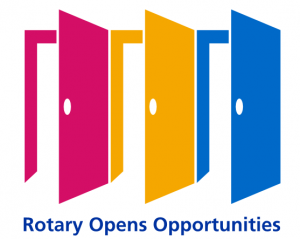 Week of 15th February
Howard welcomed a nearly full house (under COVID restrictions) to our weekly meeting, which kicked off with a presentation by Craig Gruber and three ambos from the Coolamon ambulance station (Nick, Kris and Tom).  Tom must be the low man on the totem pole because he was tasked with demonstrating the use of a defibrillator to revive someone suffering cardiac arrest (symptoms: unconscious, unresponsive, no pulse, not breathing or breathing abnormally).  Tom stressed that the first thing to do for any medical emergency is to RING TRIPLE ZERO (000).  While waiting for help to arrive, the next thing to do is to initiate CPR by pushing very hard on the breastbone rhythmically.  If a defibrillator is available, it should be used after rhythmically pushing on the chest.  Most defibrillators are automated, and will provide a series of voice instructions describing how to use it to restore heartbeat to cardiac arrest victims.  Tom and the crew answered a flurry of questions from those in attendance, who obviously found the talk and presentation very stimulating.  One of surprising pieces of advice was to push as hard as you can on the breastbone while performing CPR, and not to worry about possibly breaking ribs in the process (if you don't break a rib or two, you're apparently not pushing hard enough!). Dave thanked the ambos for a very interesting and engaging presentation, presenting them with CRC pens as mementos.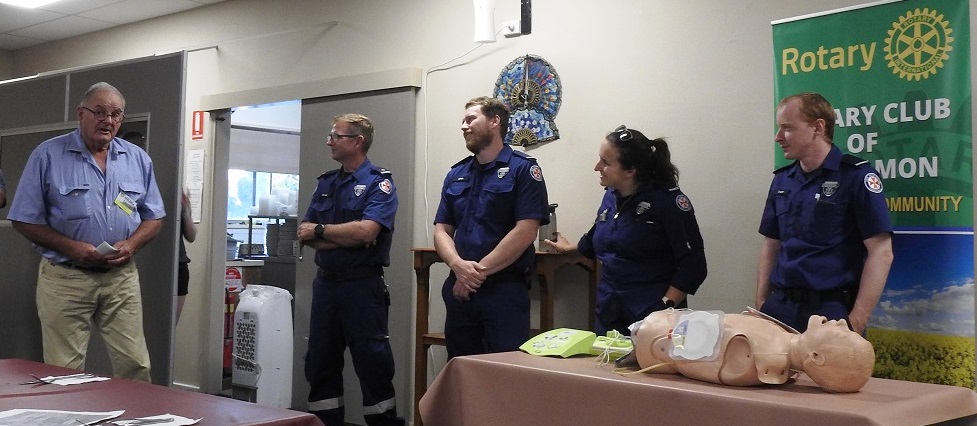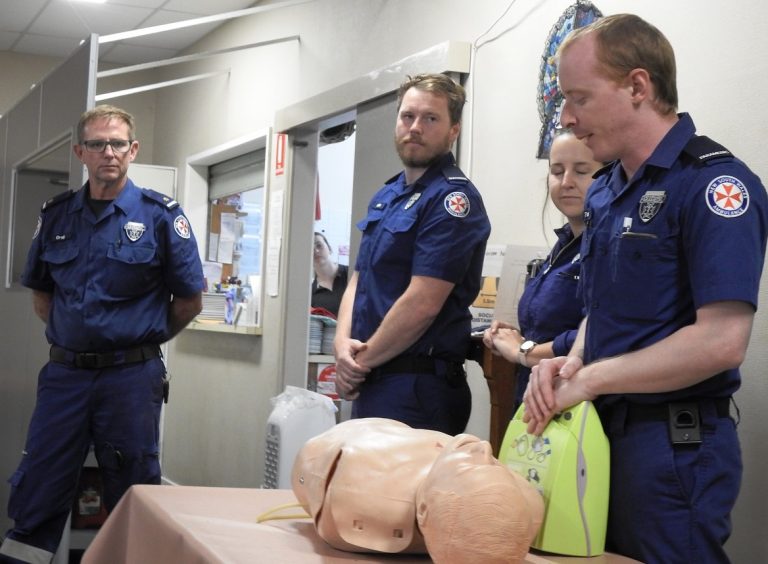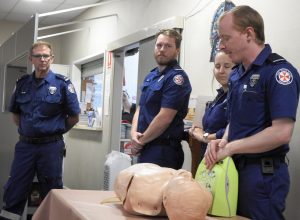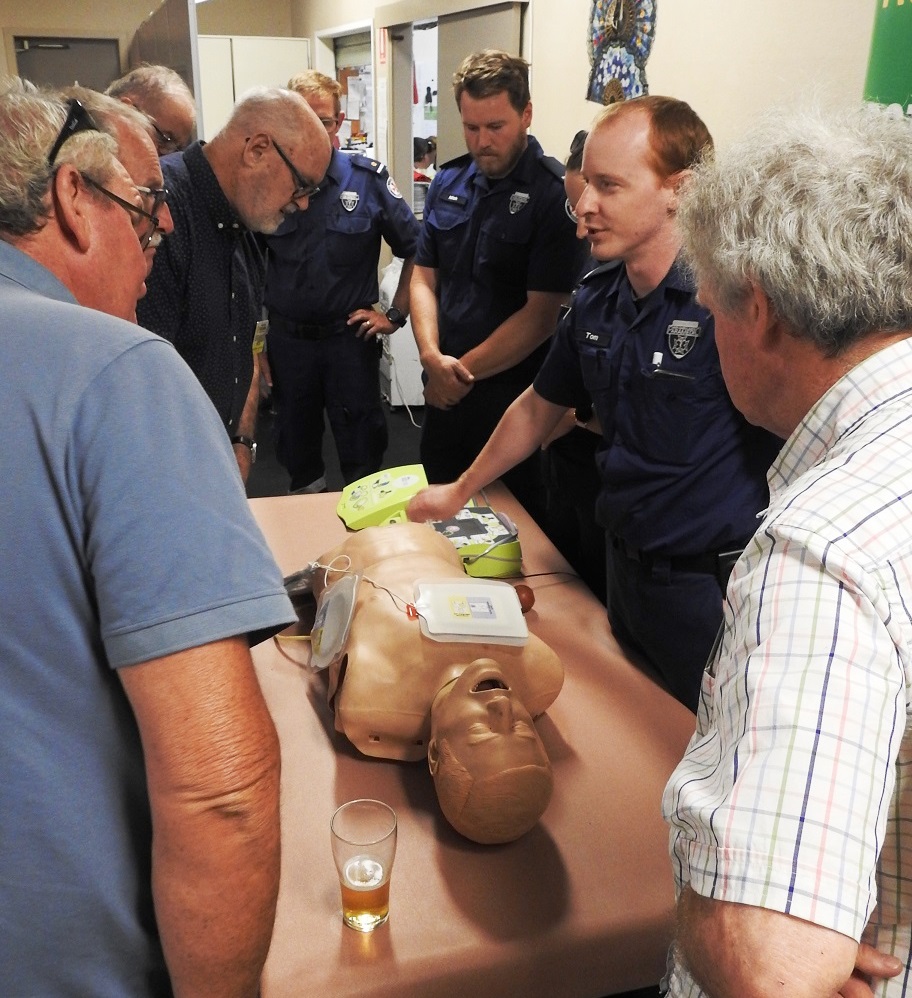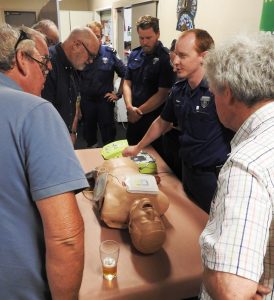 Following dinner, there was a bit of discussion about the upcoming clearing sale at the Munro property and the 50 anniversary party for Coolamon Rotary.  The evening concluded with a short fine session and raffle.
Rotary Rolls to Victory in Lawn Bowls
Rotary 1, represented by Albert, Daryl and Paul, rolled to an easy 17-8 victory over the Mongrels in the Business House Bowls comp on Friday.  They nearly took out the top prize on the night, but another team managed to edge their competition by a slightly larger margin.  The lights went out just as the last end was starting, but the teams were not to be deterred and completed the end by the the light of mobile phone flashlights.  Rotary 2 didn't play because too many members were unavailable on the night.
REMINDERS
1. 50th BIRTHDAY PARTY MONDAY MARCH 1st,  6.30 for 7.00 pm
We have had a very good response to our invitations to our 50th celebrations on Monday 1st.  We now have over 100 attending with some 6 Rotary clubs and Lions Coolamon coming along.
We will be closing the bookings early on Monday 22nd.  If you have not already booked in please do so ASAP.
The Hon. Steph Cooke will be at the CRC's  Shed at 6.00 pm on Monday 1st March to officially hand over the shed to our club.  You are all invited to attend and Steph will then be at the dinner following the opening.
A blast from the past:
2. NEIL MUNRO'S CLEARING SALE REMINDER
Neil Munro's clearing sale will be on Friday, February 26th starting at 9.00 am. Members are needed to assist with catering from 7.00 am.
Neil suggests that if you are attending to please register online to make life easier for them, due to Covid 19.  A good idea, so if you are attending please go register your intentions here:
Also a lot more information is available on their web site advertising the sale here and you can register online as a buyer:
Please help by registering your attendance as soon as possible.
IN THE NEWS
Paul Weston in the Daily Advertiser this week: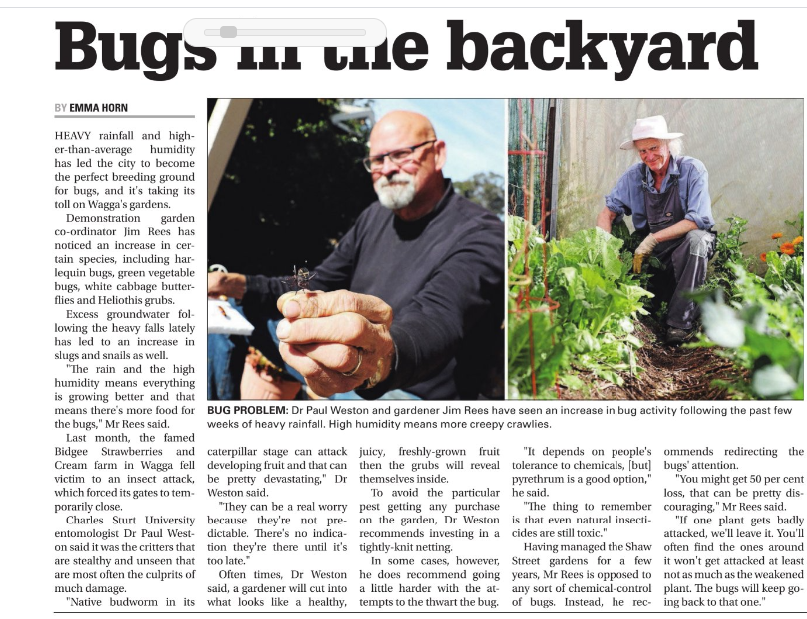 Click on the above story for better vision.
POLIO PLUS MOVIE AFTERNOON
SUNDAY MARCH 7th – IN AID OF POLIO PLUS – 2.00pm at the Wagga Wagga Forum Cinema
'Nomadland' Takes Top Prizes at Toronto Critics' Awards
"Nomadland" won best picture, best director for Chloé Zhao and best actress for Frances McDormand at the 24th annual Toronto Film Critics' Awards (TFCA).
You can see the trailer here:
Following the economic collapse of a company town in rural Nevada, Fern (Frances McDormand) packs her van and sets off on the road exploring a life outside of conventional society as a modern-day nomad. The third feature film from director Chloé Zhao, NOMADLAND features real nomads Linda May, Swankie and Bob Wells as Fern's mentors and comrades in her exploration through the vast landscape of the American West. February 2021.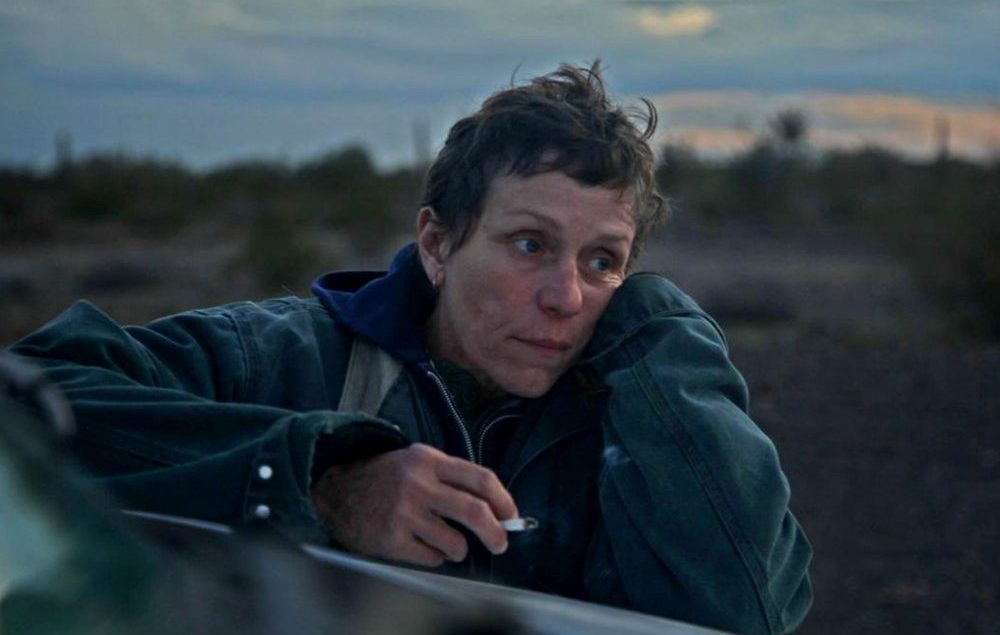 DIARY
Monday 22nd February – Regular meeting. Coolamon Sport & Rec Club, 6:30 for 7 pm.
Friday 26th February – Neil and Clare Munro's Clearance Sale starting at 9.00 am. Volunteers needed; please contact Dick Jennings for details on how you can help.
Monday 1st March – COOLAMON ROTARY'S 50th BIRTHDAY PARTY 
Our District 9705 Governor Dr. Michael Moore AM and PP Helen Moore will be our honoured guests.  Please have your attendance in by Monday 22nd February.
Cost $25 per head catering by Gilbert and Di.  Dress code: women smart casual and men jackets and ties.  Please book with Ian Jennings or John Glassford bookings close on Monday 22nd February.
Sunday March 7th – Polio Plus Movie Afternoon in Wagga Wagga Forum Cinema to see the pre-release of "Nomadland'.  Details in this bulletin.
Monday 22nd March – Club Assembly. Coolamon Sport & Rec Club, 6:30 for 7 pm.
Friday 19th-Sunday 21st March 2021.  District 9705 Conference in Bathurst.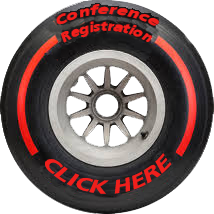 JUST FOR LAUGHS
Happy Valentines Day
Cat got your tongue?
Click on the image below to see a most amusing real-life tech problem that ended up going viral!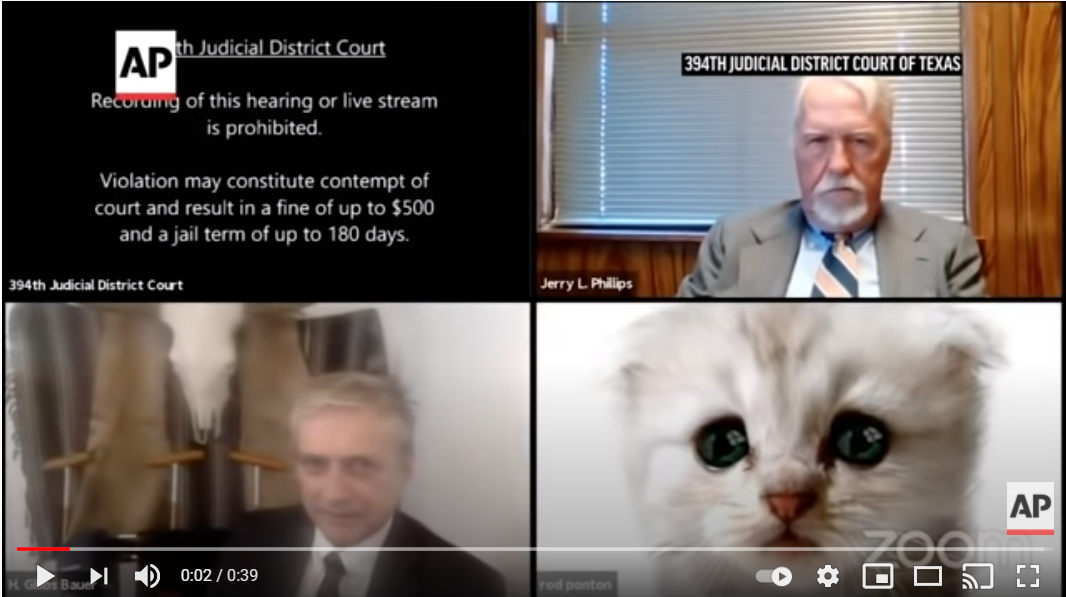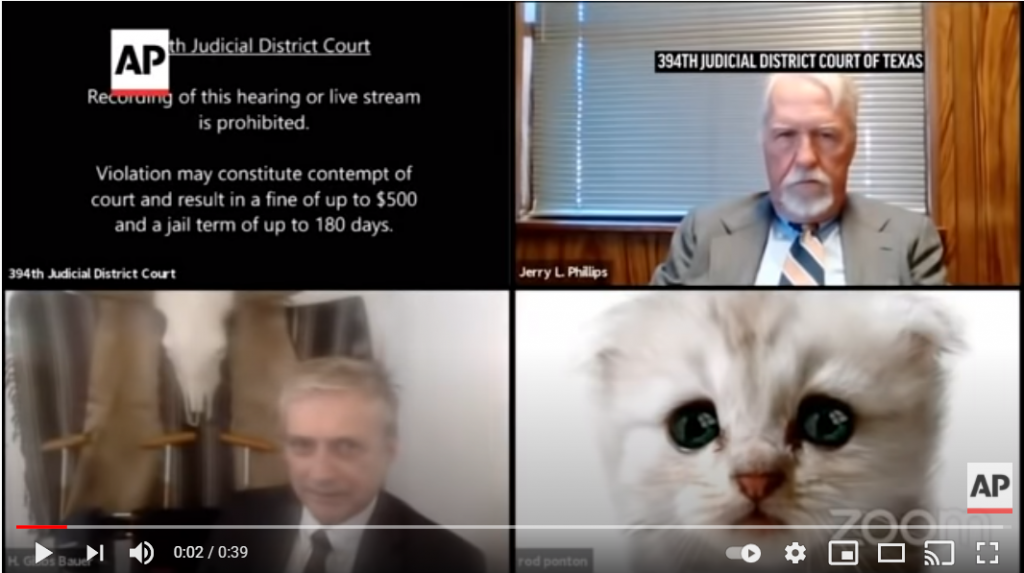 THE PUZZLER
Answer to the last puzzler: Five hours.
This week's puzzler: A scientist puts some bacteria in a petri dish at exactly noon. Every minute, the bacteria divide and the area covered by the bacteria doubles. At 1 pm, the petri dish is exactly full. At what time was the dish half full?
ROTARY NEWS
The future of environmentalism includes a focus on humanity's well-being
We don't need to trade a healthy environment for a thriving economy.
by Jonathan Foley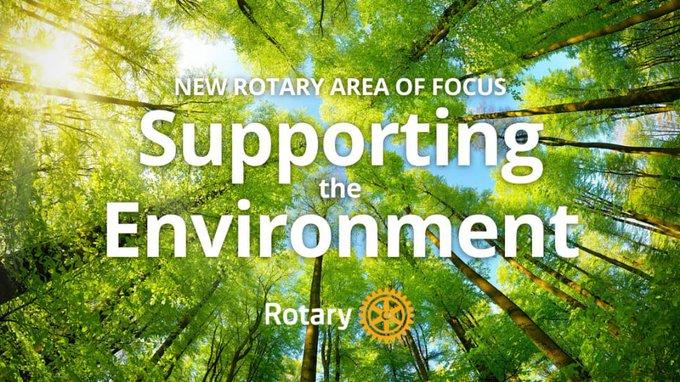 To some people, the term "environmentalist" seems to be a dirty word. In their minds, it denotes starry-eyed zealots who chain themselves to trees.
Or perhaps they envision out-of-touch elites who care more about spotted owls and humpback whales than people, self-centred activists who want to tell others how to live their lives, run their towns, and operate their businesses.
But that's a wildly out-of-date assumption. Today, environmentalism has evolved into a much more helpful and engaging field. It's a diverse community that looks to improve the lives of everyday people, as well as safeguard the natural world and our collective future. In addition, over the past couple of decades, rather than merely harping on the environmental problems facing the world, environmentalists have shifted more of their attention toward practical solutions. And they have done that by keeping the focus on people and their collective well-being.


February is Peace and Conflict Prevention/Resolution Month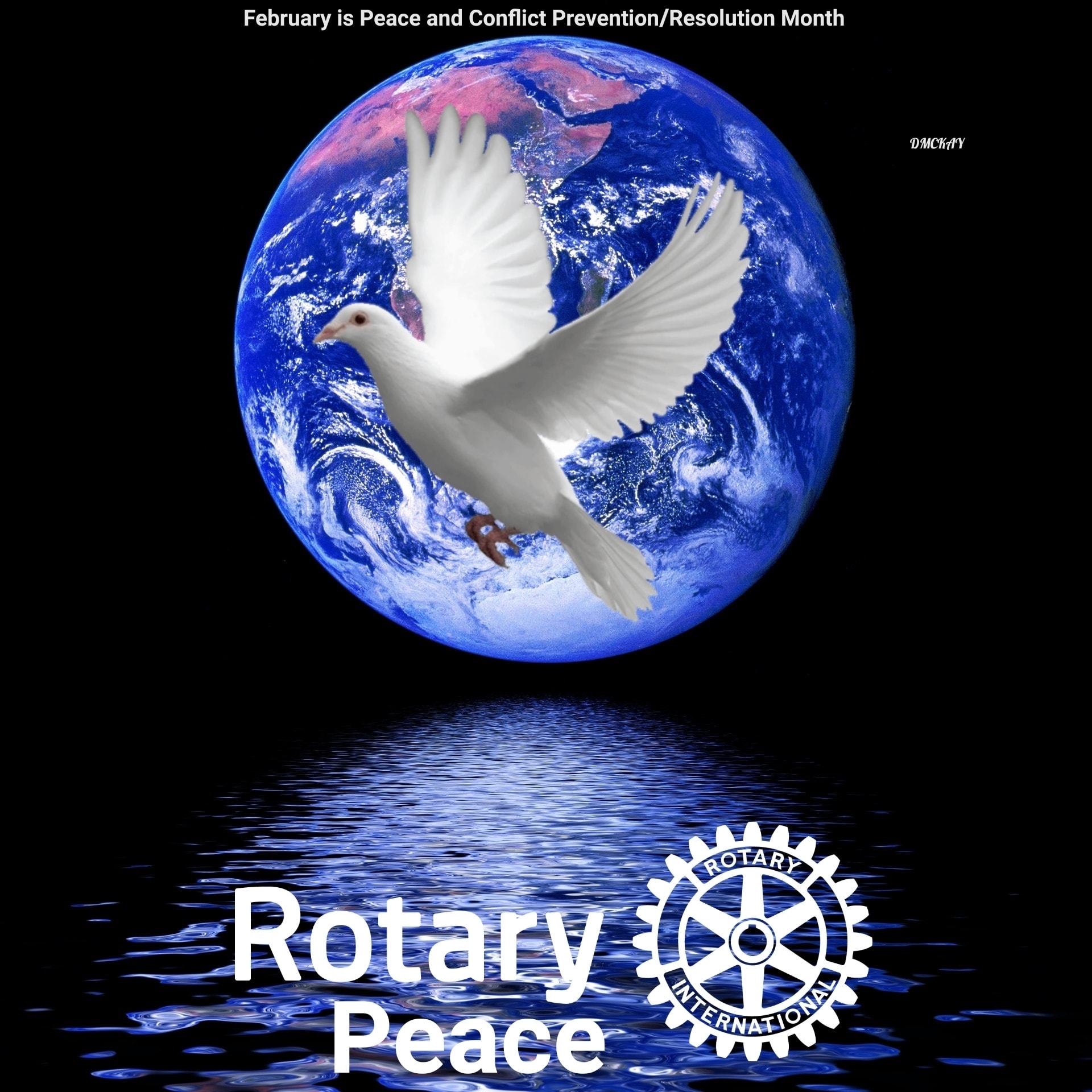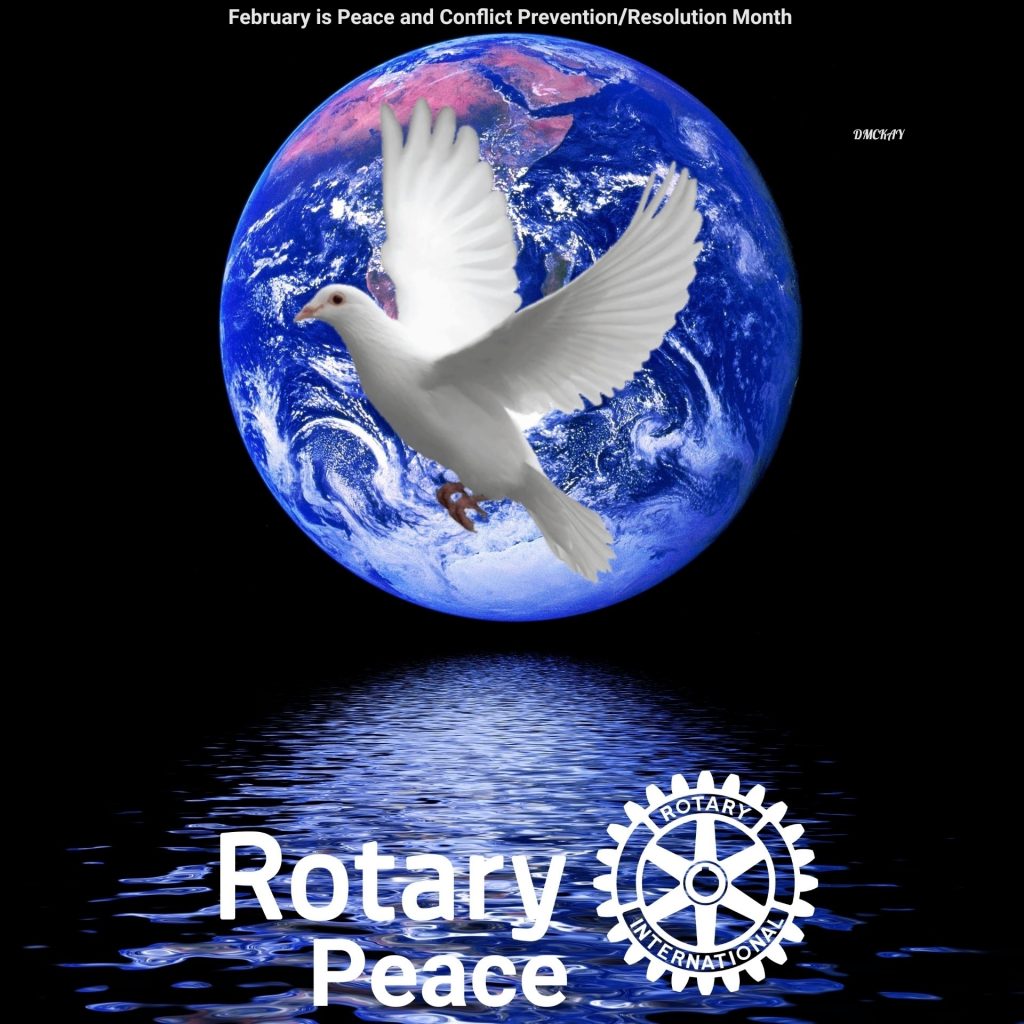 Graphics by Debbie Vance
ROTARY CLUB OF COOLAMON Inc. 2020-21
Chartered March 3rd, 1971; Sponsoring Club Narrandera Rotary Club
President: Howard Atkinson
President-Elect 2021-2022: Albert Suidgeest
President-Elect Nominee 2022-2023: Paul Weston
Secretary: John Glassford
Treasurer: Henk Hulsman
Rotary Foundation Director: Neil Munro
Membership Director: Dick Jennings
Service Projects Director 1: Albert Suidgeest
Service Projects Director 2: Dave McKinley
Youth Services Director: Anne Rzeszkowski
Club Admin Director:  Paul Weston
Public Image Director: Grahame Miles
Immediate Past President: Daryl Breust
Sergeant @ Arms: Albert Suidgeest
Bulletin Editors: Paul Weston and John Glassford
Webmaster: John Glassford