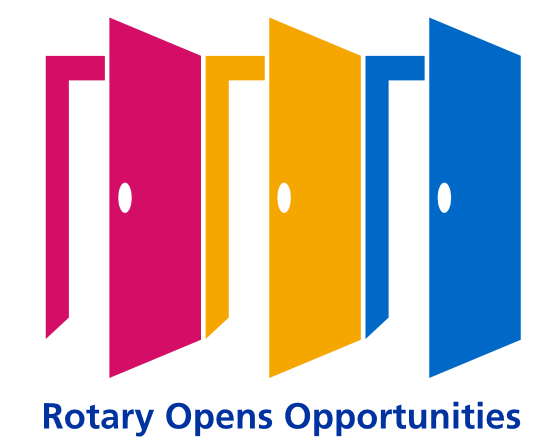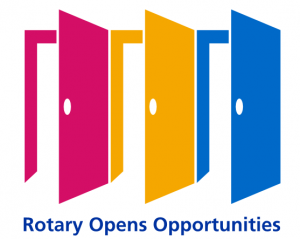 Week of 12th April
President Howard Atkinson welcomed 13 members and 5 guests to our weekly meeting.  The members in attendance were treated to a most interesting talk by Wayne McPherson on the topic of freshwater fish of Australia, with an emphasis on species at risk of extinction. Wayne's passion for the topic and his impressive knowledge were evident throughout the talk, and were overshadowed only by some of the depressing statistics regarding the number of species of freshwater fish that have gone extinct over the past 50 years (the number is substantial) and the number that are presently endangered or threatened with extinction.  Sadly, most of those extinctions have been the result of mismanagement of rivers by governmental agencies and water management groups. Removal of favourable habitats in rivers (e.g. "desnagging") and the introduction of problematic species such as European carp have made the situation worse.  Despite all the bad news, there's hope for the freshwater fish of Australia, especially with the passion of people like Wayne and their inclusion on various boards responsible for making decisions that impact water management in the rivers of Australia.  Ian thanked Wayne for a most interesting talk and presented him with a memento of the Rotary Club of Coolamon.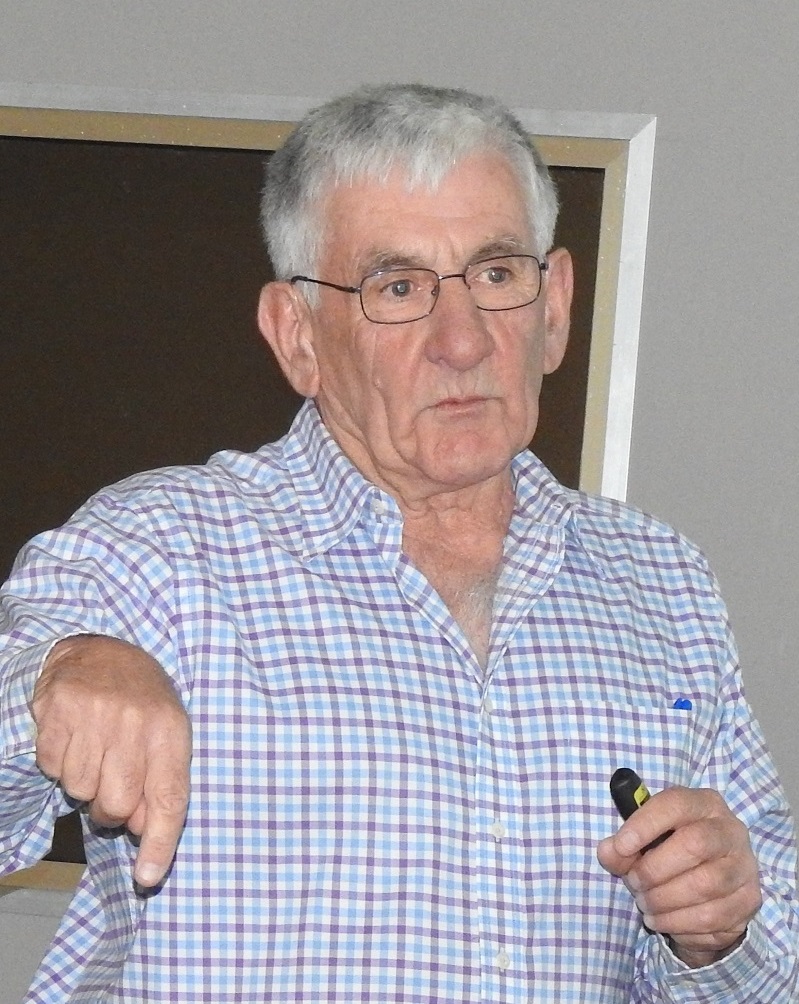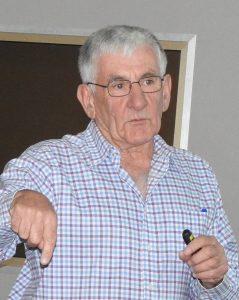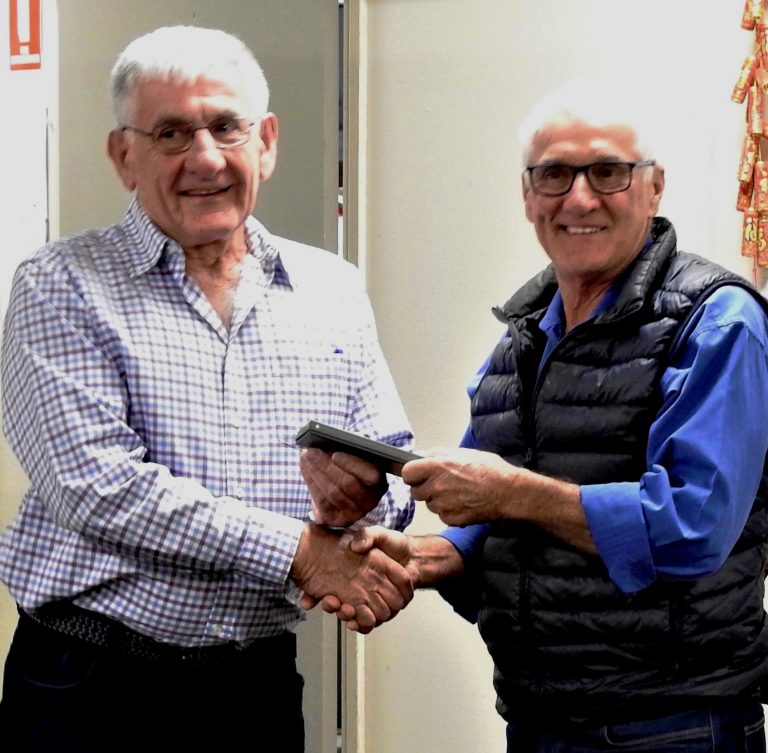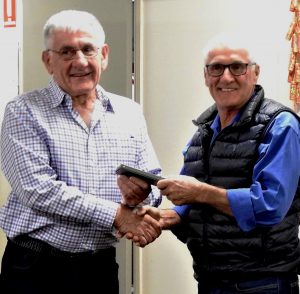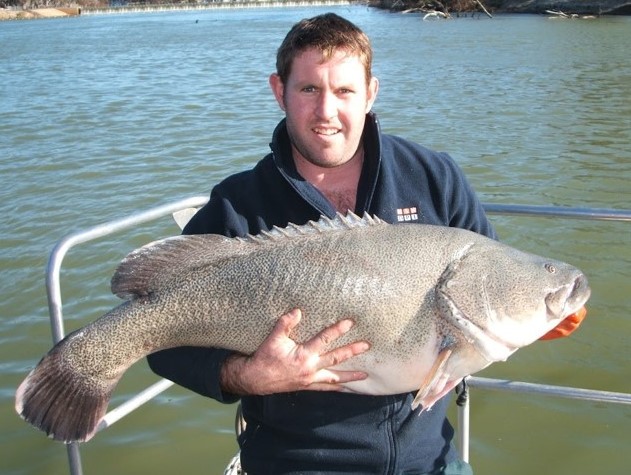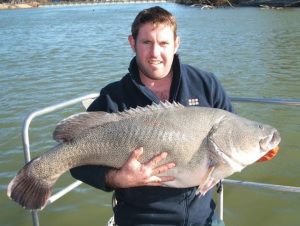 The evening concluded, as usual, with an entertaining fine session led by Sergeant-at-Arms Albert and our weekly raffle, which was won by someone.
DIARY
Monday 19th April – Regular meeting. Coolamon Sport & Rec Club, 6:30 for 7:00 pm.
Wednesday April 21st CRC Board Meeting  Starting @ 7.00pm at the Sports Club NB Time.  Confirmed.
Saturday 15th May – D9705 Assembly. Young Services Club, Young.  9.00 am  – 5.00 pm.  Hennessey College Young.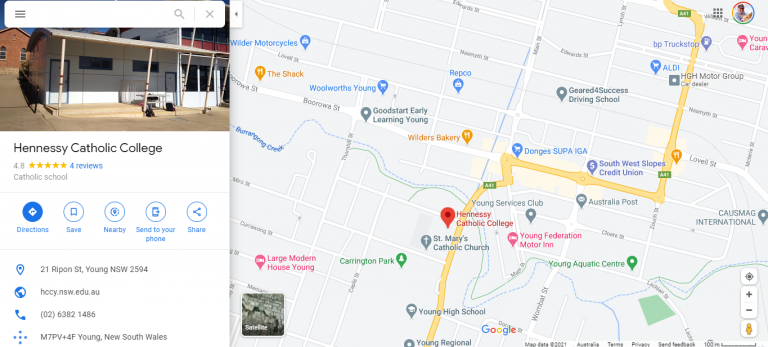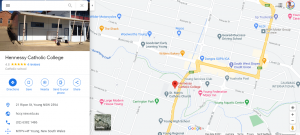 * denotes partner and guest night
JUST FOR LAUGHS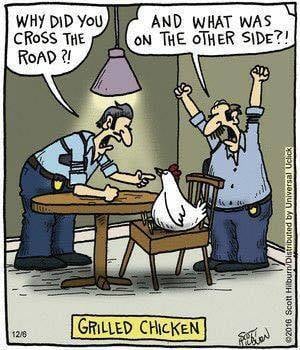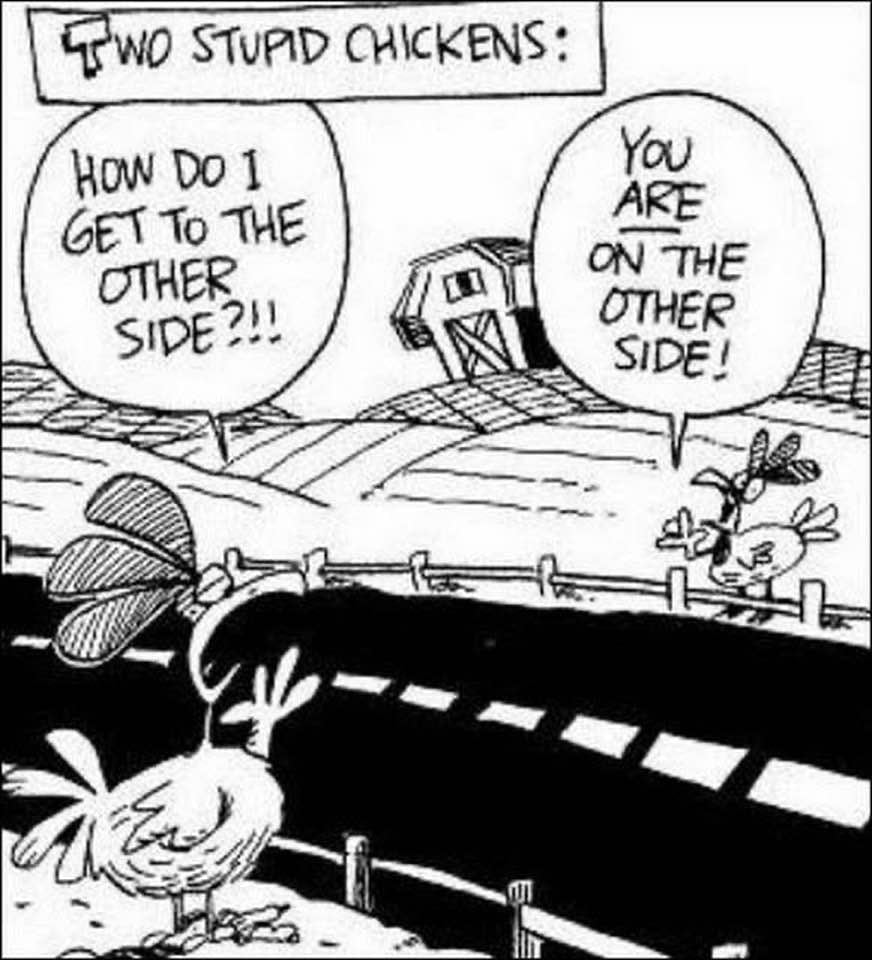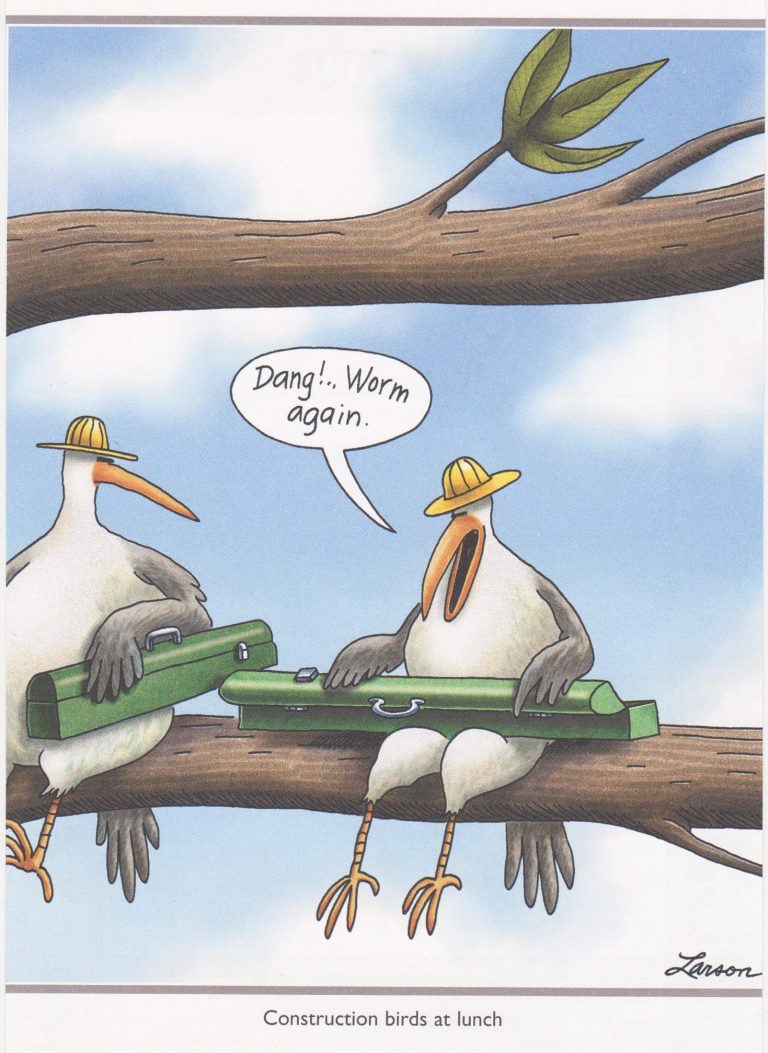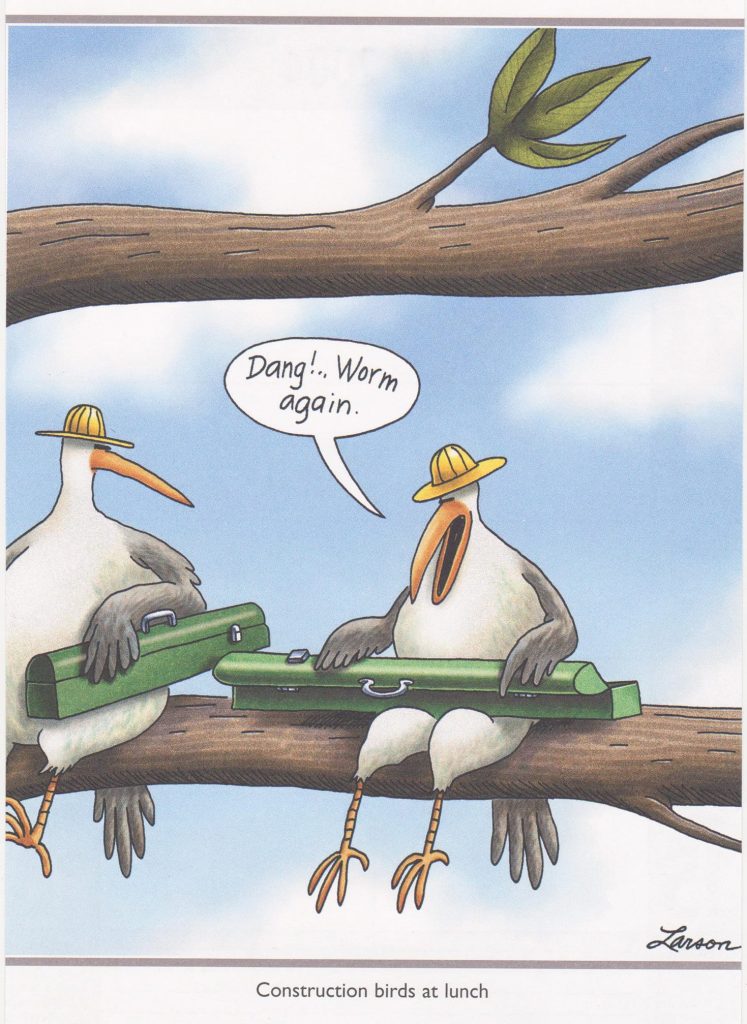 THE PUZZLER
Answer to last week's puzzler: Albert: red – 1st; John G: yellow – 2nd; Howard: blue – 3rd; Henk: green – 4th

This week's puzzler:
A man is sitting in a pub feeling rather poor. He sees the man next to him pull a wad of $50 notes out of his wallet. He turns to the rich man and says to him, "I have an amazing talent; I know almost every song that has ever existed."
The rich man laughs, but the poor man says, "I'm willing to bet you all the money you have in your wallet that I can sing a real song with a lady's name of your choice in it."
The rich man laughs again and says, "OK, how about my daughter's name, Joanna Armstrong-Miller?"
The poor man goes home with all the rich man's money. What song did he sing?
Hint: It's a genuine song that nearly everyone knows.
ROTARY NEWS

Holger Knaack
President 2020-21
April 2021
This year, we celebrate Earth Day on 22 April with a new sense of purpose. The environment is now an area of focus for Rotary. Solutions for all great tasks always start with you and me, and there is much we as individuals can do simply by changing our behavior: Cutting down on our use of plastic and using energy wisely are just two examples. But now we have the opportunity to do more together.
Supporting the environment is not new to Rotary; clubs have long worked on environmental issues based on local needs. Now climate change — a problem that affects us all, rich and poor — requires us to work together more closely than ever. Alberto Palombo, a Venezuelan engineer living in Brazil and a member of The Rotary Foundation Cadre of Technical Advisers, shares his view.
For 30 years, my work has been to connect with communities and policy officials to take care of the environment. Today, I am excited about Rotary's opportunities to help reduce environmental degradation and make communities more environmentally sustainable.
In every community where we have a Rotary, Rotaract, or Interact club or a Rotary Community Corps, there are environmental challenges. As Rotary members, we can become stewards of environmental sustainability and adopt the United Nations 2030 Sustainable Development Goals in our daily lives at home and in our clubs. Then we can incorporate them into our Rotary projects.
My club has been involved with water and environment projects since day one. We seek opportunities to empower Rotarians and foster partnerships in our region and beyond, working with groups such as the Inter-American Water Resources Network and the World Water Council. Local clubs worked with the Water, Sanitation, and Hygiene Rotary Action Group (wasrag.org) to help Rotary get a seat at the table during the 2018 World Water Forum in Brasilia, where we discussed how communities can recover from environmental disasters like the one caused by the failure of a mining dam on Brazil's Rio Doce in 2015.
Taking care of the earth is an effort that never stops. To make an impact, we must align our knowledge, abilities, and enthusiasm — and Rotary is already great at doing this. As a volunteer with the Environmental Sustainability Rotary Action Group (esrag.org), I have seen how our work for the environment dovetails with much of what we are already doing in water and in our other areas of focus. Rotary members are not passive spectators; we take action. Let's work together and make a positive impact.
Support from The Rotary Foundation will define this new chapter in our service. Through district and global grant projects, we will build upon our previous projects that help the environment. We will look for ways to collaborate more closely and make a greater impact on global environmental issues. And we will incorporate environmental concerns into all of our programs, projects, and events.
Rotaractors and participants in our youth programs expect Rotary to take a clear position and provide leadership with vision. We will work with them, seeking intelligent solutions to the problems they will inherit. Our incredible members, networks, and Foundation give us the capacity to make an important and lasting contribution. Now, we will discover together how Rotary Opens Opportunities to help us expand our service to preserve the home we all share.
April is  Maternal & Child Care Month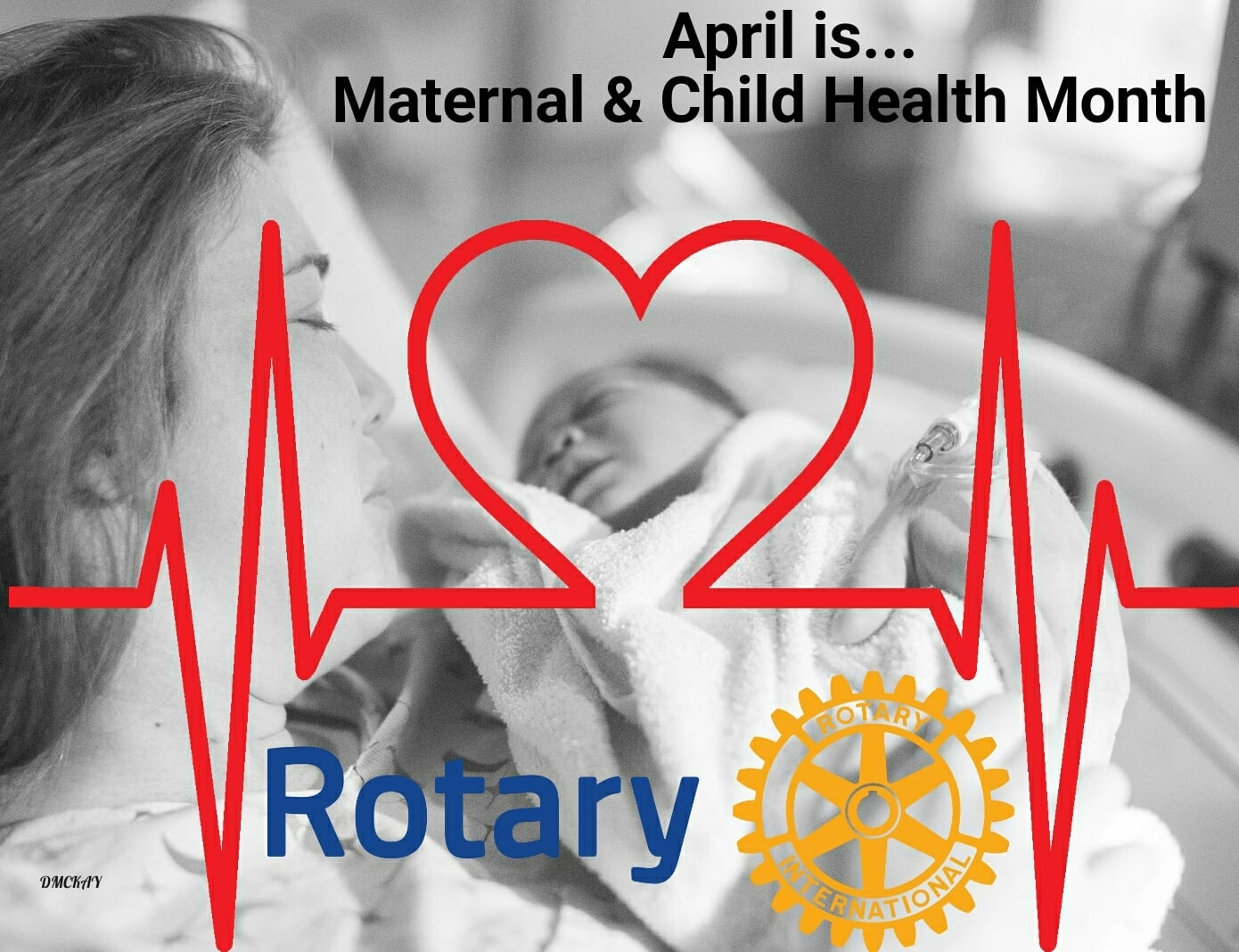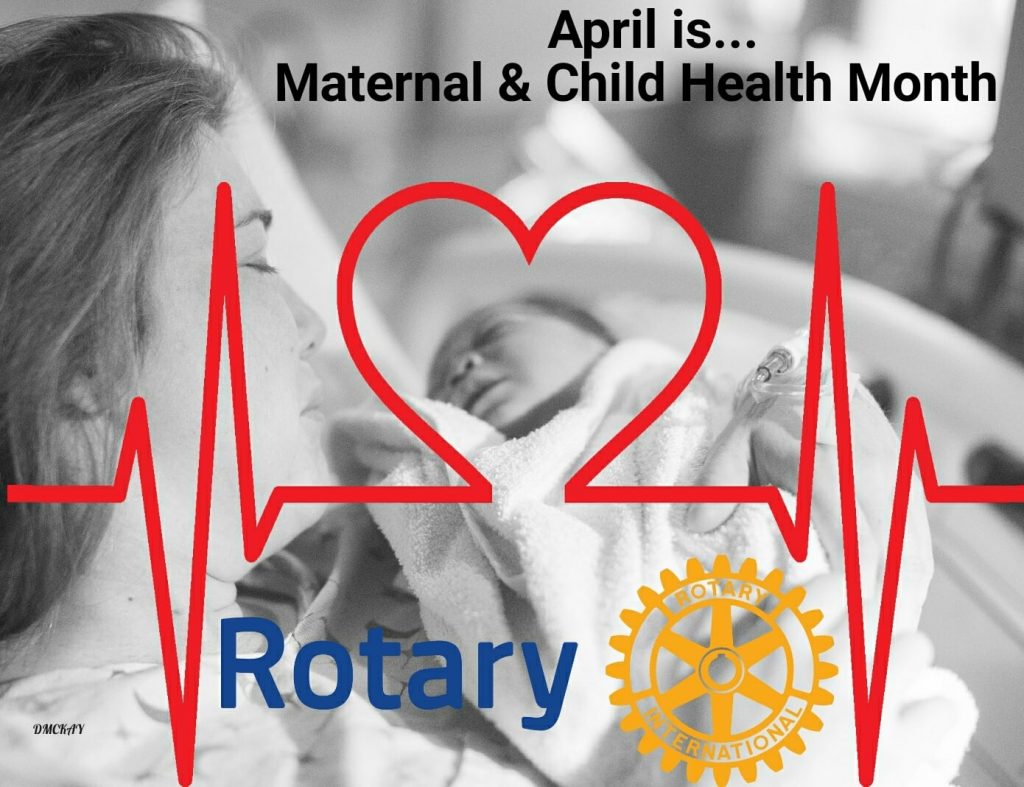 Graphics by Debbie Vance McKay from Canada.
ROTARY CLUB OF COOLAMON Inc. 2020-21
Chartered March 3rd, 1971; Sponsoring Club Narrandera Rotary Club
President: Howard Atkinson
President-Elect 2021-2022: Albert Suidgeest
President-Elect Nominee 2022-2023: Paul Weston
Secretary: John Glassford
Treasurer: Henk Hulsman
Rotary Foundation Director: Neil Munro
Membership Director: Dick Jennings
Service Projects Director 1: Albert Suidgeest
Service Projects Director 2: Dave McKinley
Youth Services Director: Anne Rzeszkowski
Club Admin Director:  Paul Weston
Public Image Director: Grahame Miles
Immediate Past President: Daryl Breust
Sergeant @ Arms: Albert Suidgeest
Bulletin Editors: Paul Weston and John Glassford
Webmaster: John Glassford