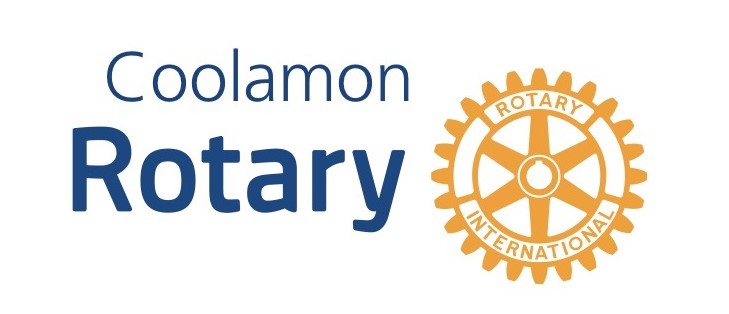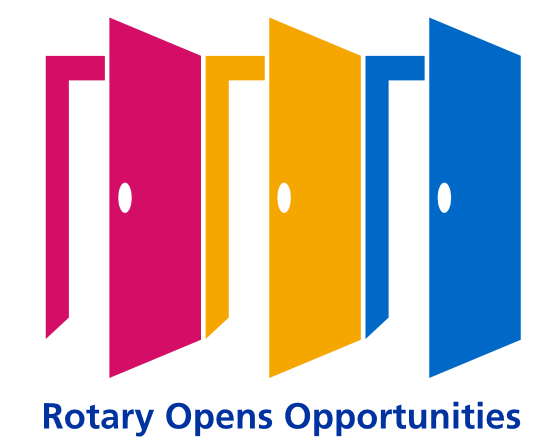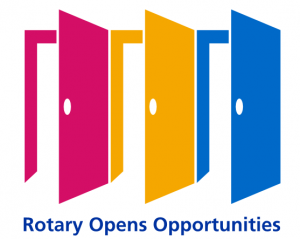 Week of 7th June
We welcomed back president Howard following the passing of his mother recently.  Also back was Albert who missed his flight to Broome and to apply salt in the wounds Garth was also back from Broome.  Several regular attendees were away this week and our number was down to 14 in attendance.
Several reminders to all our members included our Changeover Dinner for the 5th July and advice on our neighbouring clubs and their plans for their change over dinners.
JG presented Tracy Ocheng's semester results. Tracy is doing very well and will be certain to graduate in June 2022.
No meeting next Monday due to the Queen's Birthday public holiday.
All in all, it was a good meeting catching up with two fishermen who had to be fined and you can see why:
We think Garth has the bragging rights to this fishy story.
Chez won the  raffle again and Albert did a good job with the fines tonight and Howard was fined for losing his pet rooster who starred at our Zoom meetings: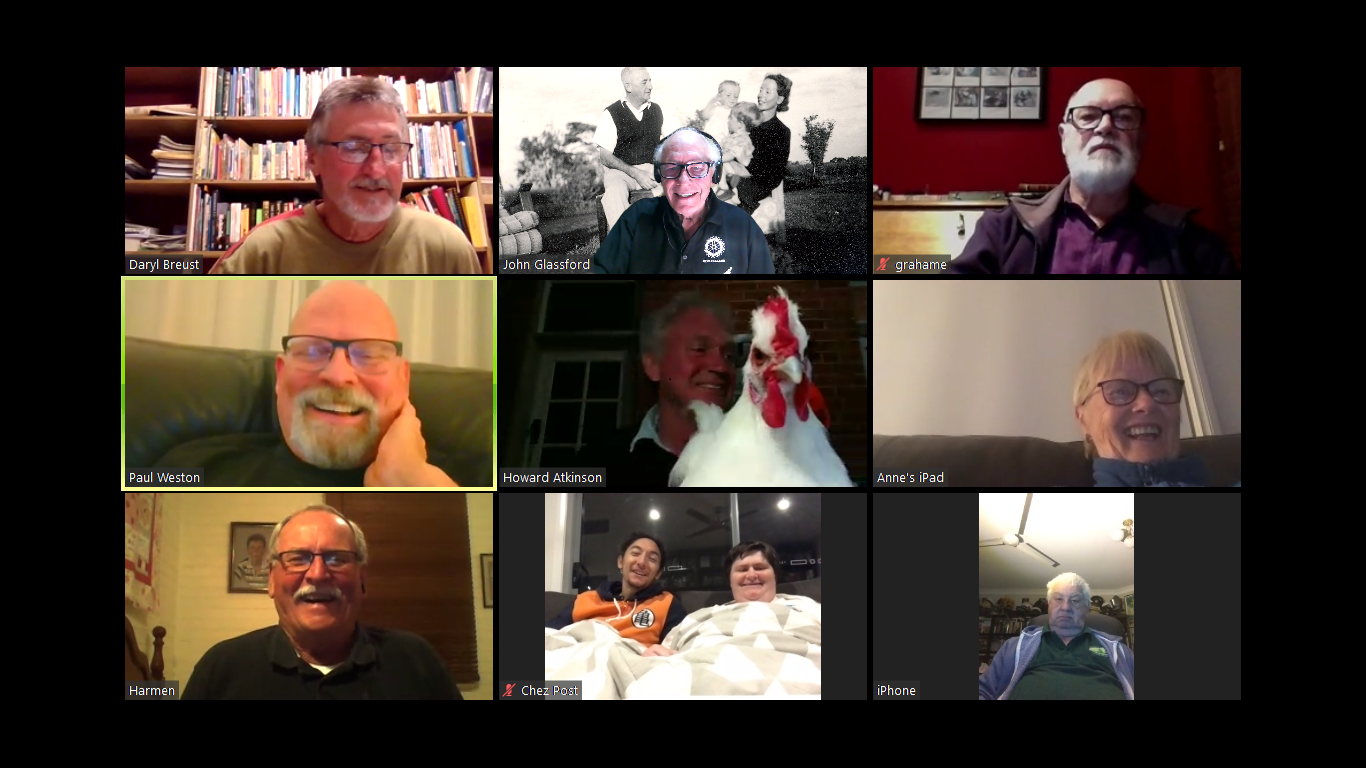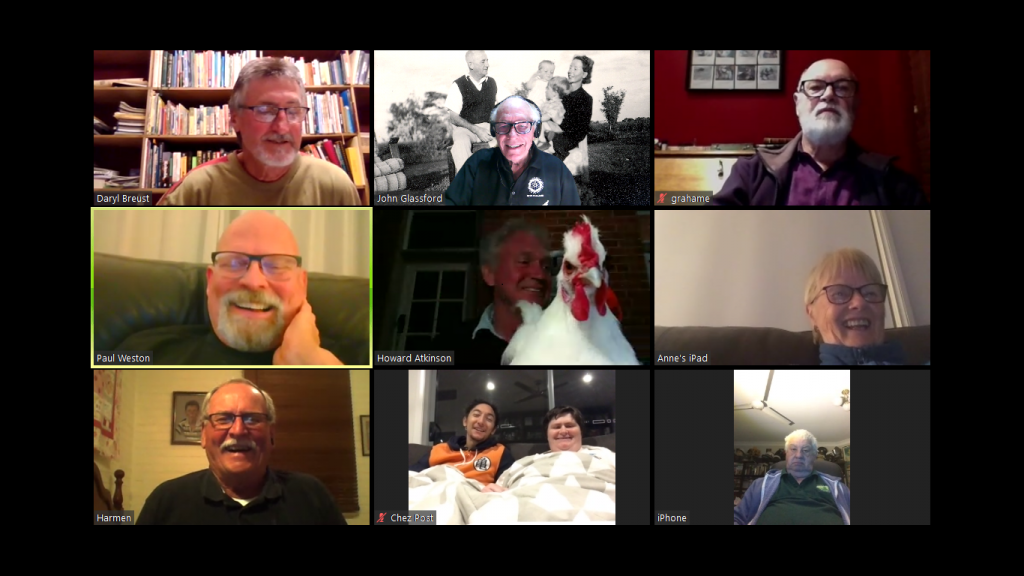 Look over the reminders in the diary below. There are two important meetings upcoming, one for the last board meeting of 2020-2021 and the other for PE Albert's planning meeting on June 23rd at Albert's home starting at 6.30 pm.
DIARY
Saturday June 12th – Wednesday June 16th 2021 – Rotary International Convention (Virtual). Story in this bulletin for more information.  Registration is only $65, so give it some thought!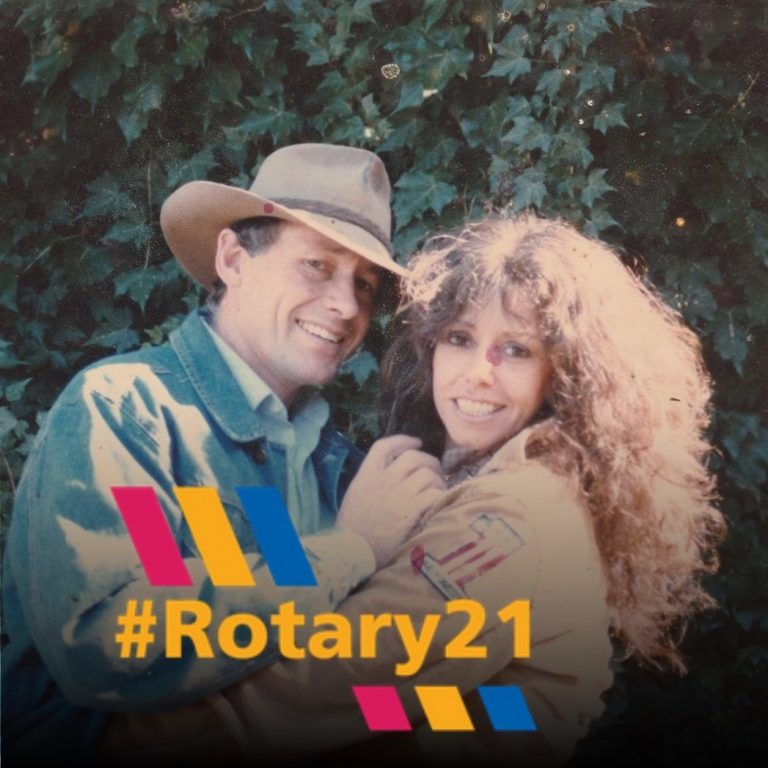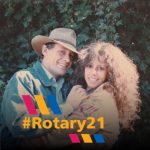 You can update your Facebook profile with this frame!
Monday June 14th – Queen's Birthday Public Holiday – NO meeting.
Wednesday June 16th – FINAL Board Meeting for 20-21.  Coolamon Sport & Rec Club, 7.00 pm.
Thursday June 17th – Wagga Wagga RC Changeover Dinner
Saturday June 19th – Ganmain Winter Markets. Ganmain Showgrounds from 12 pm.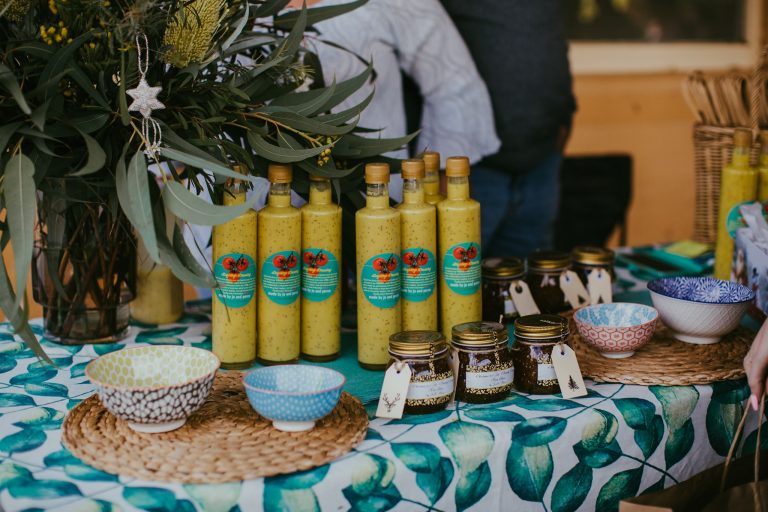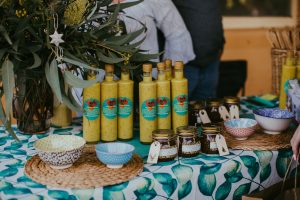 Monday June 21st – Regular Meeting. Coolamon Sport & Rec Club, 6:30 for 7 pm.
Monday June 21st – Wollundry Wagga RC Changeover Dinner. Wagga Wagga RSL Club, 6.30 for 7 pm, $30 per head.  Dress: jacket and tie.
Wednesday June 23rd – PE Albert Suidgeest's Board Planning Meeting. 6.30 pm at Albert's house (Coolamon Boarding Kennels, Doubleday Lane).
Wednesday June 23rd – Wagga Wagga Kooringal Changeover Dinner @ Romano's.
Saturday June 26th – RI District 9705 Changeover Dinner.  Young Ex-Services Club 6.00 – 8.30 pm.
Monday June 28th – Final CRC Meeting for the 20-21 Rotary Year. Coolamon Sport & Rec Club, 6:30 for 7 pm.
Monday June 28th – RC of South Wagga Wagga Changeover Dinner.  Rules Club Wagga Wagga  6.00 for 6.30pm Cost $45 per head.  RSVP Karen McNally:  [email protected]
Wednesday June 30th – RC of Narrandera Changeover Dinner
Saturday July 3rd – Temora RC Changeover Dinner. Temora Golf Club, 6.30 for 7 pm, $40 per head. Dress: jacket and tie.
* Monday July 5th – Coolamon Rotary Club Changeover.  Coolamon Sport and Rec Club, 6.30 for 7 pm.
Saturday July 10th – Wagga Wagga Murrumbidgee RC Changeover Dinner.
Sunday July 11th – Junee RC Changeover Luncheon.
Monday July 12th – First Meeting for the 2021-2022 Rotary Year.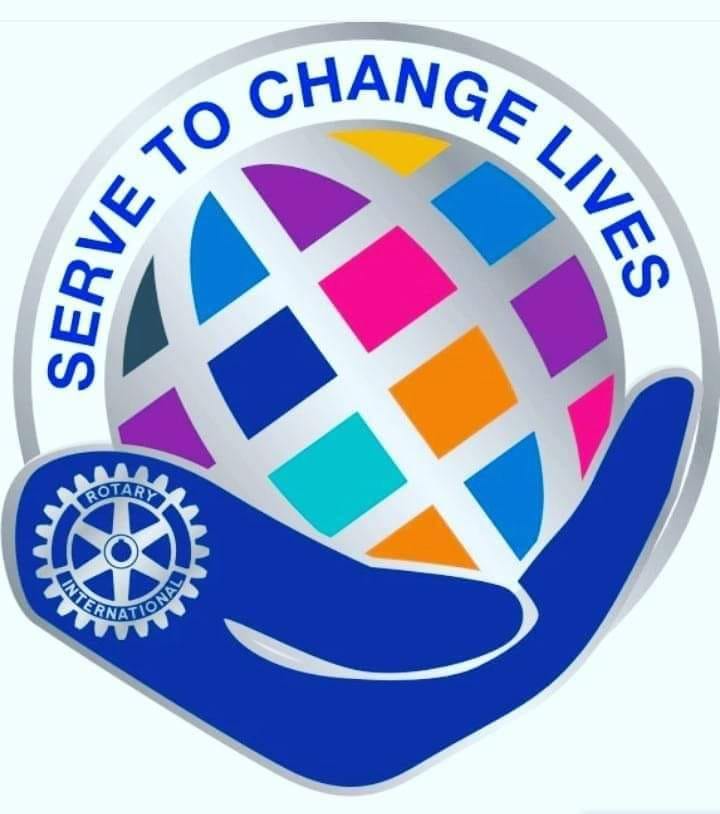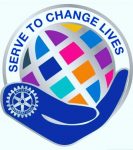 * denotes partner and guest night
JUST FOR LAUGHS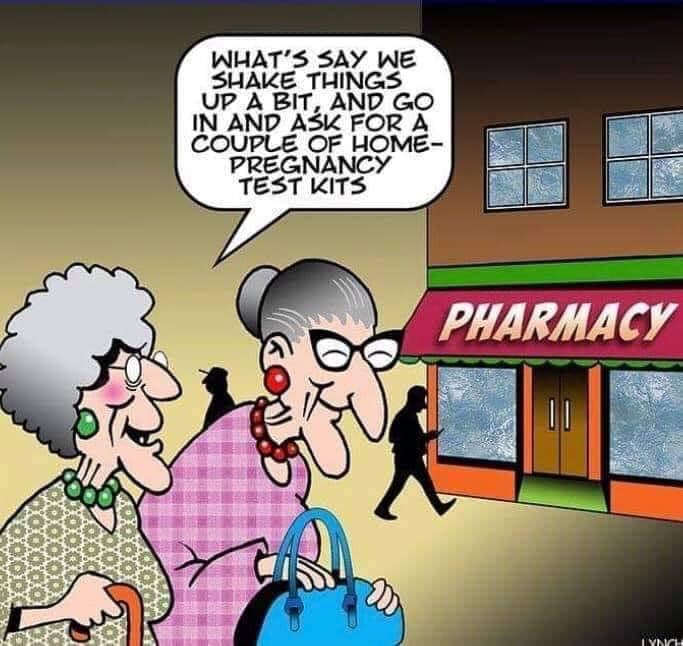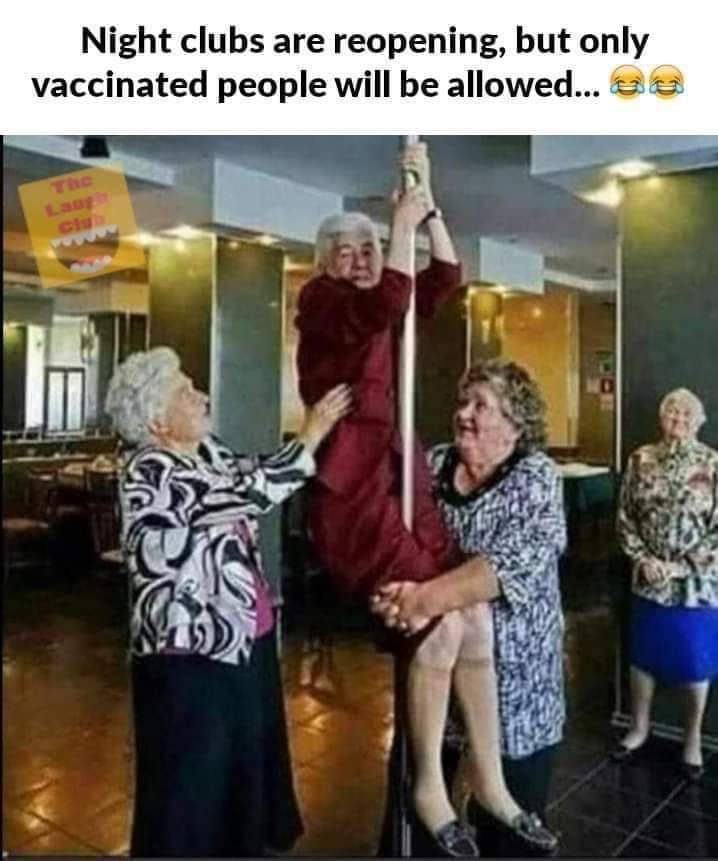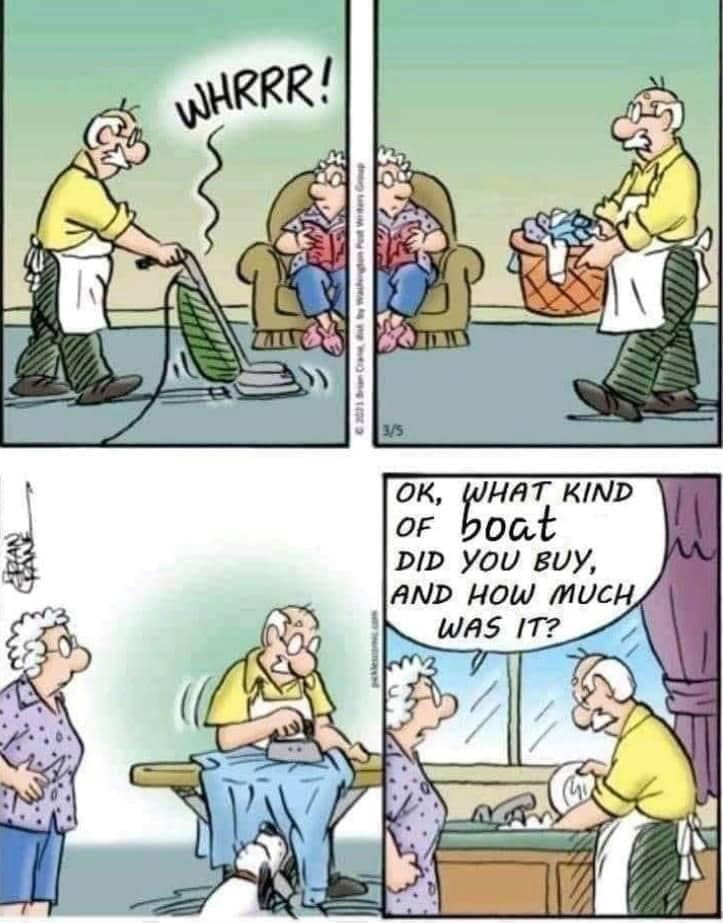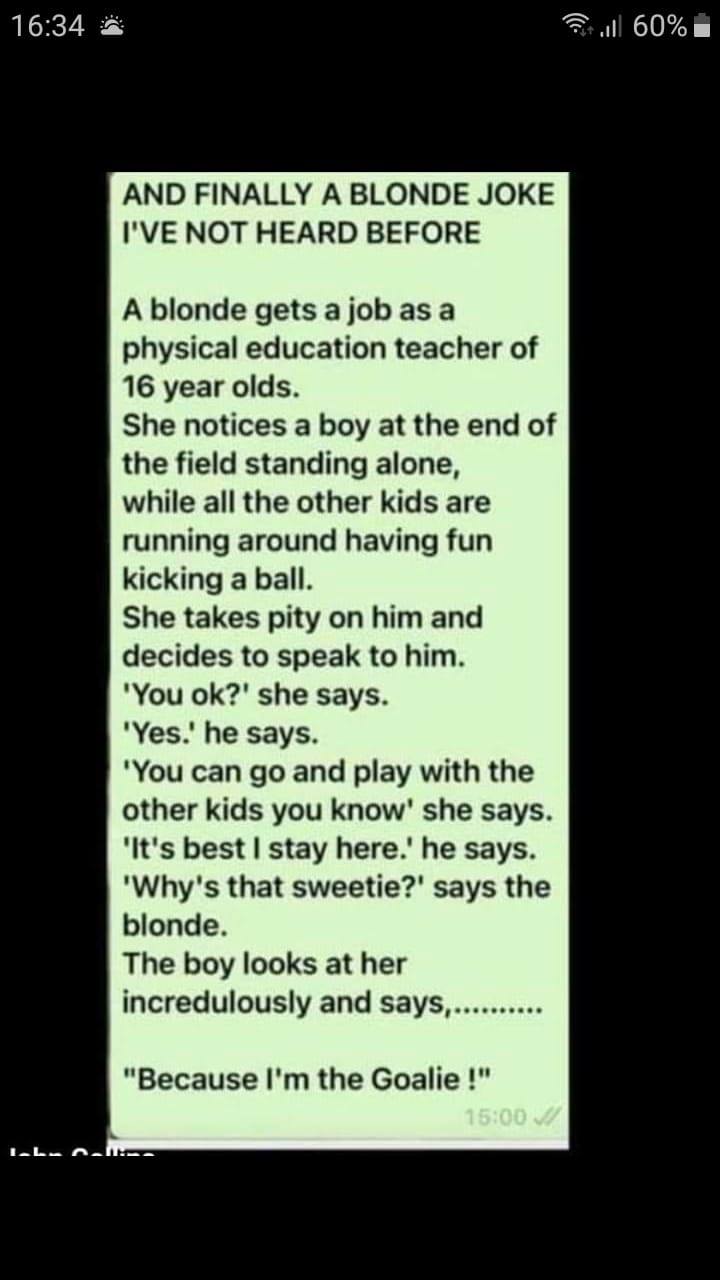 THE PUZZLER
Answer to last week's puzzler: Stop imagining that you're in the room!

This week's puzzler: What is represented by the following?
HANY
HAEY
HAEY
HADY
HALY
HAEY
ROTARY NEWS
1.  ROTARY FELLOWSHIPS
There are around 90 different Rotary Fellowships that you can join with like minded people from around the world.
One that some members may like is the International Fellowship of Rotarian Musicians
Follow them on their web site below.  Welcome to the website of IFRM, the International Fellowship of Rotarian Musicians: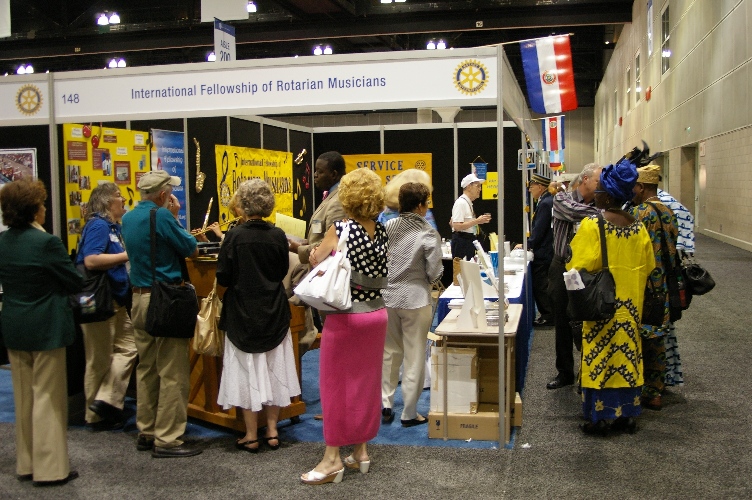 At the LA 2008 RI Convention.
Please, DO NOT BE INTIMIDATED by thinking: "Well, I am not a musician, this must not be for me."  Au contraire my friend.  If you enjoy music, this Rotary Fellowship is for you. Our members come from countries all around the world.  The musical skills that range from professional musicians to those who can play a recording on their phone or computer.  The common denominator is "we all love and enjoy music."  We are a Rotary Fellowship.  Fellowships and Rotary Action Groups were designed to help Rotarians connect with other Rotarians outside of their local club around areas of common interest.  IFRM was among one of the earliest Fellowships to form.
2.  Rotary Magazine 2021 Photo Awards
It was a challenging year for photographers. Once the pandemic hit, travel plans had to be changed or cancelled. That was reflected in many of the submissions for Rotary magazine's 2021 photo awards: Many more photos than usual were taken close to home, sometimes as close as the backyard.
We did see breath-taking images of some photographers' journeys, many from the days before the pandemic limited travel. Others took this year to experiment with extreme close-ups of a flower petal or a bird in flight. Many photos captured the way COVID-19 has transformed our world and our daily lives. And, perhaps reflecting the fundamental optimism of Rotarians, there were many images of hope, joy, and simple beauty.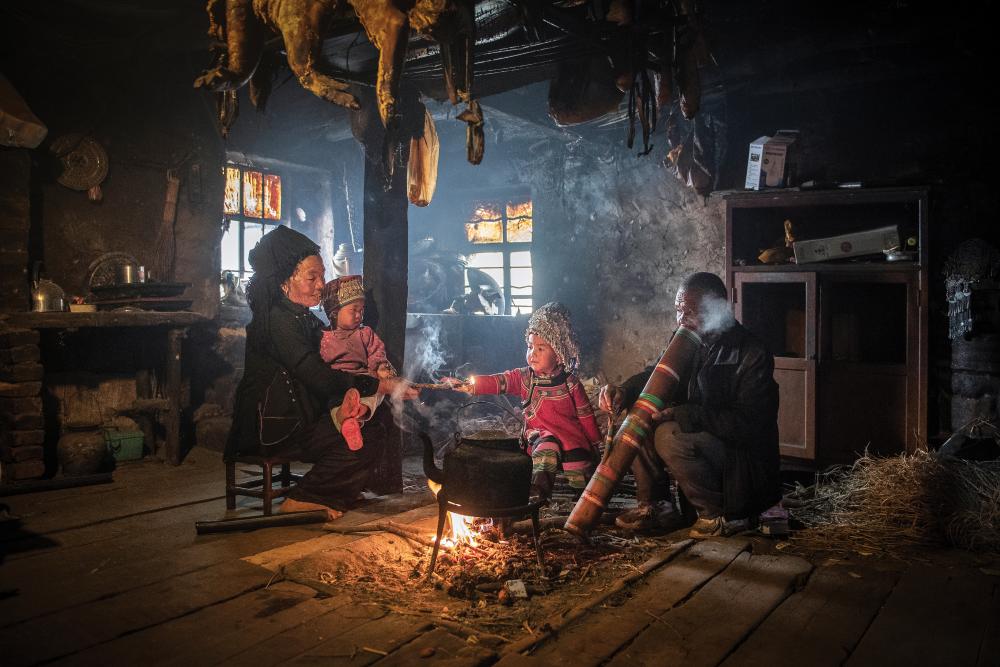 First place
Photographer: Hansruedi Frutiger
Rotary Club of Gombak, Kuala Lumpur, Malaysia
Location: Yuanyang County, Yunnan, China
June is Rotary Fellowship Month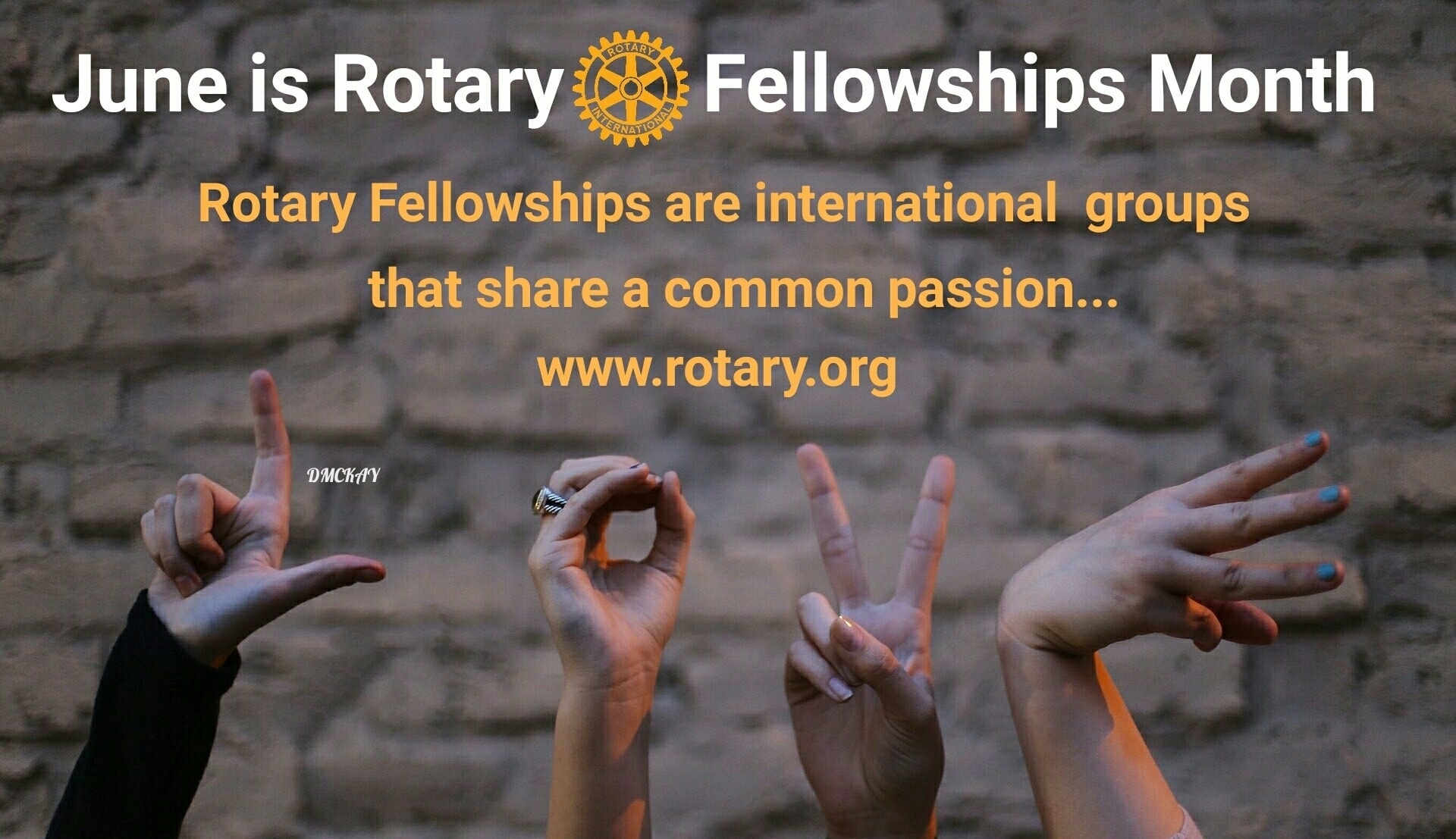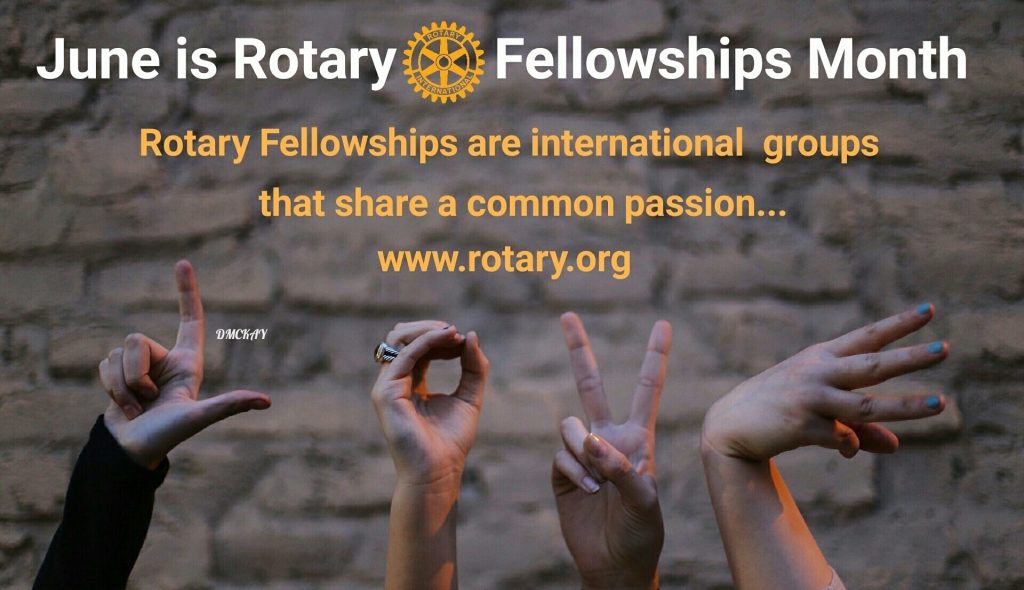 Graphics by Debbie Vance McKay from Canada.
ROTARY CLUB OF COOLAMON Inc. 2020-21
Chartered March 3rd, 1971; Sponsoring Club Narrandera Rotary Club
President: Howard Atkinson
President-Elect 2021-2022: Albert Suidgeest
President-Elect Nominee 2022-2023: Paul Weston
Secretary: John Glassford
Treasurer: Henk Hulsman
Rotary Foundation Director: Neil Munro
Membership Director: Dick Jennings
Service Projects Director: Albert Suidgeest
Youth Services Director: Anne Rzeszkowski
Club Admin Director:  Paul Weston
Public Image Director: Grahame Miles
Immediate Past President: Daryl Breust
Sergeant @ Arms: Albert Suidgeest
Bulletin Editors: Paul Weston and John Glassford
Webmaster: John Glassford