Coolamon Rotary News Bulletin #25
FEBRUARY IS ROTARY WORLD UNDERSTANDING MONTH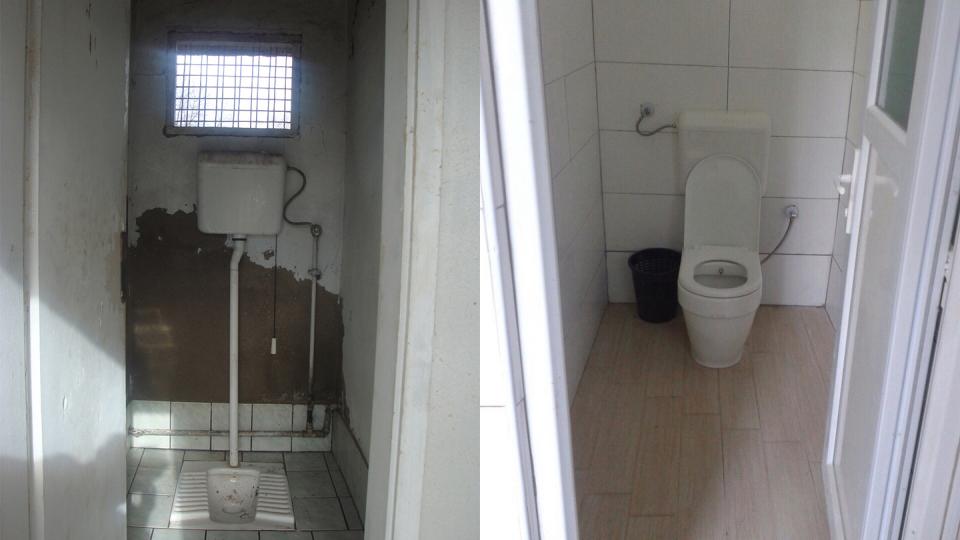 Blighted schools in the mountain city of Peja in western Kosovo are a reminder of the ethnic strife and war that ravaged this area in the 1990s.
To restore ruined sanitation facilities in some of those schools, local Rotary members recently partnered with their counterparts from Colorado, USA. Though residents have been slowly rebuilding the city's infrastructure after years of neglect under earlier governments, most resources are going to improve roads, rebuild homes, and create new businesses. Little money remains to restore the schools.
As a result, students have fallen ill, stayed home from school, and been unable to focus on their education, says Neshad Asllani, a member of the Rotary Club of Peja and a physician with the Health Center of Excellence in Kosovo. "Healthy students make better students," he says.
MEETING MONDAY FEBRUARY 9th 2015
We had two meetings this week one being an ordinary meeting on Monday night and the other a board meeting on the Wednesday night.
We accomplished a lot of business after our long lay off.  The two pressing items for discussion were the Easter Markets on Easter Saturday April 4th and The Rock Challenge set for March 8th at The Rock.  PE Wayne Lewis is going to work with Mark Janetzki form Henty RC.  We will be supplying the Rotary caravan to serve soft drinks and tea and coffee.
The challenge will start at 7.00am and go through to 2.00pm.  We are working on having Kenyan food as well as a hearty breakfast.  ALL our members are asked to turn up bring family and friends.  The aim is to raise awareness for the Mount Kenya 2015 ANZAC Day Climb in Kenya in April.
The view from the top of The Rock is worth the price of admission provided you make it to the top that is!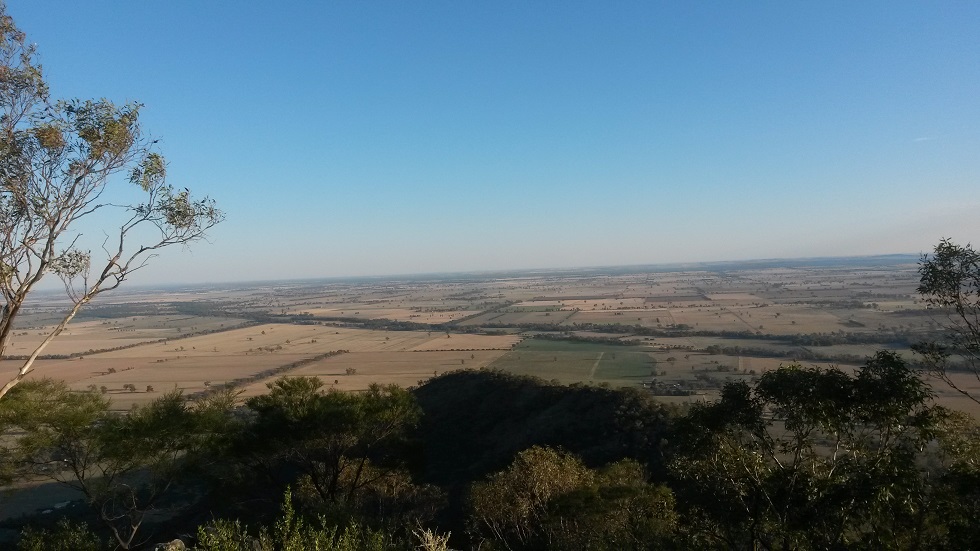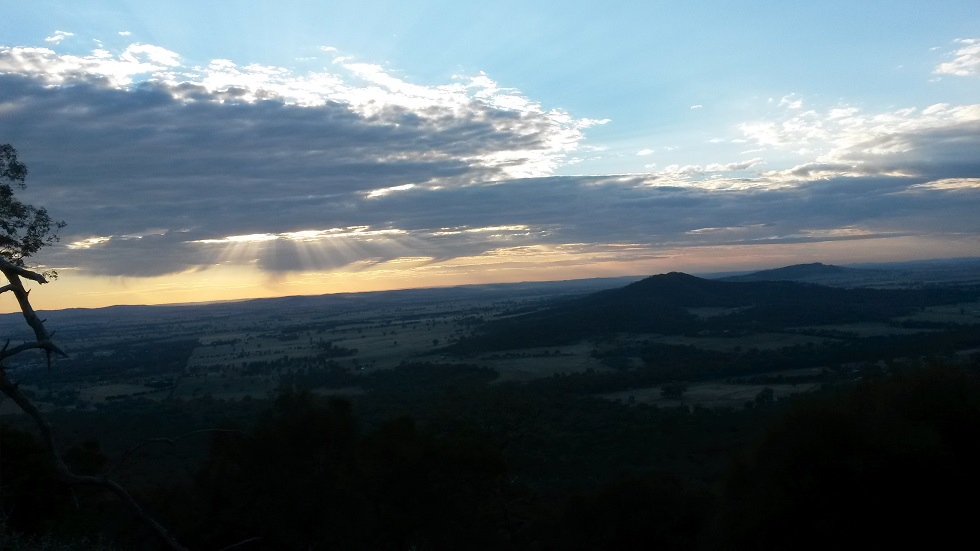 Diary Reminders
*Monday 16th Feb Rt Reverend Anglican Bishop of The Riverina Rob Gillion. Rob has moved from London to take up the position
*Monday 23rd  February  Cindy Cassidy The CEO of Farmlink Research.
Monday 23rd February Rotary's 110th Birthday.
Thursday 26th February 2nd Best Marigold Hotel Movie contact Wollundry RC.
Saturday 28th February & Sunday 1st March PETS at Young.
*Sunday March 8th The Rock Challenge Mount Kenya ANZAC Day 2015 Climb.
Monday 9th-Friday 13th March RYDA at the Wagga Wagga Showgrounds.
Saturday 21st March to Sunday 22nd March D 9700 CONFERENCE at Cowra.  Book Now.
Saturday April 4th ROTARY EASTER MARKETS in COOLAMON.
Saturday 11th April – Sunday May 10th Mount Kenya ANZAC Day 2015 Climb in Kenya.
April 13th-April 20th RYLA Camp
Sunday May 3rd D9700 Assembly at Grenfell
Saturday 6th June – Tuesday 9th June 2015 RI Convention Sao Paulo BRAZIL.
*Partners and Guests Night.
Apologies for Monday meetings call Christine Atkinson on 0427 880 158 or 6927 3521 BY FRIDAY 12.00 pm.
ROTARY INTERNATIONAL PRESIDENT GARY HUANG
Rotary International President Gary C.K. Huang and his wife, Corinna, attended District 5230's Million Dollar Dinner event on 30 January in Visalia, California, USA. President Huang served as the event's key speaker, and presented pins and crystals to new Major Donors and Bequest Society members. The event raised over $4 million dollars for The Rotary Foundation.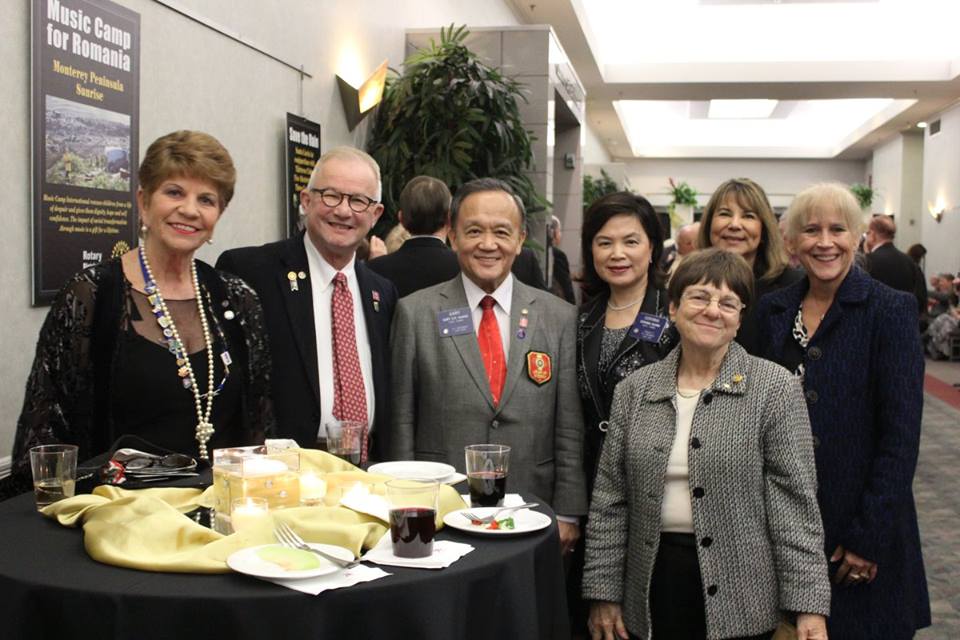 President Huang and his wife Corinna with members of the Rotary Club of Fresno Cultural Arts. From left to right: Sally Caglia, Gerald Palladino, Sandy Silva, Susan Esparza, and Laurel Ashlock.
DISTRICT GOVERNOR DAVID KENNEDY D 9700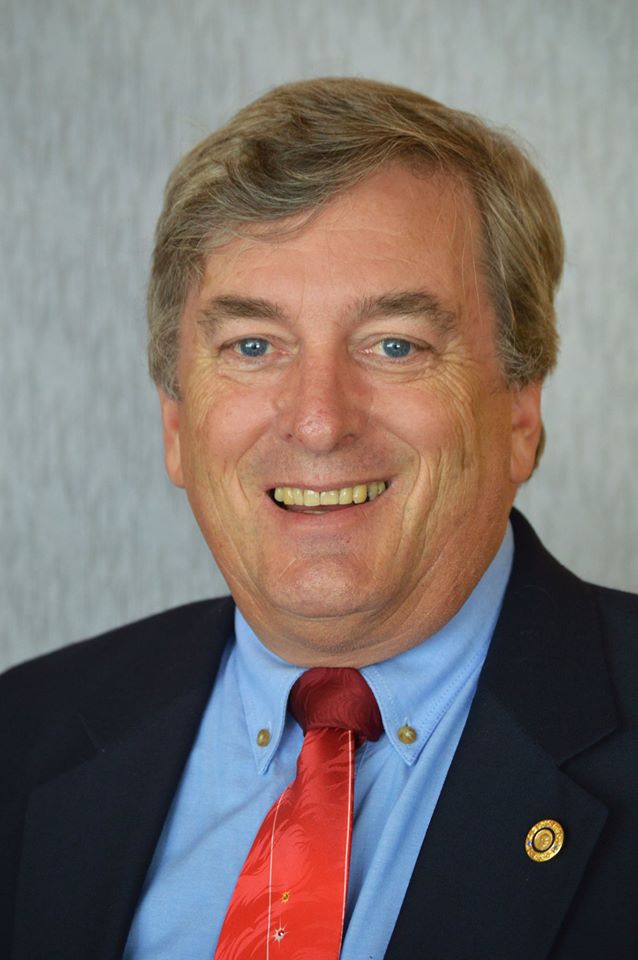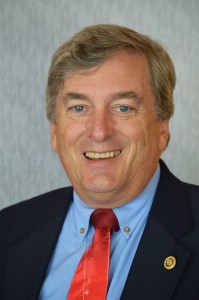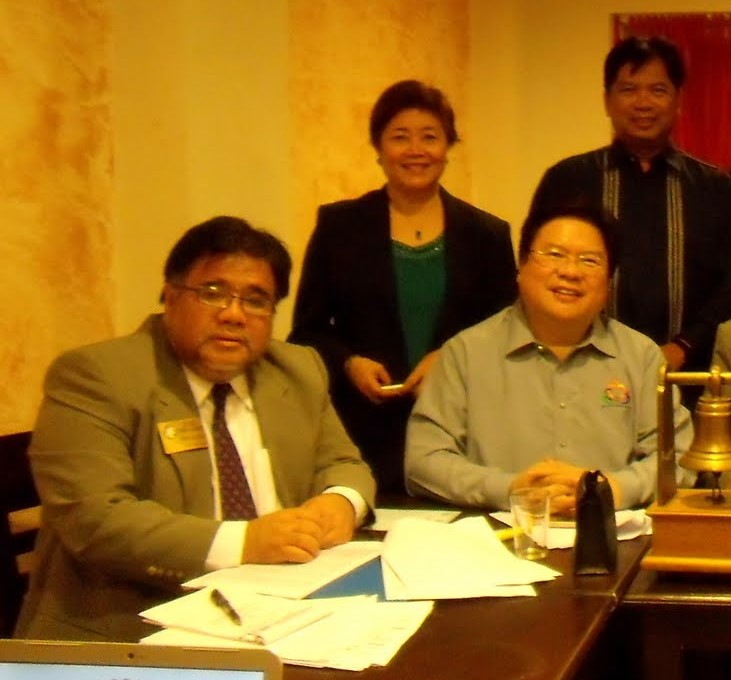 On the right PDG Jose Francisco Cifra from the Philippine District 3780 with his wife Helen have been nominated by RI President Gary Huang as his representative to attend our Conference being held in Cowra on March 20-22. On the right of PDG Jose is Jesse Tanchanco a good friend on ROTI.
Keynote Speakers include:
Lawrance Ryan Historian
Lawrance was born and raised in Cowra. After leaving Cowra High School in 1979 he worked for the Commonwealth Bank for 17 years at a number of locations throughout the Central West and in the Sydney metropolitan area. Lawrance commenced casual work with Cowra Tourism in 2000 and has held a number of positions with them in the ensuing 15 years at both the Cowra Visitor Information Centre and Cowra Japanese Garden. He is currently employed at Cowra Shire Council in the role of Grants and Executive Projects Officer. Lawrance is also the news editor for the nationally distributed Railway Digest magazine.
John Harper Mate Helping Mate
Mental Health Advocate Farmer John Harper has been acƟvely promoƟng awareness about the need for mental wellbeing in homes of stress and anxiety. These feelings are often present for those working in a rural environment, partcularly during drought, and after experiencing depression himself John decided to help others in a similar situation. In 2006, he established a grassroots self-help program in Stockinbingal called Mate Helping Mate. Since then, John has raised awareness of mental health issues, organised social activities, and arranged for small rural communities to visit other small communities to provide mutual support during the drought.
Dr Allan Meares Interplast
After graduation Allan trained as a plastic surgeon. He was a registrar at Royal Prince Alfred Hospital and then travelled overseas to Louisville Kentucky, USA, and East Grinstead, United Kingdom. On his return to Australia he commenced practice in Macquarie Street and at Burwood in the early 1970s and was on the staff of Royal Prince Alfred Hospital, St Luke's Hospital and Strathfield Private Hospital. Although no longer active surgically he does a lot of medico-legal work, mainly assessing injured hands. He lists two outside interests to which he is keenly committed. Teaching anatomy of the upper extremi-ties at Sydney University Anatomy School , and Interplast Australia and New Zealand with whom he has done many trips to neighbouring developing countries with surgical teams. Allan tells us " Interplast is a wonderful organisation that is founded in a partnership between Rotary and the Royal Australasian College of Surgeons. I have been to many Pacific Islands, Papua New Guinea, Bangladesh and Vietnam a number of homes with Interplast teams."
Dr Luc GP & MP of the Democratic Republic of Congo
Dr Luc Mulimbalimba Masururu is the Medical Director of Mission in Health Care and Development in DR Congo, an agent for the Birthing Kit Foundation in the DR Congo and does amazing work training the traditional birth attendants in the most remote communities. Last year Dr. Luc trained 200 Pygmies in two communities. The one in Mulenge required 30 people to carry the food, tents, birthing kits, etc for two days up the side of a mountain and back atier the 3 day seminar on midwifery, nutrition, health and hygiene. A logistical nightmare of an expedition that he takes in his stride. He is also the youngest MP in the newly elected democratic parliament of DR Congo.
ON THE LIGHTER SIDE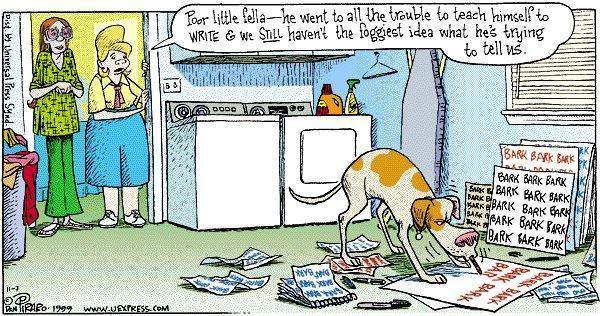 The Prospector
An old prospector shuffled into the town of El Indio , Texas leading an old tired mule. The old man headed straight for the only saloon in town, to clear his parched throat. He walked up to the saloon and tied his old mule to the hitch rail.
As he stood there, brushing some of the dust from his face and clothes, a young gunslinger stepped out of the saloon with a gun in one hand and a bottle of whiskey in the other.
The young gunslinger looked at the old man and laughed, saying, Hey old man, have you ever danced?
The old man looked up at the gunslinger and said, No, I never did dance… Never really wanted to..
A crowd had gathered as the gunslinger grinned and said, Well, you old fool, you're gonna dance now, and started shooting at the old man's feet.
The old prospector, not wanting to get a toe blown off, started hopping around like a flea on a hot skillet.
Everybody was laughing, fit to be tied.
When his last bullet had been fired, the young gunslinger, still laughing, holstered his gun and turned around to go back into the saloon.
The old man turned to his pack mule, pulled out a double-barreled shotgun, and cocked both hammers. The loud clicks carried clearly through the desert air.
The crowd stopped laughing immediately. The young gunslinger heard the sounds too, and he turned around very slowly.
The silence was almost deafening.
The crowd watched as the young gunman stared at the old timer and the large gaping holes of those twin 10 gauge barrels. The barrels of the shotgun never wavered in the old man's hands, as he quietly said, Son, have you ever kissed a mule's arse?
The gunslinger swallowed hard and said, No sir…… But.. I've always wanted to.
There are a few lessons for us all here:
Never be arrogant.
Don't waste ammunition.
Whiskey makes you think you're smarter than you are.
Always, always make sure you know who has the power.
Don't mess with old folks, they didn't get old by being stupid.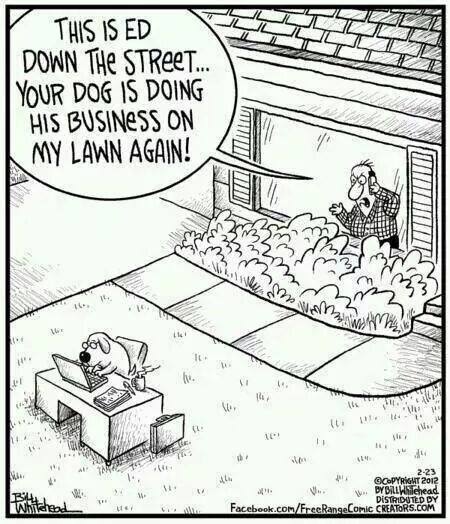 ROTARY INFORMATION
 
Polio survivor, new parent, Ironman athlete and Rotary supporter Minda Dentler urges parents to vaccinate their children to protect them from horrible disease like measles and polio. Read more in TIME:http://ow.ly/IPIVD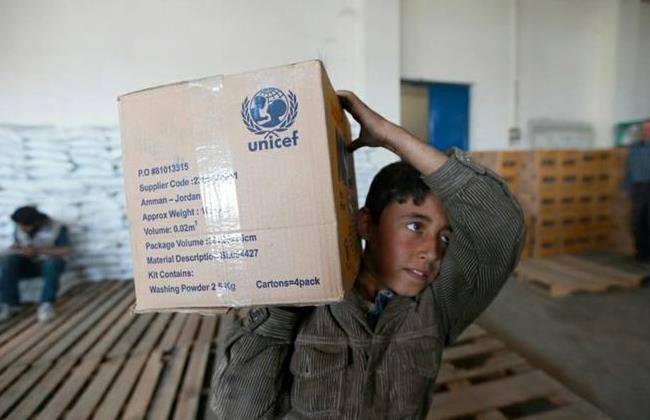 Global Polio Eradication Initiative partner, the World Health Organization (WHO) has been organizing immunizations drives in Syria to combat polio outbreaks due to war and unrest. Read about their recent successes: ow.ly/IavgC
ONLY IN AFRICA
 
 PRIORITIES Man v Woman.  
OUT OF AFRICA
 
MOUNT KENYA 2015 ANZAC DAY CLIMB
This will be a permanent section for the next 12 months in our weekly bulletin and I will update stories to this article as and when we get them.   The Australian Commonwealth Department of Veterans Affairs have approved our application to be part of the Centenary for ANZAC and we are allowed to use the logo below with some rules on it's use: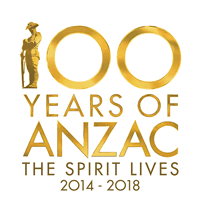 The Mount Kenya 2015 web site can be found here on clicking the banner below: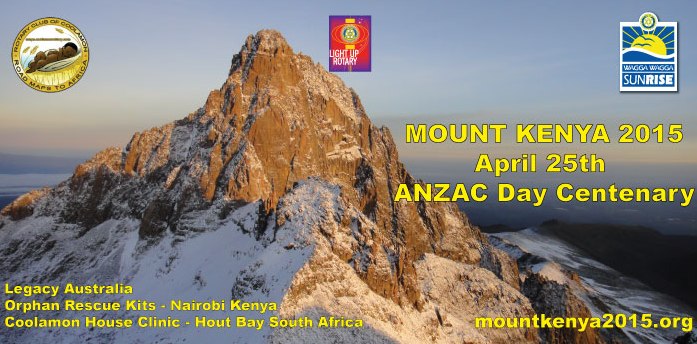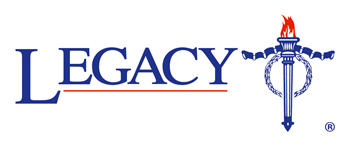 The Chogoria Route that we are taking has some amazing scenery and views of Mount Kenya:
FOOTNOTE
 
Some 109-year-olds read books, or play bridge -– but not Alfred "Alfie" Date.
The oldest man in Australia spends his time knitting tiny wool sweaters for tiny, injured penguins.
The prolific knitter told Australia's Channel Nine News that when Phillip Island's Penguin Foundation requested the tiny sweaters following a massive oil spill that injured hundreds of Little Penguins, a species only found in southern Australia and New Zealand, he couldn't refuse.
"The girls who used to work for me, they'll tell you I'm a sucker. I can't say no," Date told Nine News.
"It's a good way of getting along in life. You make friends all the time but you don't make a fool of yourself either," he added.
Date has been knitting for more than 80 years, but this was his first foray into bird knitwear. The Penguin Foundation stresses to eager knitters that "this is not a fashion statement" — the sweaters actually prevent the injured penguins from preening and swallowing the toxic oil.
The foundation dubbed Date their "most senior little penguin jumper knitter," but they didn't realize Date was also the most senior Australian citizen.
"It's amazing and we feel quite privileged to have him dedicating his time and effort to the Penguin Foundation," a spokesperson told Nine News.
But settle down young knitters, according to the Foundation's website, they "have plenty of penguin jumpers at this time donated by generous knitters across the globe… and do not need any further donations at this time."
LATEST NEWS FROM RAGES.
The poster campaign is off to a great start and is developing a life of it's own.  One of the true conservationists signed this week from Wolf Mountain in California.  Tonya Littlewolf from the Wolf Mountain Sanctuary and her many friends are getting behind the Say NO campaign.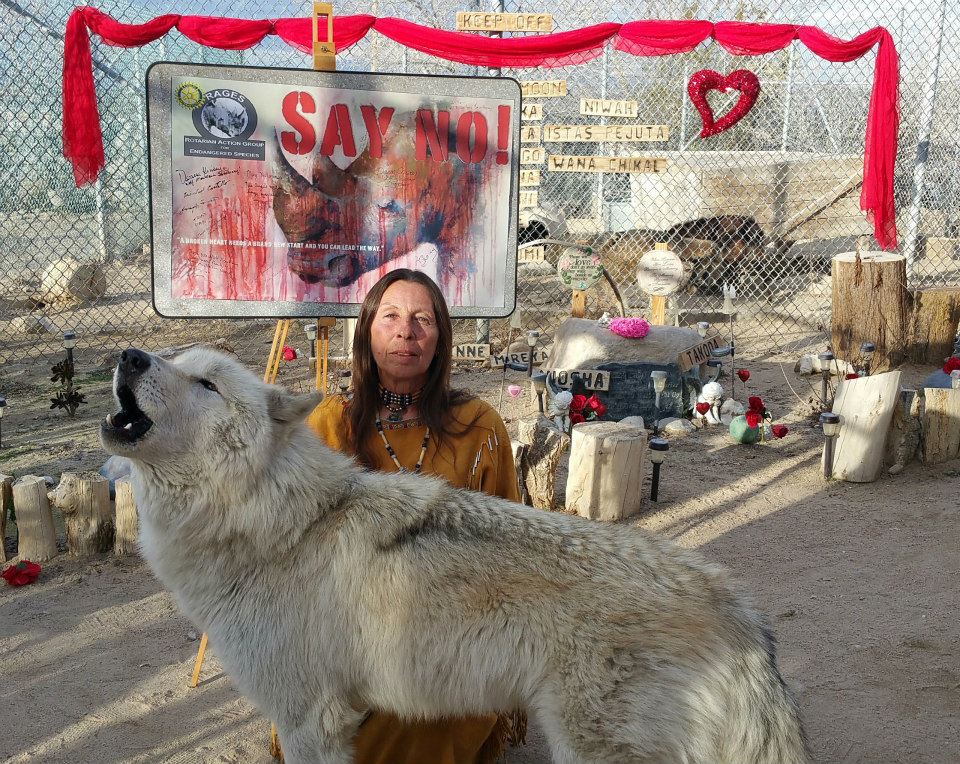 One of her friends also signed:
Ron Chaney signed, Ron is an actor and starred in movies such as Coffin Baby, House of the Wolf Man and Mach 2 among the films he has starred in.  His grandfather Lon Chaney was a very well known actor and starred in the 1941 film The Wolf Man and its various crossovers, as well as portraying other monsters such as The Mummy, Frankenstein's Monster, and Count Alucard (son of Dracula) in numerous horror films produced by Universal Studio.
STAY TUNED!

PLEASE CALL ME ANYTIME 02 6927 6027.
Bulletin Editor and Web Site:  John Glassford
Yours in Rotary John Glassford Chair 2014 -2015
Rotarian Action Group for Endangered Species
Don't  forget to regularly check our club web site for current information such as bingo rosters and various newsletters from the District Governor, the School of St. Jude's, the monthly membership on the move newsletter as well as several other club bulletins.
Rotary International President Gary Huang
Governor of District 9700 David Kennedy
Coolamon Club President  Garth Perkin
Coolamon Club Secretary Paul Weston
Club Treasurer  Henk Hulsman
Coolamon Rotary Club Inc. P.O. Box 23 COOLAMON N.S.W. 2701
Websites of Interest
Coolamon Rotary Club: http://coolamonrotary.com
Road MAPS to Africa a Coolamon Rotary Project: http://www.mountainsofthemoon.org/
Rotary Down Under on line: http://flipflashpages.uniflip.com/2/26587/49598/pub
Mount Kenya 2015 Web Site incorporating the ORK: http://theork.com/
Our Rotary Centennial Twin Club Hout Bay, Cape Town, South Africa: http://www.rotaryhoutbay.org
Rotarian Action Group for Endangered Species RAGES: http://www.endangeredrag.org/#