Coolamon Rotary News Bulletin #28
MARCH IS ROTARY LITERACY MONTH.

MONDAY MEETING
GUEST SPEAKER DR. DAVID JENKINS
We had 9 members and the following guests attend tonight.  Sandra West, Wayne Lewis, Susan Wingate-Pearse, Christine Lorraine.
Visiting Rotarian was PP Roger Quine PHF +1 from Junee.
Guest speaker Dr. David Jenkins from Ganmain.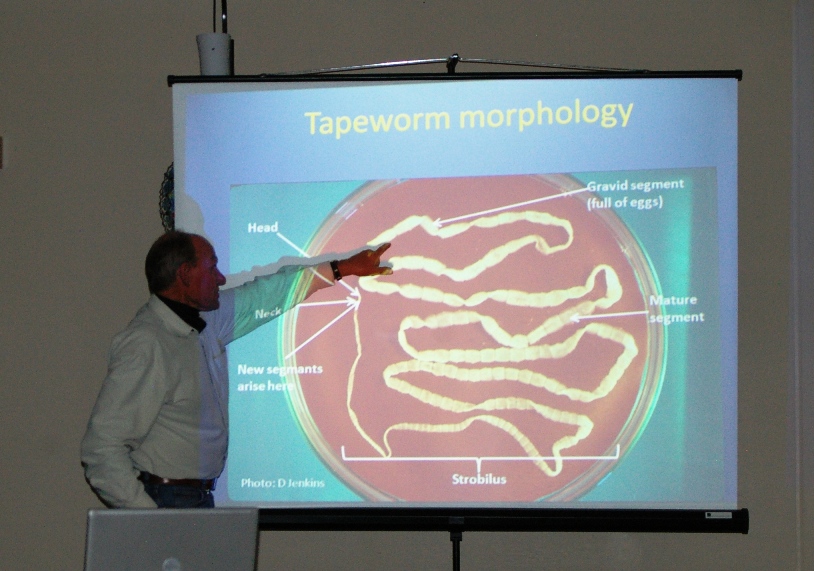 Dr. David Jenkins from Charles Sturt University Wagga Wagga.
David kept us all amused with his passion worms!  David is a senior Research Fellow from the School of Animal and Veterinary Science at the Charles Sturt University in Wagga Wagga.  We had all just settled down from dinner and then David showed some excellent slides with some very interesting and "moving" descriptions of three main types of worms that David has been researching.  His tales of his work in the North Western province of Kenya left us all enthralled and it was just as well that we had finished our dinner!
Tapeworms are David's specialty including the beef tapeworm Taenia Saginata which David studied in Kenya.  David had a great time in Kenya and showed us photos of this tape worm 4 metres long!  David went onto talk about the pork tapeworm (Taenia Solium) as well as hydatids (Echinococcus Granulosus).  Hydatids have been known to kill humans.  All in all a wonderful talk and one that left us all wanting more.  Any clubs who are looking for a great night invite David along.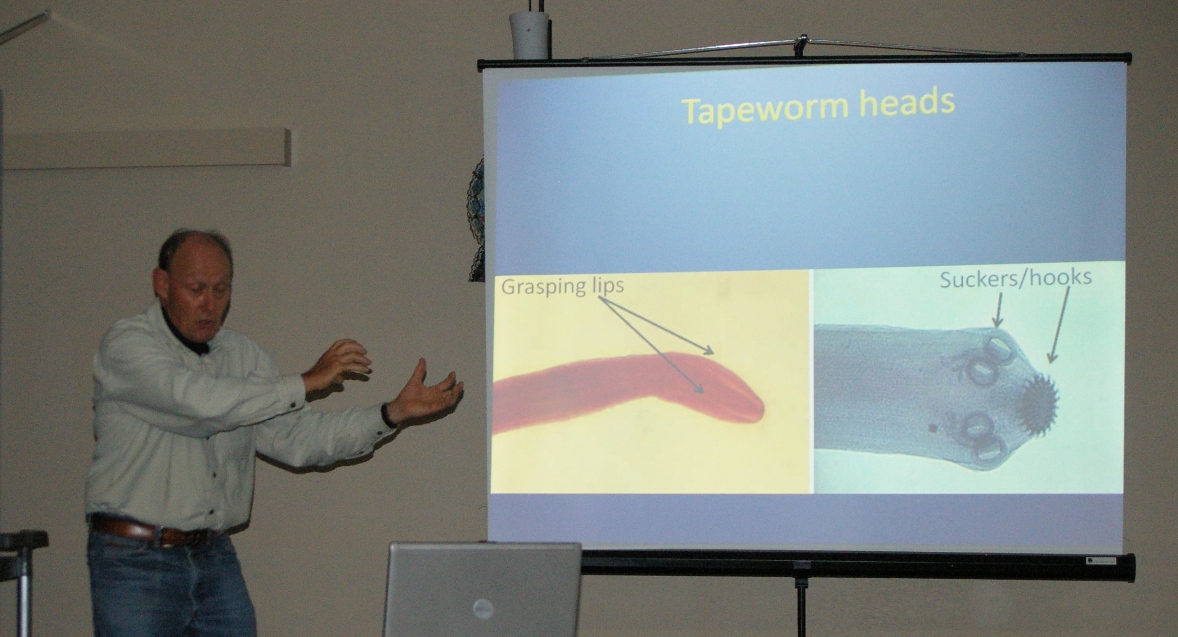 We concluded the evening with a bit of fun with our S@A Garth Perkins, Garth made a special effort to be there tonight travelling from Gundagai to be with us, thanks Garth.  Leslie Weston proposed a vote of thanks to David and presented him with a well sterilised kangaroo leather money pouch.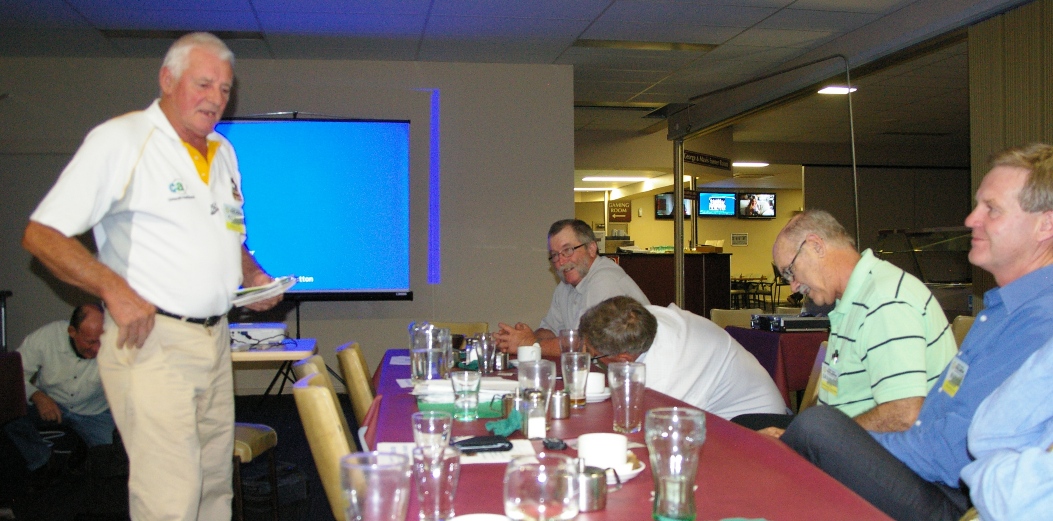 Garth Perkin had us all in stitches even Dick Jennings was seen under the table!
PRESIDENT PAUL WESTON'S REPORT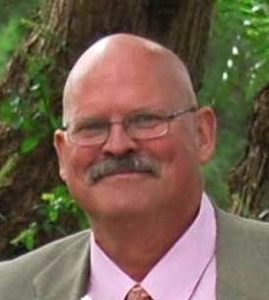 President's report
It was great to see another very good rollout for our meeting on Monday.  We were treated to a rather different type of talk after dinner, and I reckon it's one that people won't soon forget.  Our guest speaker was David Jenkins, a parasitologist who conducts research and teaches at CSU and lives in Ganmain.  David works primarily with parasitic worms that inhabit a rather unsavoury place in the body of mammals, namely the digestive tract.  The worms that David studies alternate between livestock hosts (e.g. sheep or cattle) and dogs or people.  Although the parasites are mainly a concern in developing nations, some of them are very real threats in Australia (e.g. sheep measles, which is actually an encysted parasite that forms hardened lumps in the muscles of sheep).  It's a good thing David's talk was AFTER dinner because some of the photos he showed were rather graphic.  I, for one, will never think lightly again about a fly visiting food during a cookout knowing now what it might have previously visited, complete with reproductive stages of some nasty little creatures!
Dick announced that Wayne Lewis, who has been a guest at several recent meetings, will be joining us as a member, so stay tuned for information on his induction.  Please remember our commitment to invite other potential new members to our meetings.  Sandra West and Merrin Glasgow will be joining us as Friends of Rotary, so we'll have a formal induction for them as well.
Our next meeting will be a board meeting at the Sport and Rec Club (11 March), but all are welcome to attend.  Don't forget to let Dick know if you're planning to attend.
Yours in Rotary,
Paul
DIARY REMINDERS
Monday 11th March Business and Board Meeting Club catering.
Thursday, 14th March at 7.30 pm:   Rotary BINGO  – rostered on are  –  Henk Hulsman,  John Burns, Grahame Miles and John Glassford. (Reminder to Garth Perkin and Rod Jarrett you are both rostered on as a swap).
*Monday 18th March Guest Speaker Ross Sinclair RAAF Forest Hill RAAF base speaking on the modern day Air Force.   Gilbert catering.
*Monday 25th March Club Member Night Henk Hulsman.  Club catering.
Saturday 30th March Rotary Community Easter Markets in the Up-to-Date-Store,  complemented by 'Grand Designs Coolamon Style'  & a main street full of 100 or so Hot Rod Cars.
Monday April 1st NO Meeting Easter Monday.
*Monday 8th April Max Chapman Europe on a Shoe String.
Monday 15th April Business and Board Meeting Club catering
Friday 19th to Sunday 21st April 2013   D9700 Conference Leeton.
Saturday June 8th Coolamon Rotary Street Raffle.
June 23-26 2013 Rotary International Convention in Lisbon.   RI Convention Lisbon.
*Monday July 1st our 42nd Change Over Night.
*Partners and Guests Night.
ROTARY INTERNATIONAL PRESIDENT SAKUJI TANAKA

During a Rotary Peace Forum in São Paulo, Brazil a group of children entertained us with Japanese "taiko" drum music. Their performance put a smile on everyone's face, including RI Director José Antonio F. Antiório and Past RI Director José Alfredo Pretoni. I'm extremely pleased with the progress we've made this year promoting Peace Through Service.
サンパウロで開かれた第4420地区の平和フォーラムに出席いたしました。地元の日系人コミュニティーは日本文化を引き継ぎ、伝統を大切にしています。子供たちの太鼓パフォーマンスに場内全員が笑顔になりました。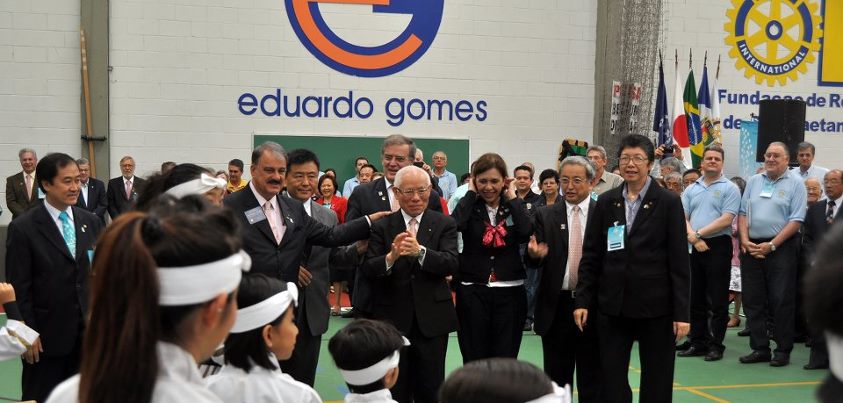 ON THE LIGHTER SIDE
The Check Up
A woman accompanied her husband to the doctor's office. After his checkup, the doctor called the wife into his office alone. He said, "Your husband is suffering from a very severe stress disorder. If you don't do the following, your husband will surely die." "Each morning, fix him a healthy breakfast. Be pleasant at all times. For lunch make him a nutritious meal. For dinner prepare an especially nice meal for him. Don't burden him with chores. Don't discuss your problems with him, it will only make his stress worse. No nagging. And most importantly, make love with your husband several times a week. If you can do this for the next 10 months to a year, I think your husband will regain his health completely." On the way home, the husband asked his wife. "What did the doctor say?" He said you're going to die," she replied.
The Patient
A patient awakened after a serious operation only to find herself in a room with all the blinds drawn. Why are all the blinds closed?" she asked her doctor. Well, the surgeon responded, "They're fighting a huge fire across the street, and we didn't want you to wake up and think the operation had failed."
50 Shades of Grey
Four guys have been going to the same fishing trip for many years.
Two days before the group is to leave, Kevin's wife puts her foot down and tells him he isn't going.
Kevin's mates are very upset that he can't go, but what can they do.
Two days later the three mates get to the camping site only to find Kevin sitting there with a tent set up, firewood gathered, and dinner cooking on the fire.
"Shit ,Kevin how long you been here? How did you talk your missus into letting you go ?"
"Well, I've been here since last night. After dinner at home yesterday evening, I was sitting in my chair and my wife came up behind me and put her hands over my eyes and said, 'Guess who ?'"
I pulled her hands off, and she was wearing sexy brand new lingerie. She said had been reading 'Fifty Shades of Grey' and she had a devilish look in her eyes!!!
She took my hand and led me to our bedroom. The room had candles and rose petals all over.
On the bed she had handcuffs, and ropes !
She told me to tie her up and cuff her to the bed, so I did.
And then she said, "Do whatever you want."
So . . . . here I am !
ROTARY INFORMATION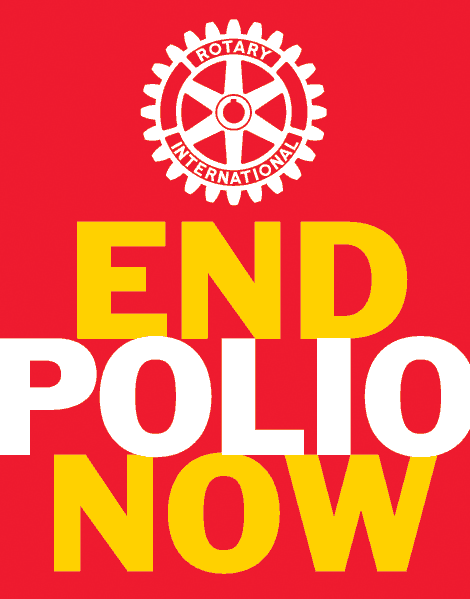 Thank you New York City Mayor Michael Bloomberg for donating US$100 million to support polio eradication. http://bit.ly/YJydDz
Mayor Bloomberg said, "We're at a critical juncture in the global effort to end polio. If we're going to achieve a polio-free world, we must act quickly and commit now to providing the resources needed."
Learn how you can join the mayor and others in ending polio at:  www.endpolio.org.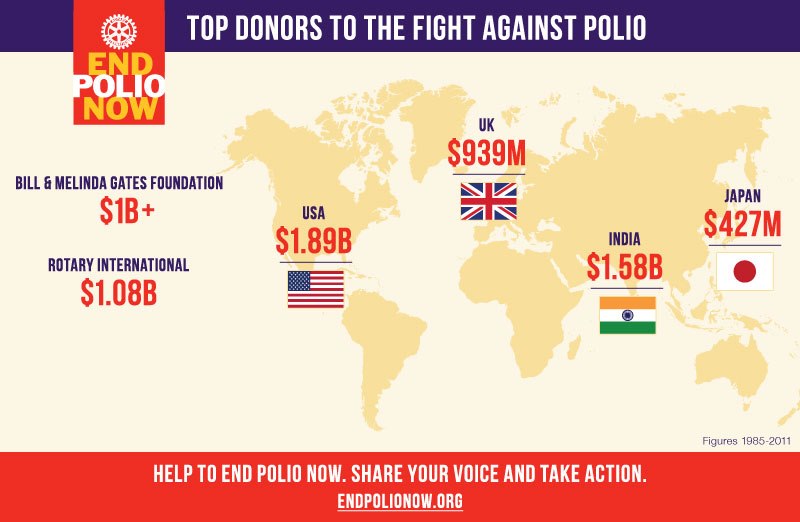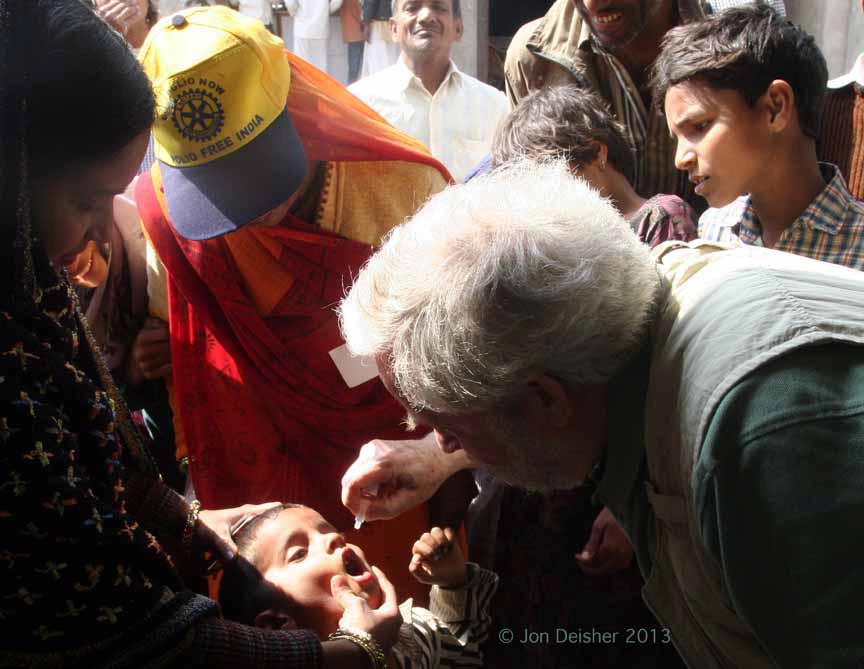 Jon Deisher from Alaska in India last week on the latest NID National Immunisation Days.
BUCKET LIST
INDIA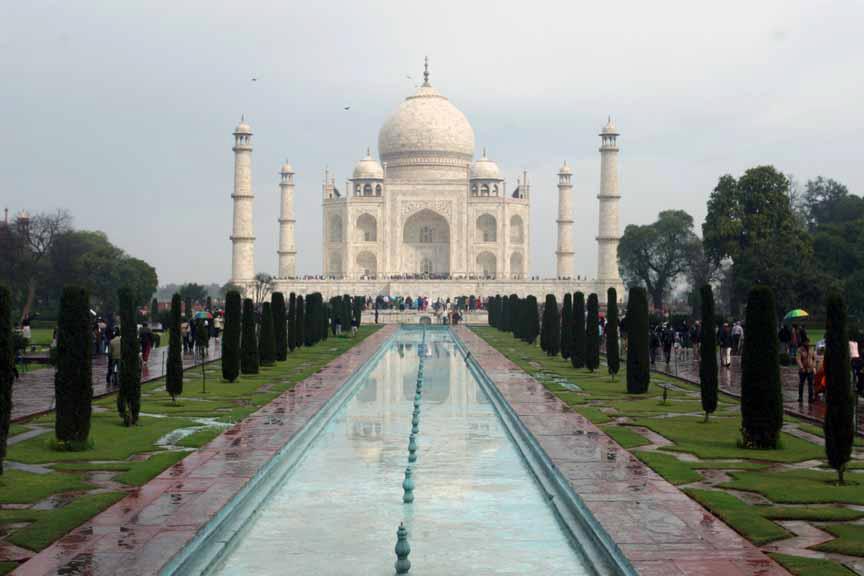 The Taj Mahal by Jon Deisher
The Rotary Club of Bombay is one of the pioneers in India of the Rotary movement, devoted to the ideal of Fellowship through service. It was founded on March 19, 1929. The Club meets every Tuesday at 1.15 p.m. at the Taj Mahal Hotel, the very place where the founders had their first get-together…
CAUSES WORTH SUPPORTING
ROTARY LITERACY MONTH
ONE LAP TOP PER CHILD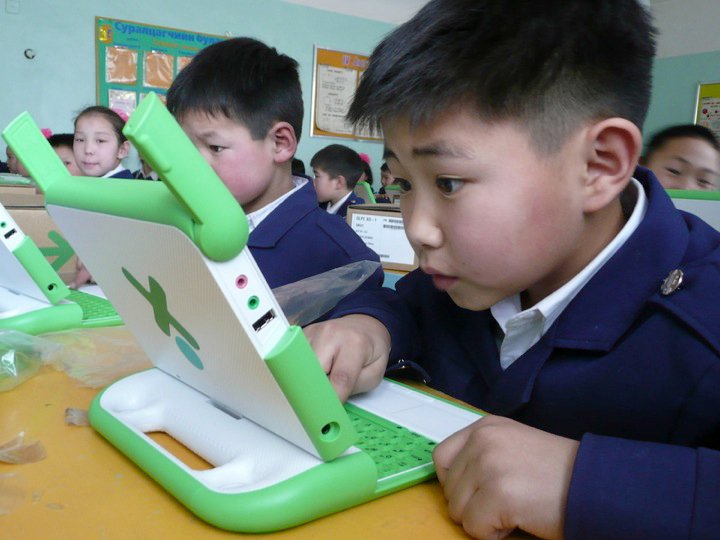 We aim to provide each child with a rugged, low-cost, low-power, connected laptop. To this end, we have designed hardware, content and software for collaborative, joyful, and self-empowered learning. With access to this type of tool, children are engaged in their own education, and learn, share, and create together. They become connected to each other, to the world and to a brighter future.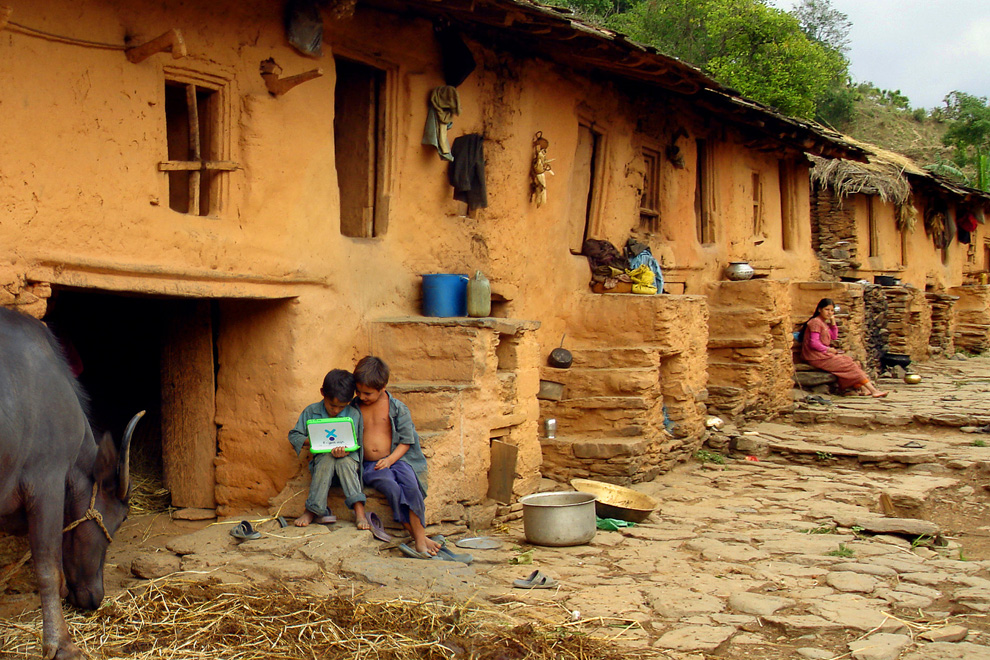 Nepal
These young boys on the outskirts of Kathmandu, Nepal work together at home. They spend as much time with their XOs there as they do at school, and parents embrace the change.
Rotary International President Sakuji Tanaka
Governor of District 9700  Greg Brown
Coolamon Club President  Paul Weston
Coolamon Club Secretary  John Glassford
Club Treasurer  Henk Hulsman
Coolamon Rotary Club Inc. P.O. Box 23 COOLAMON N.S.W. 2701
Websites of Interest
Coolamon Rotary Club: http://coolamonrotary.com
Road MAPS to Africa a Coolamon Rotary Project: http://www.mountainsofthemoon.org/
Rotary Down Under on line: http://flipflashpages.uniflip.com/2/26587/49598/pub
The Orphan Rescue Kit a Coolamon RC Project: http://theork.com/
Our Rotary Centennial Twin Club Hout Bay, Cape Town, South Africa: http://www.rotaryhoutbay.org
Don't forget to regularly check our club web site for current information such as bingo rosters and various newsletters from the District Governor, the School of St. Jude's, the monthly membership on the move newsletter as well as several other club bulletins.