Coolamon Rotary News Bulletin #44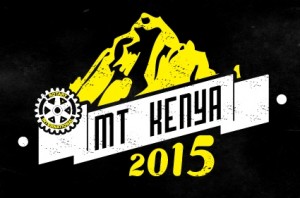 MAY IS ROTARY PROMOTE INTERNATIONAL CONVENTION MONTH.

ONLY 4 DAYS TO GO TO THE OPENING PLENARY SESSION YOU CAN STILL REGISTER AT HOMEBUSH IF YOU DO NOT WANT TO MISS OUT ON WHAT IS SHAPING UP TO BE A GREAT CONVENTION.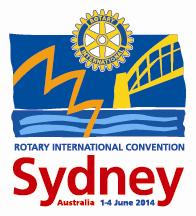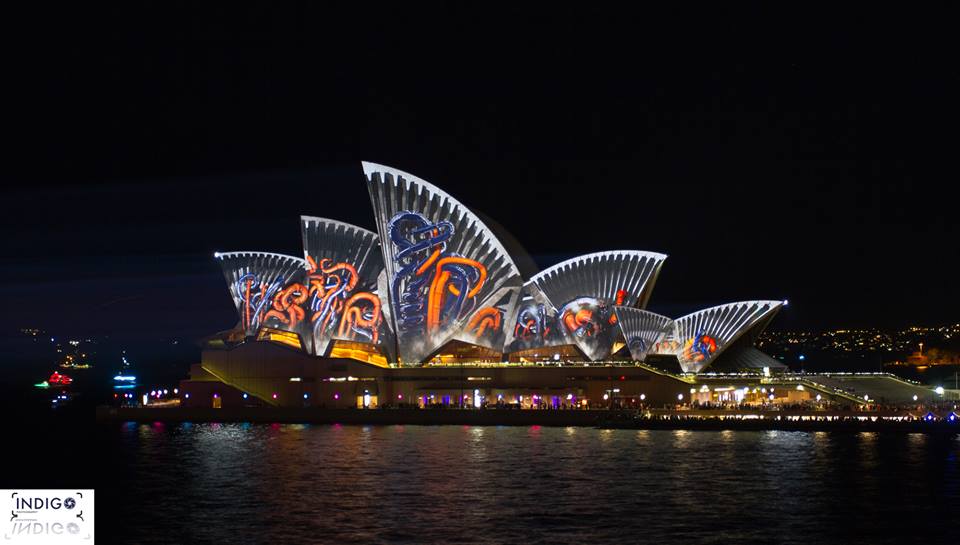 Vivid Sydney started on May 23rd and will be a highlight during RICON 2014 in Sydney.
WELCOME TO SYDNEY RICON 2014!
The Billabong House of Friendship where you will find us in booth #229
There are so many really great Rotary Host Organising Committee events and travel tours happening during the 2014 Rotary International Convention Sydney
Download & share 'The Corroboree' to find out more!  http://ow.ly/vpPVw
If your #Rotary Club has organised any special events during the Convention please share your event details here too.
Thumbs up who's coming to the Convention!
MONDAY MEETING MAY 26th 2014
We were low on numbers tonight due to the flu and members being away.  However we had two guests Susan Glassford and Helen Lewis.  Garth Perkin brought along Anne Frizell as our guest speaker tonight.  Anne is studying at Charles Sturt University in Wagga Wagga for her Bachelor of Education and wants to specialise in teaching agriculture.
Anne gave a very interesting talk which was well received by everyone.  In his vote of thanks Neil Munro said that Australia is in good stead with young inspiring and hard working women such as Anne.   Anne comes from the land from Armidale and has two sisters, loves farming and is passionate about teaching.  Anne was introduced to Rotary by her school bus driver in Armidale and we are convinced that Anne will make a very good Rotarian when she graduates.  Well done Anne.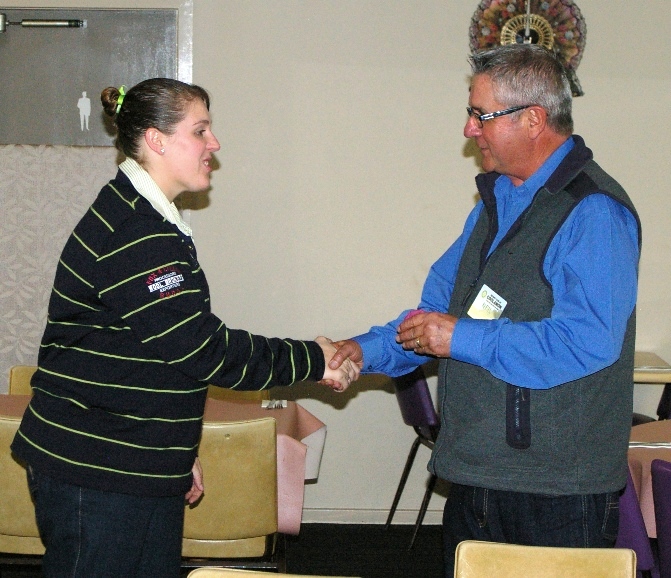 Anne Frizell and PP Neil Munro
President Dick Jennings reminded all members that next weekend we are required to man the gates for Brad's Flight for Life at the Coolamon Showgrounds.  Volunteers are required so please get your names on the roster.  Ted Hutcheon reported on the Salvos fund raising in Coolamon which yielded $1166, we will be at the footy next weekend in Ganmain and Coolamon collecting at the gates.
Our club congratulates Tony Donohue in being promoted to the position of General  Manager at the Coolamon Shire council.
New change over dates for Wagga Wagga Sunrise and South Wagga Rotary Clubs see diary:
Diary Reminders
Saturday May 31st to Wednesday June 4th.  SYDNEY 2014 RI Convention Coolamon RC and Wagga Wagga Sunrise on Booth #229 in the Billabong House of Friendship.
Monday June 2nd Regular Meeting Wayne Lewis Member Speaker.
Saturday June 7th and Sunday June 8th Brad's Flight for Life at the Coolamon Showground Volunteers needed.
Monday June 9th Queen's Birthday NO Meeting
Wednesday June 11th Meeting of the 2014-2015 Board at PE Garth Perkin's Home.  POSTPONED.
Thursday June 12th BINGO Rostered ON: John Glassford, Neil Munro, Christine Atkinson, Henk Hulsman

Monday June 16th Board Meeting

Wednesday June 18th RC Kooringal Change Over Dinner  6.00 pm $40 at the Wagga Wagga Country Club.
Monday June 23rd Regular Meeting
Monday 23rd June South Wagga Wagga Annual Change Over @ Wagga Wagga RSL Club 6.00 for 6.30 pm $40/head.
Tuesday 24th June Wagga Wagga Sunrise Annual Change Over @ Elements at the Garden Botanic Gardens 6.30 for 7.00 pm  $50/head.
Saturday 28th June D9700 Change Over Dinner in Orange.
*Monday July 7th 2015 ANNUAL CHANGE OVER DINNER
Saturday 9th August Coolamon Street Raffle
*Partners and Guests Night.
Apologies for Monday meetings call Christine Atkinson on 0427 880 158 or 6927 3521 BY FRIDAY 12.00 pm.
ROTARY INTERNATIONAL PRESIDENT RON BURTON: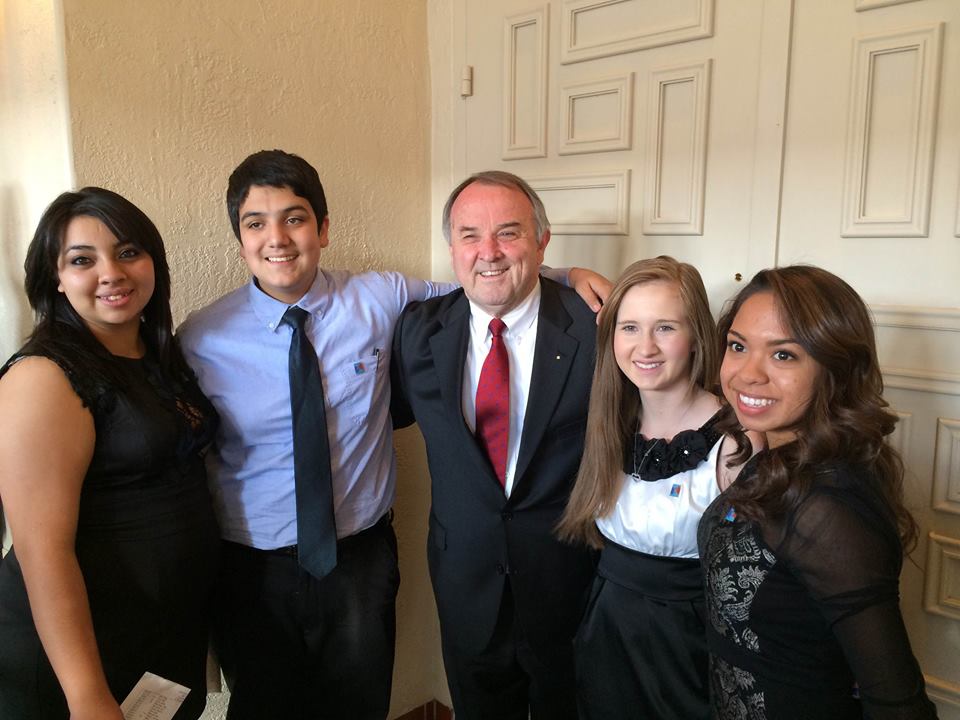 Rotary International President Ron Burton visited Interact students in New Mexico, USA, at the Rotary Club of Santa Fe's 90th anniversary dinner. Prior to the dinner, the youth leaders interviewed President Burton for 30 minutes.
In the photo from left: Jocelyn Rodriguez, secretary of the Capitol High School Interact Club; Andres Sotelo, member of Capitol High School Interact Club; President Burton; Megan Hayden, vice president of the Santa Fe High School Interact Club; and Cristina Ponce, president of the Santa Fe High School Interact Club.
ON THE LIGHTER SIDE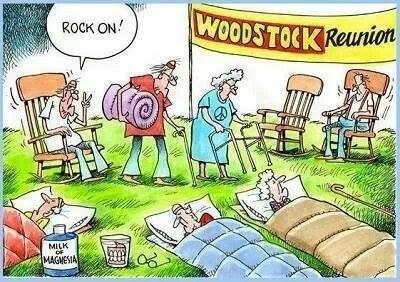 The Barber
A guy sticks his head in the barber shop and asks, "How long before I can et a haircut?" The barber looks around the shop and says, "About two hours." The guy leaves.
A few days later, the same guy sticks his head in the door and asks, "How long before I get a haircut?" The barber looks around the shop full of customers and says, "About two hours." The guy leaves.
A week later, the same guy sticks his head in the shop and asks, "How long before I can get a haircut?" The barber looks around the shop an says, "About an hour and half." The guy leaves.
The barber looks over at a friend in the shop and says, "Hey Bill, follow that guy and see where he goes." In a little while, Bill comes back into the shop laughing hysterically. The barber asks, "Bill, where did he go when he left here?" Bill looked up and said,
"To your house."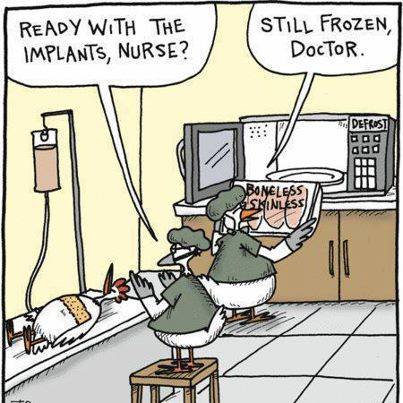 ROTARY INFORMATION
May summit to help Rotarians leverage water, sanitation, and hygiene resources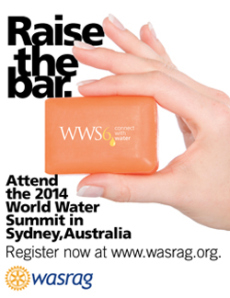 By Steve Werner, member of Rotary Club of Denver Southeast, CO, USA, and the Water and Sanitation Rotarian Action Group
The Water and Sanitation Rotarian Action Group is looking forward to our sixth World Water Summit, a one-day water, sanitation, and hygiene education (WASH) conference on May 30th in Sydney, the day before the International Convention begins. Participants will learn the latest from world experts, experienced Rotarians, and potential supporters about how to design, implement and monitor effective WASH programs.
OUT OF AFRICA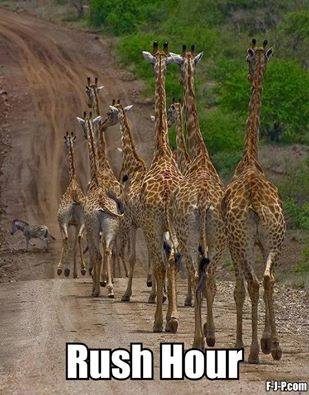 MOUNT KENYA 2015 ANZAC DAY CLIMB
This will be a permanent section for the next 12 months in our weekly bulletin and I will update stories to this article as and when we get them.   The Australian Commonwealth Department of Veterans Affairs have approved our application to be part of the Centenary for ANZAC and we are allowed to use the logo below with some rules on it's use: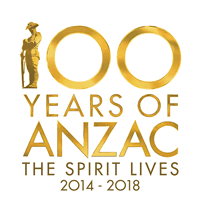 The Mount Kenya 2015 web site can be found here on clicking the banner below: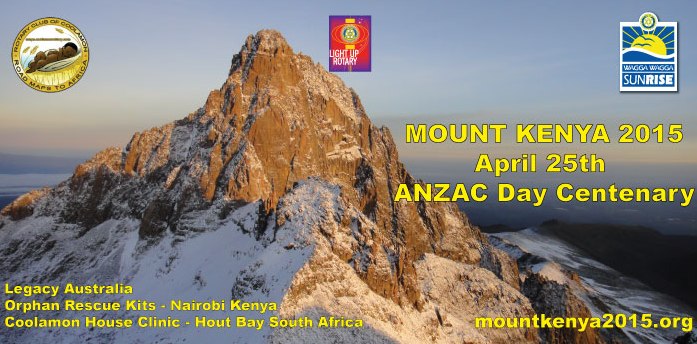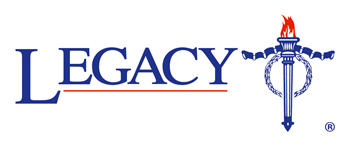 FOOT NOTE
Our latest sponsored girl Neema  Monyancha from Nakuru and through the RC of Nakuru.  Neema is doing very well after we picked up her story and had PE Jaine Kamau find here and get her into secondary school.
May 15th 2014
Dear John,
I hope you are fine.  I am doing fine on my end. My aim for this letter is to thank you for the scholarship that you gave me.  I was extremely happy.  I am now able to continue with my studies.I know that education is the key to success.  I am going to work hard and make you proud of sponsoring me.  We have done an exam and the results will be coming along with this letter.
God bless you for everything.  I hope one day I will be able to meet you and thank you personally.  As you know I study at Bahati Girls one of the best schools in the country.  I am happy there because it is a conducive place for learning.  As I end the letter I would like to tell you I am opening on the seventh day of May and my school fees is eighteen thousand.
Yours sincerely, Liza Neema.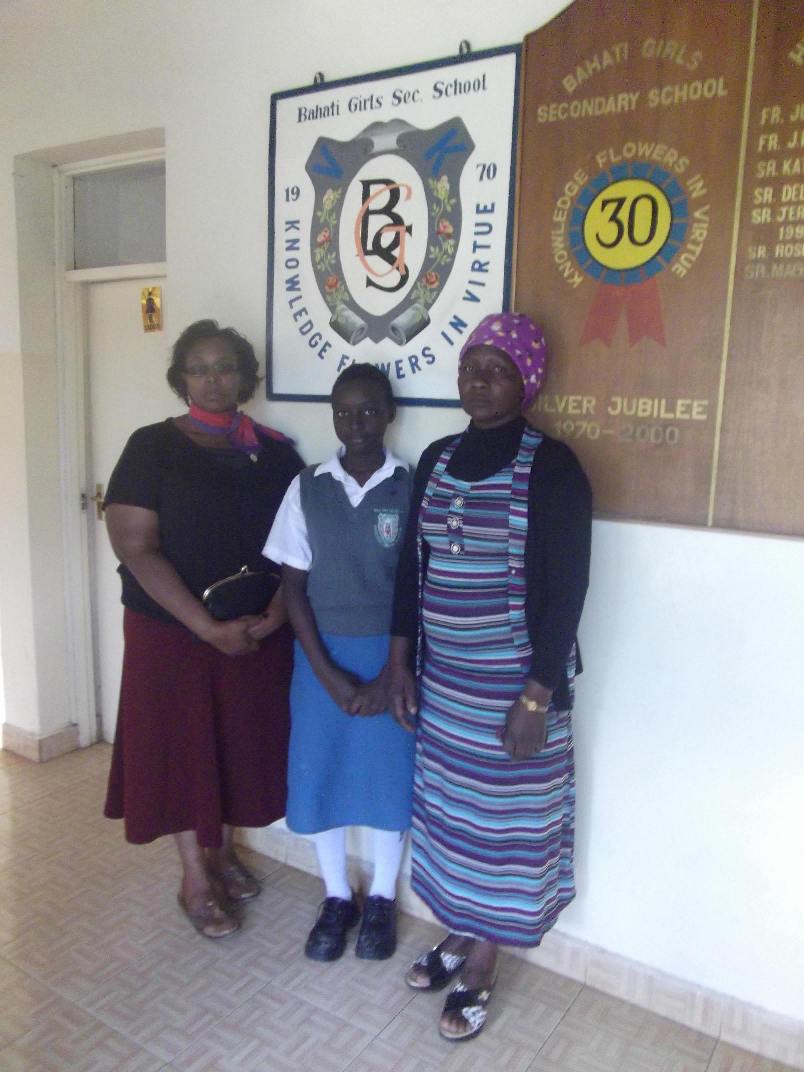 PE Jaine Kamau, Neema and her Mother on Neema's first day at her new school.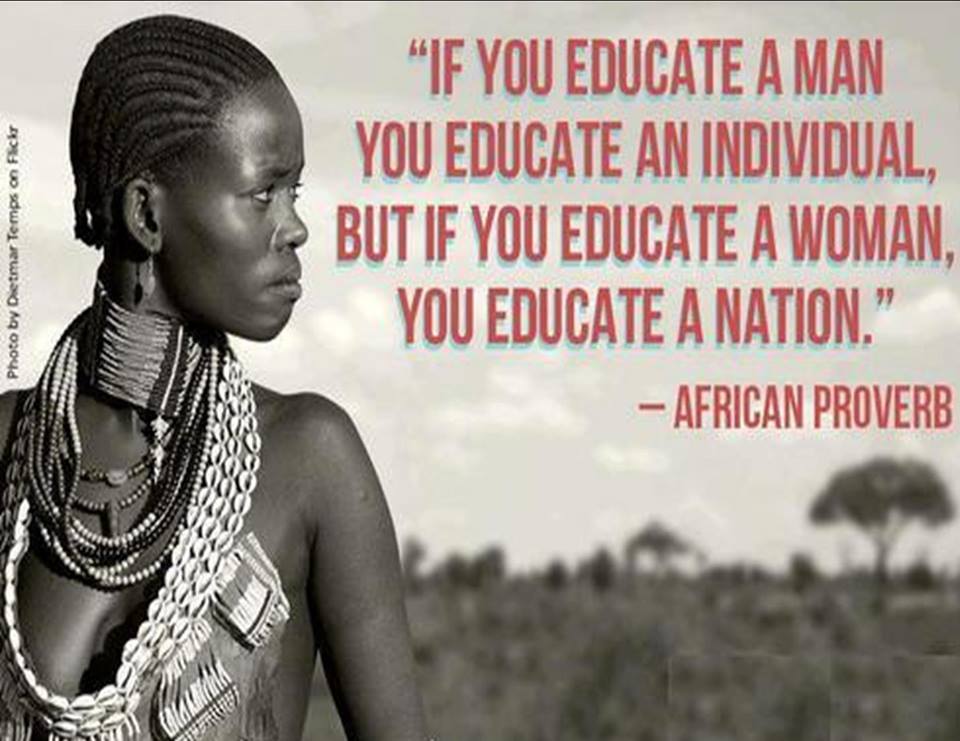 Yours in Rotary John Glassford Chair 2013 -2014
Proposed Rotarian Action Group for Endangered Species
PLEASE CALL ME ANYTIME 02 6927 6027.
Bulletin Editor and Web Site:  John Glassford
Don't forget to regularly check our club web site for current information such as bingo rosters and various newsletters from the District Governor, the School of St. Jude's, the monthly membership on the move newsletter as well as several other club bulletins.
Rotary International President Ron Burton
Governor of District 9700 Geoff Tancred
Coolamon Club President  Dick Jennings
Coolamon Club Secretary Paul Weston
Club Treasurer  Henk Hulsman
Coolamon Rotary Club Inc. P.O. Box 23 COOLAMON N.S.W. 2701
Websites of Interest
Coolamon Rotary Club: http://coolamonrotary.com
Road MAPS to Africa a Coolamon Rotary Project: http://www.mountainsofthemoon.org/
Rotary Down Under on line: http://flipflashpages.uniflip.com/2/26587/49598/pub
Mount Kenya 2015 Web Site incorporating the ORK: http://theork.com/
Our Rotary Centennial Twin Club Hout Bay, Cape Town, South Africa: http://www.rotaryhoutbay.org
Proposed Rotarian Action Group for Endangered Species RAGES: http://www.endangeredrag.org/#