Coolamon Rotary News Bulletin #45
SPECIAL SYDNEY CONVENTION EDITION JUNE 2014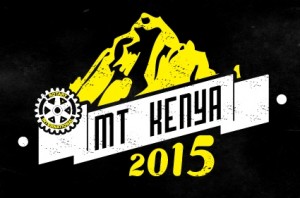 JUNE IS ROTARY FELLOWSHIP MONTH.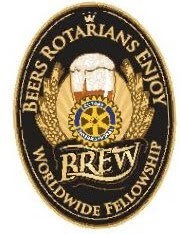 Some of the more unusual Rotary Fellowships include BREW or  Beers Rotarians Enjoy Worldwide.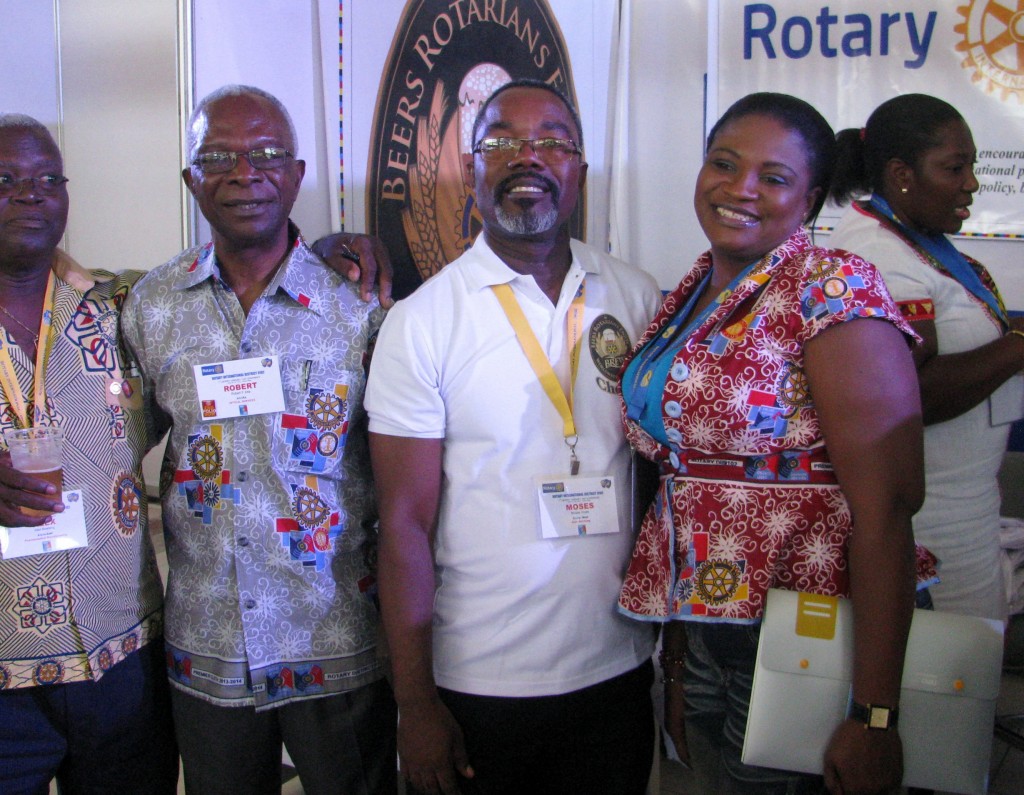 PE Moses Aryee (above in the white shirt), is the World President of BREW and comes from Ghana and is a member of the RC of Accra West.  Met Moses at the BREW booth in Sydney a most jovial chap!

SYDNEY RICON 2014 IS OVER
A great time with wonderful like minded people from around the world.  The train rides from Central to Olympic City were fun and everyone was in a great mood.  Our booth # 229 attracted a lot of interest and Rotarains wanting to join us in Kenya on 2015.  Here is a pictorial of some of the high lights too many things happened to compile a full report: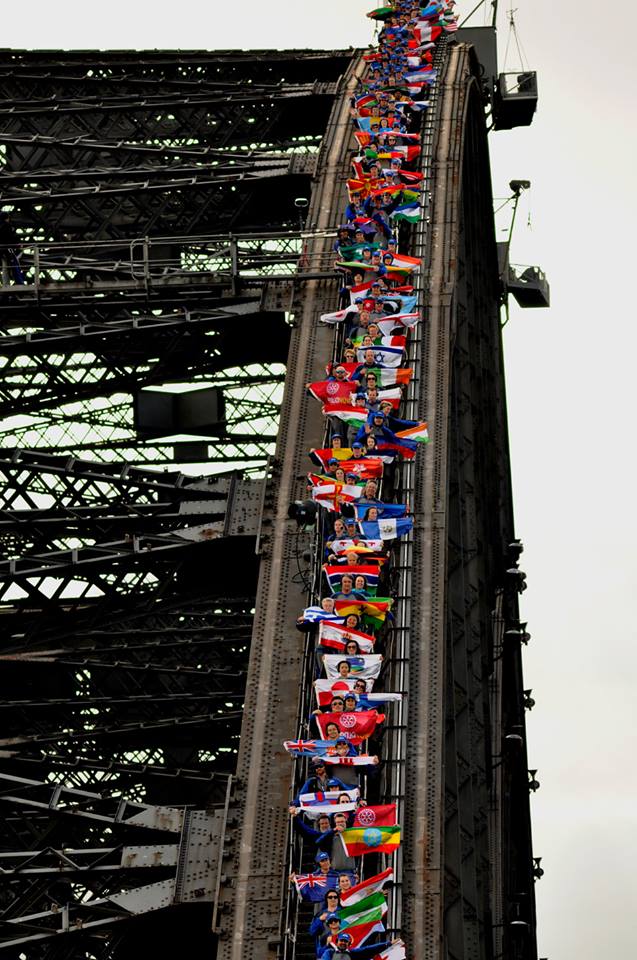 A total of 340 Rotarians waving 278 flags climbed the Sydney Harbour Bridge to break two world records. But the biggest win of all was the money — and awareness — raised to help end polio.
Click on the thumb nails for a larger image.  We had a lot of fun!  Hope you recognise a few friends in the photos and the last one is of Di Collins a good friend of ours from Perth and the RC of Freshwater Bay, a great supporter.
PDG Fred Loneragan and I looked after our booth # 229 for the 5 days plus one day setting up prior to the Convention.  The above photos are a small representation of what went on in Sydney.   Visitors to our booth a plenty including PRIP Bill Boyd and Lorna Boyd from New Zealand.  PRIP Bill is the Patron for the Mount Kenya 2015 Climb.
We had help from many members of D9700 including DG Geoff Tancred and Bettye Tancred.  Wagga Wagga Sunrise members with President Peter Gissing also helped on the booth.   PDG Barbara Shayeb-Helou, a RAGES board member, also did a lot of work for us and promoted our climb and RAGES to all and sundry Barbara is from South Carolina.
Susan and I went to Vivid Sydney like many delegates and enjoyed the amazing light show Sydney put on.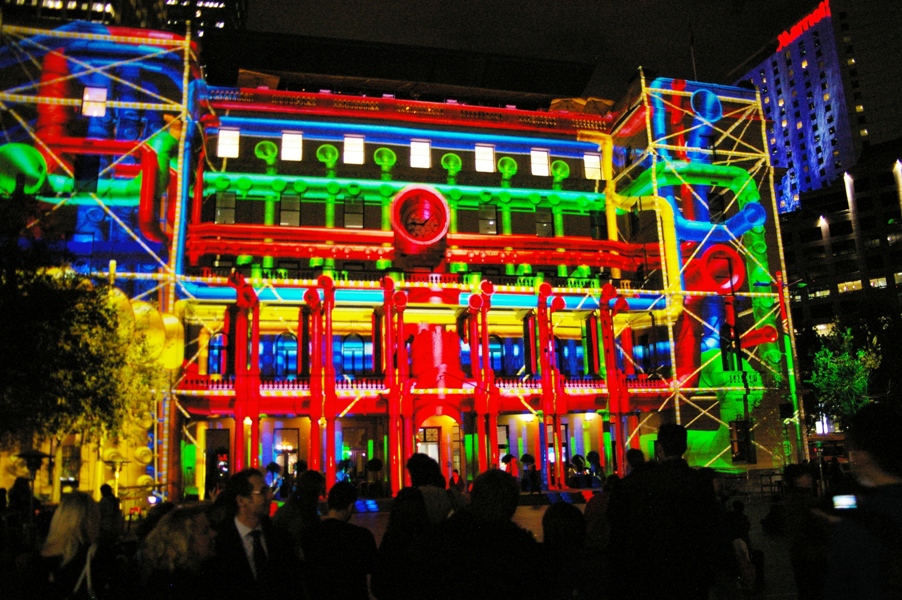 We did not have much time to attend any plenary sessions however we made the opening and closing plenaries.  Coolamon had two members present in Sydney Garth Perkin and myself, thanks to Garth for the help during the Convention.  Thanks also to Susan for all the work in setting up and taking down the booth and to all those who helped us.  The 10 tenors and Marina Prior were outstanding at the closing ceremony as was the speech by incoming Rotary World President Gary Huang.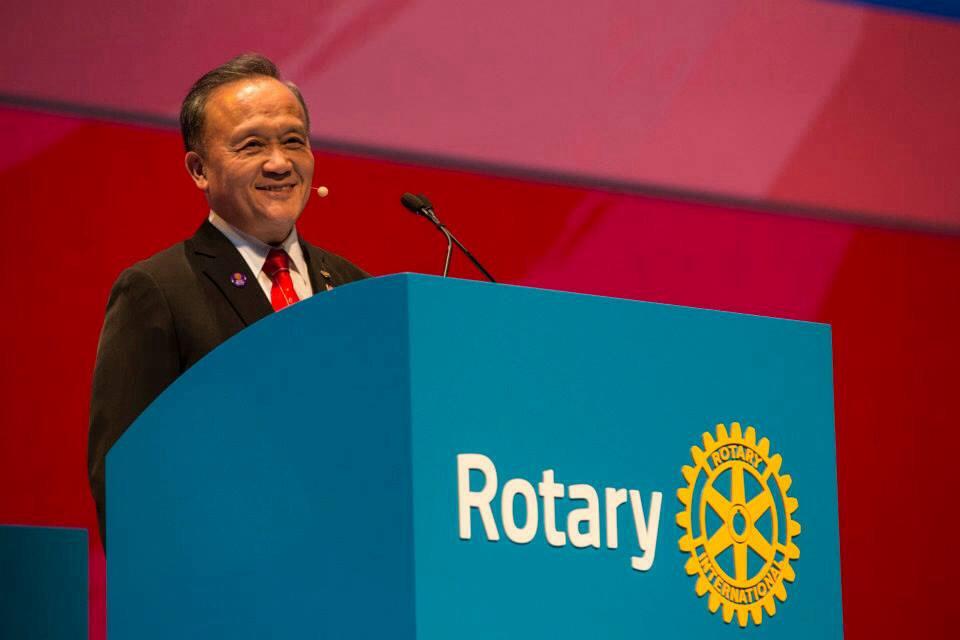 "I think all of you know the Chinese philosopher Confucius. Sometimes I call him the world's first Rotarian, because even though he died 2,500 years before Rotary was founded, his ideas are very much Rotary ideas. And one of the things he said was "與其抱怨, 不如改變."
In English, you say, "It is better to light a single candle, than to sit and curse the darkness." That sums up everything that we think in Rotary. There are so many problems in the world, so many people who need help.
And many people say, "There's nothing I can do." They sit there. Do nothing. Everything stays dark.  But this is not the Rotary way. The Rotary way is the Confucius way. The Rotary way is to light a candle. I light one. You light one. 1.2 million people all light one.
Together, we can light up the world."
NO MEETING JUNE 9th 2014
HOWEVER
We manned the gate for Brad's FLIGHT For Life at the Coolamon Showground on Saturday and Sunday this Queen's Birthday long weekend.  here are a few photos of the event a full report will be available next week.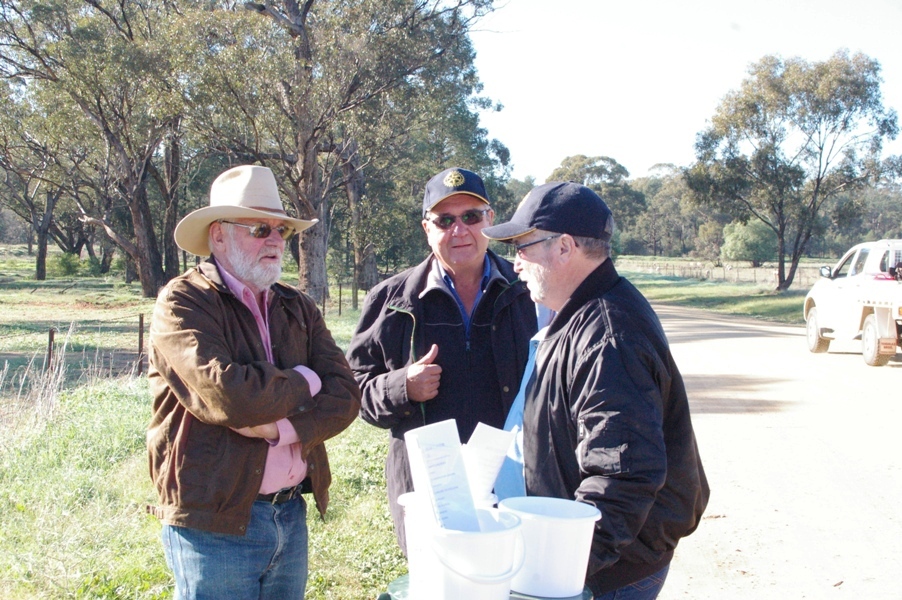 President Elect Garth Perkin, PP Neil Munro and PEN Wayne Lewis at the gate!
Diary Reminders
Thursday June 12th BINGO Rostered ON: John Glassford, Neil Munro, Christine Atkinson, Henk Hulsman
Monday June 16th Board Meeting

Wednesday June 18th RC Kooringal Change Over Dinner  6.00 pm $40 at the Wagga Wagga Country Club.
Monday June 23rd Regular Meeting
Monday 23rd June South Wagga Wagga Annual Change Over @ Wagga Wagga RSL Club 6.00 for 6.30 pm $40/head.
Tuesday 24th June Wagga Wagga Sunrise Annual Change Over @ Elements at the Garden Botanic Gardens 6.30 for 7.00 pm  $50/head.
Saturday 28th June D9700 Change Over Dinner in Orange.
*Monday July 7th 2015 ANNUAL CHANGE OVER DINNER
Saturday 9th August Coolamon Street Raffle
*Partners and Guests Night.
Apologies for Monday meetings call Christine Atkinson on 0427 880 158 or 6927 3521 BY FRIDAY 12.00 pm.
ROTARY INTERNATIONAL PRESIDENT RON BURTON: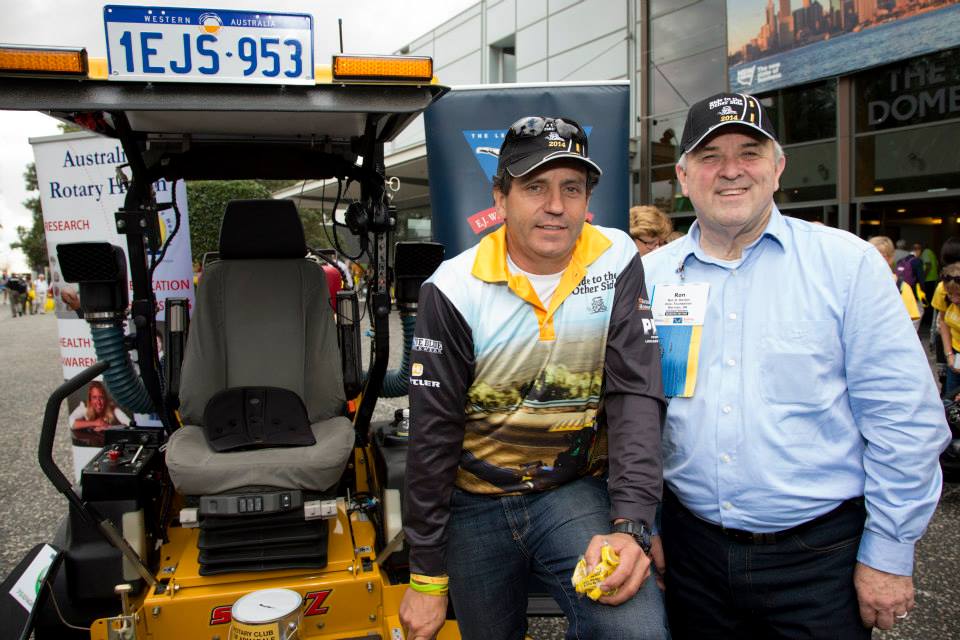 Rotary International President Ron Burton with Rotarian Craig Alford, who rode 2,800 miles across Australia to raise awareness and funds for polio eradication.
ON THE LIGHTER SIDE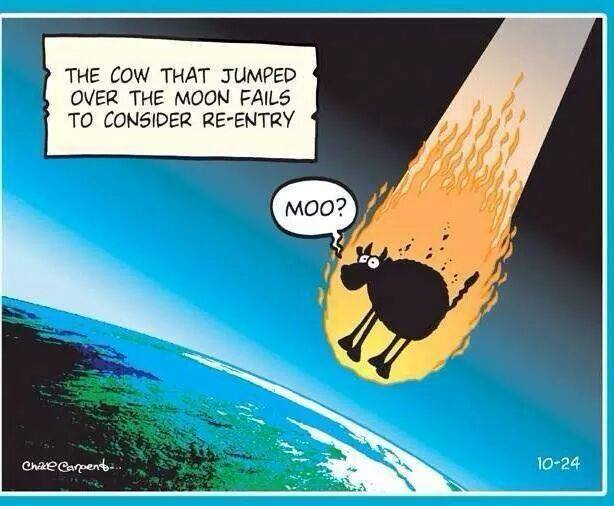 For all our friends over the seas who do not understand us Aussies!
In Seven Days
In the beginning God created day and night. He created day for footy matches, going to the beach and barbies. He created night for going prawning, sleeping and barbies. God saw that it was good.
Evening came and morning came and it was the second Day.
On the Second Day God created water – for surfing, swimming and barbies on the beach. God saw that it was good. Evening came and morning came and it was the Third Day.
On the Third Day God created the Earth to bring forth plants – to provide tobacco, malt and yeast for beer and wood for barbies. God saw that it was good. Evening came and morning came and it was the Fourth Day.
On the Fourth Day God created animals and crustaceans for chops, sausages, steak and prawns for barbies. God saw that it was good. Evening came and morning came and it was the Fifth Day.
On the Fifth day God created a bloke – to go to the footy, enjoy the beach, drink the beer and eat the meat and prawns at barbies. God saw that it was good. Evening came and morning came and it was the Sixth Day.
On the Sixth Day God saw that this bloke was lonely and needed someone to go to the footy, surf, drink beer, eat and stand around the barbie with. So God created Mates, and God saw that they were good blokes. God saw that it was good. Evening came and morning came and it was the Seventh Day.
On the Seventh Day God looked around at the twinkling barbie fires, heard the hiss of opening beer cans and the raucous laughter of all the Blokes, smelled the aroma of grilled chops and sizzling prawns and God saw that it was good. well almost good. God saw that the blokes were tired and needed a rest.
So God created Sheilas – to clean the house, bear children, wash, cook and clean the barbie. God saw that it was not just good, it was better than that, it was bloody great! IT WAS AUSTRALIA !!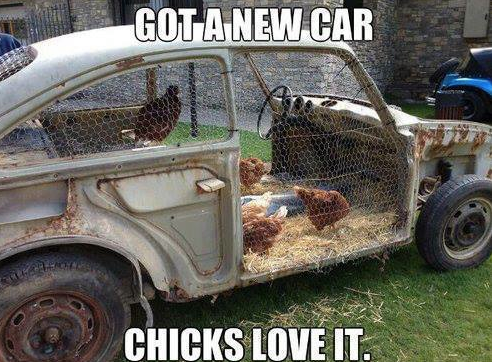 ROTARY INFORMATION
ROTARY'S FUTURE TAKES CENTER STAGE ON LAST DAY OF SYDNEY CONVENTION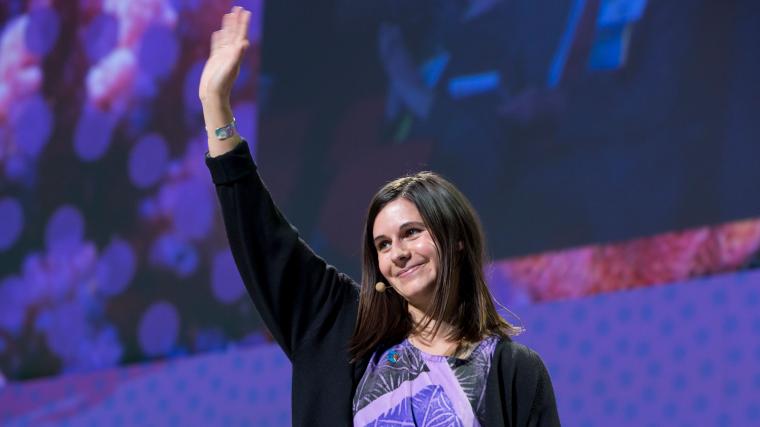 Gertrude Adzo Akpalo walked out of the Allphones Arena in Sydney more inspired than ever to do her part to inject youth and energy into Rotary, helping to secure its future. Read more
Rotary Scholar Kelsi Lopatecki Cox is a prime example of what can happen when you nurture young people. During her speech to the convention audience, she championed innovative technology and education as a way to address poverty and under-development in rural communities. She is program coordinator for the Digital Learning Room, a project that brings technology to schools in the South Pacific.
"The challenges faced by our world are great, and they won't go away overnight," said Cox. "By supporting education, by embracing technology, by daring to think outside of the box, we can address poverty and inequality. But we can't do it alone; when we join together, we are stronger. Together, we can create a world of opportunity."
OUT OF AFRICA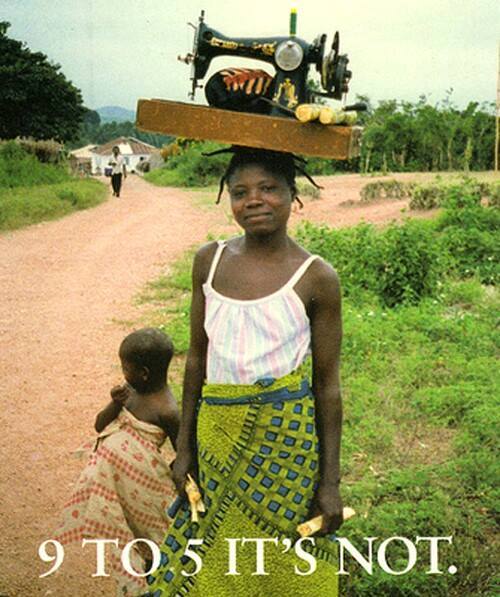 MOUNT KENYA 2015 ANZAC DAY CLIMB
This will be a permanent section for the next 12 months in our weekly bulletin and I will update stories to this article as and when we get them.   The Australian Commonwealth Department of Veterans Affairs have approved our application to be part of the Centenary for ANZAC and we are allowed to use the logo below with some rules on it's use: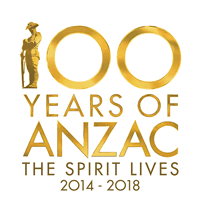 The Mount Kenya 2015 web site can be found here on clicking the banner below: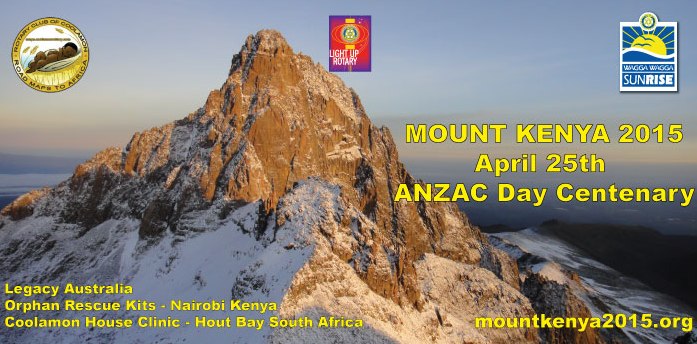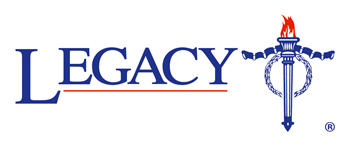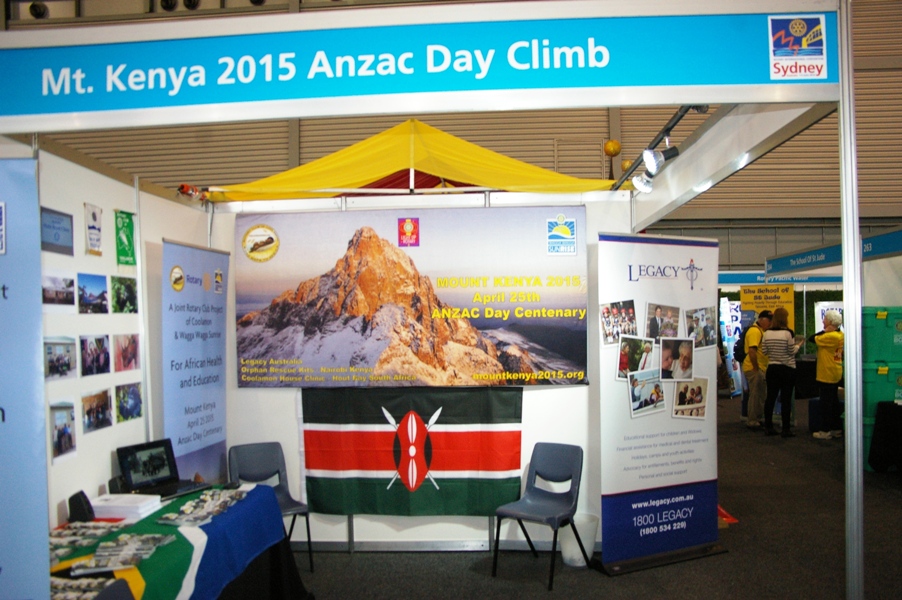 Our booth at RICON Sydney.
FOOT NOTE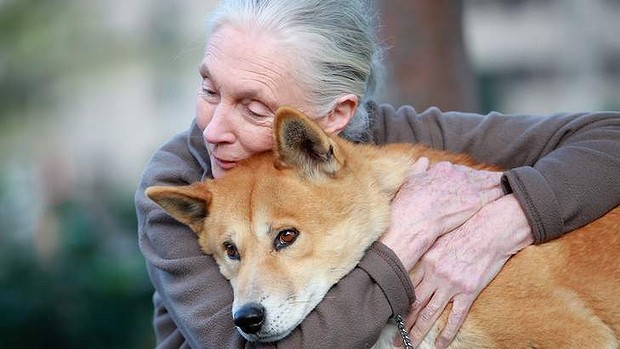 More news of our meeting with Dame Dr.Jane Goodall will be published in due course!
Yours in Rotary John Glassford Chair 2013 -2014
Proposed Rotarian Action Group for Endangered Species
PLEASE CALL ME ANYTIME 02 6927 6027.
Bulletin Editor and Web Site:  John Glassford
Don't forget to regularly check our club web site for current information such as bingo rosters and various newsletters from the District Governor, the School of St. Jude's, the monthly membership on the move newsletter as well as several other club bulletins.
Rotary International President Ron Burton
Governor of District 9700 Geoff Tancred
Coolamon Club President  Dick Jennings
Coolamon Club Secretary Paul Weston
Club Treasurer  Henk Hulsman
Coolamon Rotary Club Inc. P.O. Box 23 COOLAMON N.S.W. 2701
Websites of Interest
Coolamon Rotary Club: http://coolamonrotary.com
Road MAPS to Africa a Coolamon Rotary Project: http://www.mountainsofthemoon.org/
Rotary Down Under on line: http://flipflashpages.uniflip.com/2/26587/49598/pub
Mount Kenya 2015 Web Site incorporating the ORK: http://theork.com/
Our Rotary Centennial Twin Club Hout Bay, Cape Town, South Africa: http://www.rotaryhoutbay.org
Proposed Rotarian Action Group for Endangered Species RAGES: http://www.endangeredrag.org/#