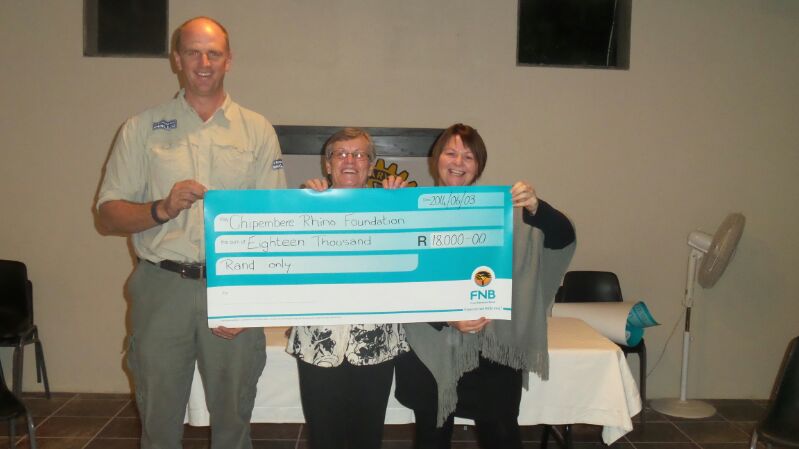 Dr. William Fowlds, President Stella Swanson and Jo Wilmot Kenton-on-Sea Rotary Club.
Dear John
It looks as though you had a wonderful time at Conference in Sydney! We can't wait to hear more…!
From our side, we had our hand-over of our donations to Chipembere Rhino Foundation last week  for our Save Our Rhino Project.
Unfortunately, Brent Cook was ill so Dr William Fowlds stood in for CRF (as a trustee).
A total of R24,000.00 was handed over to CRF:
·        R18,000.00 from the Rotary Club of Coolamon NSW
·        R3,000.00 from the Rotary Friendship Exchange Group – USA
·        R3,000.00 from the Rotary Club of Kenton-on-Sea
Attached please find the photograph of Will for CRF, Stella Swanson – our President, and me for RAGES with the cheque for R18,000.00 that we received from yourselves!
Thanks again, John! Please extend our grateful thanks to all those that helped make the fundraiser happen!
A local reserve has reached out for 5 tracking devices so we are hoping to confirm this week! We will keep you in the loop!
Then, the most heartfelt thank you to you, John, for driving RAGES with so much passion and conviction. We are truly in awe and so inspired!
Chat soon, Mate!
YIRS Jo Wilmot